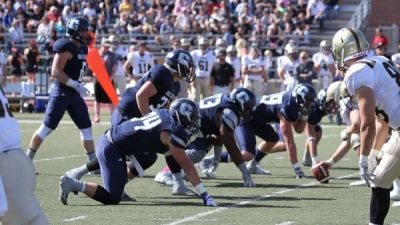 Play for Parker: football asks for help in raising money for child with leukemia (#P4P)
SEWARD, Neb. – Parker Chipman, a close family friend of Concordia University junior long snapper Seth Schlenger, was diagnosed with acute myeloid leukemia on Aug. 22. The Bulldog football program began wearing "Play for Parker" bracelets, helmet decals and ankle tape at the Nebraska Wesleyan game (Oct. 11) in support of Parker.
In another show of support, Concordia football is raising money for Parker by selling T-shirts that incorporate the five-year-old boy's love of batman. T-shirts can be purchased for $15 and are available by contacting Concordia football players, by attending Saturday's 1 p.m. game versus Dakota Wesleyan or by visiting the football offices located in the PE Gym. T-shirts will be sold at a table set up on the east concourse of the stadium during the game. There will also be a bucket for the collection of donations to the Parker Chipman fund ("Pennies for Parker"). All profits will go towards Parker's medical costs.
Money can also be donated to help Parker's cause by visiting the website www.youcaring.com/parkerchipman. Following the football game on Saturday, there will be a benefit dinner from 5:30 – 10 p.m. at Faith Westwood United Methodist Church, located at 4814 Oaks Lane, Omaha, NE, 68137. The event includes a chili feed, bake sale and the auctioning of several items. Once again, all proceeds will benefit Parker.
"Parker had just started kindergarten and we took him into the doctor for shoulder pain," said Doug Chipman, Parker's father. "He got an MRI and that's when we found out he had leukemia. Of course that's a shocker for any parent to hear."
The news also hit hard for Schlenger, who describes himself as a family-oriented person.
"Anyone who knows me, knows that my family is my life," Schlenger said. "I would do anything for Parker. The Chipmans are family and the football team is a brotherhood that nobody else can understand. The feeling of being able to turn to this team during a rough time like this is an experience I cannot get anywhere else. I have 140 brothers willing to do anything right now. All I ask is that we do as much as we can to help save Parker and get the family through this stretch."
When Schlenger informed the team of the situation, Bulldog football players immediately began thinking of ways to help.
"We had a leadership council meeting with our juniors and seniors," head coach Vance Winter said. "The guys talked about an opportunity we had as a football team to help out this family. The guys were really all in and brought forth a lot of ideas in terms of what we could do to raise money.
"We want to let Parker know that as a football group, we are thinking of him and praying for him daily. What he's going through makes our struggles as a football team seem pretty minor. We want to be there to support him and his family."
According to Doug Chipman, the support has been overwhelming. He and the family never expected the Concordia football team to reach out and become part of the fundraising effort.
"It's pretty amazing," Doug said. "I would not think most college kids would be interested in a fundraiser. For them to take time out to do this is pretty humbling. For them to take time to design shirts and to sell them, it's amazing."
A fan of Concordia, Parker watches games online. He's a big football fan and a supporter of the Bulldogs. Now he needs your support in this trying battle.
"Any little thing is going to help," Schlenger said. "This is a very expensive disease to fight so anything will help out this family. I encourage you to help this band of brothers at Concordia fight for this little boy so he can continue on and chase his own dreams."
Adds Winter, "I know he watches games and follows us pretty closely. Anything little thing that we can do to do help, it's our honor to do it."
Please spread the hashtag #P4P on social media in support of Parker. He and the Chipman family greatly appreciate your prayers, donations and purchases of "Play for Parker" T-shirts.
Doug Chipman says there is a chance Parker may attend part of the game "if he is home and able." Parker has undergone chemotherapy and has spent much of his time in the hospital since being diagnosed.