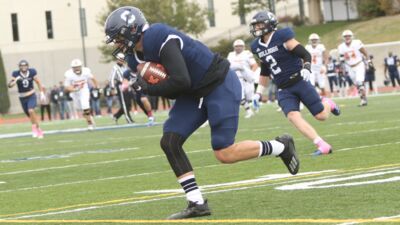 SEWARD, Neb. – Time after time, the Bulldog defense responded when Midland threatened to tighten the score in the second half. Safety Peyton Mitchell snared three of the team's six interceptions as the Concordia University Football team toppled the rival Warriors, 21-7, on Saturday (Oct. 23) afternoon. The pick party paved the way for a plus-seven turnover margin for the Bulldogs, who returned to a gusty Bulldog Stadium for the first time since Oct. 2.
Head Coach Patrick Daberkow's squad has won four-straight games and has improved to 5-3 (5-3 GPAC) heading into a bye week. The win streak has included triumphs over Dakota Wesleyan, Jamestown, Mount Marty and Midland.
"Hats off to the defense today," Daberkow said. "Holy smokes. That ball was in the air and we capitalized on it. We made plays today, especially on defense. Man that was fun to see … Ultimately, I think our offensive staff did a really good job of making the right adjustments and taking what was there. I think we had them on their heels for a while there."
The Warriors (4-4, 4-3 GPAC) did not manage a single point over the game's final 57 minutes. They got the Concordia defense to bend, but it just wouldn't break. The two-touchdown advantage felt nearly insurmountable with the way the Bulldogs were ball-hawking about in the secondary. The interceptions came from the following Concordia defensive backs (with two occurring in goal-to-go situations):
· Peyton Mitchell – 3rd-and-10 from the CUNE 35 (14:41 – second quarter)
· Peyton Mitchell – 3rd-and-goal from the CUNE 7 (4:05 – second quarter)
· Gabe Knisley – 2nd-and-goal from the CUNE 6 (0:02 – second quarter)
· Peyton Mitchell – 3rd-and-10 from the CUNE 24 (7:21 – third quarter)
· Isiaha Conner – 1st-and-10 from the CUNE 24 (3:32 – fourth quarter)
· Kam Baker – 4th-and-18 from the CUNE 41 (1:46 – fourth quarter)
Said Mitchell, "We've always had a pretty good mentality of bend, don't break. We have the idea of, put the ball down. Put the ball down and wherever the ball is we're going to get a stop. That's kind of the thing that our defense lives by."
While the secondary flew around and crushed any hopes of a comeback, All-American linebacker Lane Napier eclipsed an eye-popping milestone of 500 career tackles (school and GPAC record). Napier led all players with 13 stops for the day. Meanwhile, the defensive front got the job done while rotating is usual compliment of players. Devin Polley collected a pair of sacks, including a strip sack on a fourth down. Caydren Cox also posted a sack while making a couple of tackles in the backfield.
Quarterback DJ McGarvie and the offense did their part in putting together three separate touchdown drives that each covered at least 68 yards. The Bulldogs tied the score, 7-7, on Jonah Weyand's two-yard touchdown rush in the second quarter. Late in the half, Concordia punctuated an 11-play, 80-yard drive with a wide receiver pass from Korrell Koehlmoos to tight end Garrett Schardt for a 15-yard scoring play. The Bulldogs then marched their opening possession of the second half 68 yards and crossed the goal line via McGarvie's 14-yard toss to Cayden Beran.
McGarvie has thrown for 17 touchdown passes this season with Beran on the receiving end of six of them. Said Beran, "He's a freshman but when you look at him on the field you don't think that he's a freshman. He's confident in what he's doing. He's running the ball with his head down too. You don't see that much from a freshman. He's going to put the ball where you need it to be."
Inefficiency at the quarterback position has been a season-long struggle for Midland, which has been picked off 20 times in eight games. The Warriors played without star receiver Kenneth Carr III, which had something to do with the quarterback combo of Jake Ashby and Hunt Boutin going a combined 24-for-54 through the air. Midland crossed the 50 six times in the second half, but bogged down due to its lack of running game (57 yards) and turnovers.
McGarvie finished 19-for-27 for 187 yards and a touchdown while adding 32 rushing yards. Weyand ran for 82 yards and a score on 21 carries. Beran hauled in five receptions for 75 yards and a touchdown while Schardt made seven grabs for 64 yards and a score. In addition, Art Anderson hauled in five passes for 26 yards.
Due to a COVID no contest, Concordia and Midland did not play each other in 2020. The Warriors won the 2018 and 2019 meetings. Mitchell became the first Bulldog to intercept three passes in a single game since current assistant coach D'Mauria Martin did the same in the 44-14 win over Midland in 2017.
Said Daberkow, "It feels very satisfying. Any time you beat any in-state rival, it's big, especially since we haven't played Midland in two years. They have a really good team. They've got some skilled guys. It's a tall order. I was really proud of the guys and how they played today."
After playing in each of the past eight weeks, Concordia will have a bye before hosting Doane on Saturday, Nov. 6. The Bulldogs will celebrate their senior day on that date. In last season's season opener in Crete, Concordia dominated the Tigers, 24-7, while leaning upon the exploits of Weyand (169 rushing yards and two touchdowns).