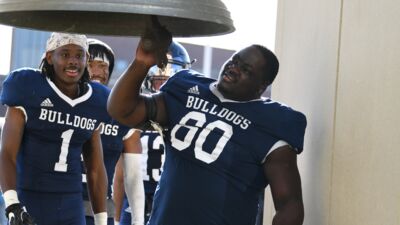 Johnny Robinson III is preparing to anchor the center of the Concordia University offensive line for the fifth-straight year. If that name sounds unfamiliar to people on campus, it's probably because he's better known as "Pot Roast," a nickname given to the Houston, Texas, native during his high school days. Inside the locker room, everyone knows No. 60, a man with a big smile and the heart to match.
Pot Roast has no problem forming relationships and laughing alongside his teammates. He keeps the mood light but when the ball is kicked off, Pot Roast takes on a different persona. For so many reasons, he's one of the most compelling and most respected players on the roster.
Says Assistant Coach Grady Koch, "He can walk into a room and talk to that wall. He's a super friendly guy. He's always fun to have in the locker room and at practice. He keeps people up. He's a really good guy to be around. It doesn't matter if you're a freshman or a fifth-year senior, he's going to talk to you and build those relationships. He's been stable and has played at a very high level for several years."
For nearly the entire length of Patrick Daberkow's tenure as head coach (entering year six), Pot Roast has held down the center position. His continued improvement in all areas has aligned with the progress of the program as a whole. Few centers in the country will bring as much experience into 2022 as Robinson, who has started 36 career collegiate games as a four-year starter. At 5-foot-9, 300 pounds, Robinson wears the moniker of Pot Roast proudly.
With one semester left before Pot Roast completes his degree in Psychology, he's back for a fifth year of college football. That's huge news for Daberkow, who knows he can count upon a First Team All-GPAC performer up front. As for Pot Roast, this semester is dedicated, at least in part, to his mother Nataka.
Says Johnny, "I know for sure my mom wants to see that degree. She wants the paper and I just want to play the game. Mom wins. She always wins."
Oh yeah, about that nickname. It was first uttered by an assistant coach he had at Eisenhower High School in Houston. Coach Eric Jackson (now the head coach at Eisenhower) coined the nickname and it stuck. As Johnny jokes, it seems like 80 percent of the Concordia campus knows him only by Pot Roast.
"I was going out to practice one day and it was like fall camp out here – extremely hot," Explained Johnny. "I got some water and sprayed myself down to stay cool. I was just glistening with the water. He was walking by and he said, 'Your stomach looks like a pot roast.' I was like, 'All right.' That was the only thing he called me. Every time he would see me it was 'Pot Roast.' It just stuck and so I changed it to my Twitter handle. Some of the upperclassmen followed me when I committed (to Concordia). When I got here it was just straight Pot Roast – no Johnny."
Just don't mistake the chuckle-worthy nickname for any kind of disrespect regarding Johnny. He's earned his stripes while helping Concordia take progressive steps forward from 2018 season characterized by a decidedly youthful roster. At that time, Pot Roast was one of four freshmen starting on the offensive line. In the years since, the line has made significant strides while Robinson has worked with five different starting quarterbacks (Blake Culbert, Wyatt Ehlers, Jake Kemp, DJ McGarvie and Andrew Perea).
The constant during that timeframe has been Pot Roast, whose playing career began when Koch was a senior starter at offensive tackle in 2018. Koch could tell that Pot Roast was different from most freshman. He wasn't tentative at all when he stepped on a football field. Not only that, his personality and on-field "nasty streak" endeared him to teammates.
"He's grown a ton," Koch said. "He had a lot of on-the-field growth. He went from always asking the guy next to him what was going on to making calls and doing a great job playing that center position. You have to make calls and be vocal and recognize things. Off the field, he's grown a lot too. He's turned into a leader. It's been fun to watch him grow on and off the field. He's never afraid to ask questions. He wants feedback and I think that's been a big part of his growth. He constantly wants to know what's going on and how he can fix things."
It was only natural that Pot Roast took a lead role in 2020 when members of the team put together a video entitled, "Follow Us." The video portrayed the diversity within the Concordia locker room and the unity and togetherness that is fostered within. As members of the Bulldogs relayed in the video, "When one hurts, we all hurt. When one celebrates, we all celebrate." The message was a response to the racial unrest felt across America.
Johnny believed it made the team tighter. "We wanted to become a better team," he said. "I feel like that brought us together as a team. We heard from a lot of people – look at Concordia. Look at us."
It was one of those moments that helped validate Johnny's decision to come up to Nebraska for college. He was recruited most intensely by former assistant coach Wes Coomes and fellow Texas native Ron Jackson. As an outgoing personality, Pot Roast knew he was ready for a new experience.
Said Johnny, "Coming up here, I honestly wanted a change. I didn't want to stay home. I wanted to get out, start over and experience some things. I figured out Nebraska was the place. I had other offers, but Nebraska felt more like home. When I came to Concordia, it felt like the right place for me."
As far as on-field moments go, Robinson looks back most fondly (so far) at the 34-28 overtime win over Hastings in 2020. The contest ended when Jonah Weyand carried the ball across the goal for his fifth touchdown of the game. Fans swarmed the field with No. 60 right there in the middle of it all. Along the way, Johnny has looked up to Grady. To this day, Johnny can't stop asking questions – because he wants to get it right.
The attention to detail and the growth of players like Pot Roast are reasons why Concordia rose to a 7-3 record in 2021. Robinson is more interested in talking about the growth of he and his teammates in terms of their increasing togetherness.
It's also safe to say he's focused on the present. There is one future plan that makes Pot Roast light up when he thinks about it. Once his football eligibility is exhausted and the degree is in hand, Pot Roast wants another new experience.
"Once I graduate, I'm definitely going to go on a cruise," Pot Roast said. "I want to experience life and take a break and go see some things. I'll come back and figure out what life has for me."
At least until December, the personable Pot Roast will continue to anchor the offensive line and bring joy to his teammates, all while making his mother proud.