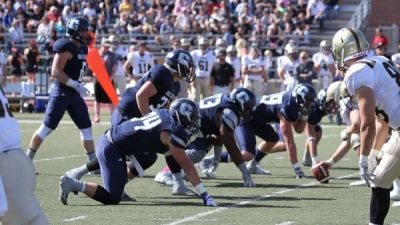 Offense stagnates in loss to rival Doane
CRETE, Neb. – A pair of potential game-changing turnovers forced by the Concordia defense were not enough for the Bulldogs to overcome a stagnant offensive performance on Saturday. Host and 20th-ranked Doane (7-3, 6-3 GPAC) won its seventh-straight game over Concordia (5-6, 4-5 GPAC) with a 17-7 victory in a defensive battle at Simon Field in Crete, Neb.
"We shot ourselves in the foot too much," Bulldog head coach Vance Winter said. "Credit Doane's defense. They did a great job. They have some real good football players. We didn't make enough plays. It seemed like we had a critical mistake offensively on each drive, whether it was turnovers or penalties."
Trailing 10-0 early in the second half, Concordia junior defensive back Darnell Woods plucked a pass from Doane quarterback Jeff Weander and raced 48 yards to the end zone. Despite an offense that had barely mustered 100 total yards to that point, the Bulldogs had life with their deficit cut to three.
The Concordia defense made another big play early in the fourth quarter in attempt to spark the upset. The Tigers' Jamal Peterson ran eight yards to the Doane 44 where junior corner Derek Blessing stripped the football. Freshman safety Tait Sibbel scooped up the fumble and returned it 11 yards to set the Bulldog offense up at Doane's 33-yard line with 10:20 remaining in the game.
However, Concordia failed to take advantage of its great field position as a false start, a one-yard Von Thomas run and two incompletions made it fourth-and-14 at the 37. The Bulldogs decided to go for it only to see Thomas' pass downfield picked off by Sheldon Garcia, who returned the interception 21 yards to the 43 with 9:34 left.
The Tigers then put the game out of reach with a 12-play, 57-yard touchdown drive spanning 6:22. Doane quarterback Jess Ver Velde capped the drive with a five-yard touchdown pass to Holden Wetzler that made it 17-7 with 3:12 left in the game.
The 10-point spread was plenty enough for a Tiger defensive unit that held Concordia to just 181 yards of total offense and tallied four interceptions of Thomas. The Bulldog signal caller's number – 9-for-34 passing for 97 yards – were a reflection of a tough offensive day.
"Von competed his tail off," Winter said. "He fought like crazy. We moved the ball well at times between the 30's, but we couldn't get that big play."
The Bulldogs got much better results defensively as they held a Doane offense that combined for 103 points over its previous two games to only 263 total yards.
Linebacker Langston Jones led Concordia with 10 total tackles, while Blessing and Sibbel picked up eight apiece. Woods, who nabbed his team-leading fifth interception of the season, added seven stops (one for loss).
"All of them played great," Winter said of the defensive effort. "They were physical and it was a real good tackling day. Our defensive coaches did a great job preparing them. We got back to basics and had a real nice day."
Doane running back Clayton Moore finished with 103 yards rushing on 32 carries. Defensively, the Tigers got two interceptions from Garcia.
Concordia had been gunning for its first winning season since 2001 when then head coach Courtney Meyer's Bulldogs reached the NAIA Football Championship Series. With its five wins this season, the Bulldogs recorded their highest win total in a season since going 5-5 in 2004.
With the loss, Concordia finishes the season in seventh place in the GPAC, one game behind a trio of squads tied for fourth at 5-4 in conference play.
Of Concordia's six losses in 2012, only one came by a margin of more than 10 points and three were by eight points or less. This season's team was noticeably improved from previous seasons.
"No doubt we're moving in the right direction," Winter said. "Anyone who's watched us knows we're a much better football team than what we've been.
We've got to have a big offseason. We're going to focus on developing our guys and having a great recruiting class. We're not going to waste any time."