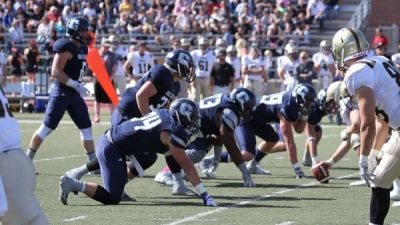 No. 20 Bulldogs move to 4-0 with shutout of Dakota State
MADISON, S.D. – Once again Concordia football used a stifling defensive effort to win its third road game already this season. Newly minted as the 20th-ranked team in the NAIA, the Bulldogs moved to 4-0 with a 24-0 victory over Dakota State University in Madison, S.D., on Saturday. The GPAC championship team of 2001 is the last Concordia squad to win four-straight to begin a season.
"Dakota State came out with a lot of energy and emotion," Bulldog head coach Vance Winter said. "We struggled to get going offensively again, but our defense was there all day. I thought our defense stepped up and played great all day, especially in the second half. They made some big plays."
Freshman defensive back Matt Keener put a bow on the victory by picking off quarterback Cole Whisenhunt's pass and taking it 23 yards to the end zone to make it 24-0 with 12:17 left in the fourth quarter. That allowed the Bulldogs to breathe easier after leading just 7-0 at halftime.
Similar to last year's game at Dakota State, Concordia got off to a slow start offensively. Giveaways played a role in those struggles as quarterback Von Thomas committed a couple of turnovers in a first half in which the Bulldogs totaled 162 yards of offense.
The Bulldogs still managed to outgain the Trojans, 310-214 for the game.
"Credit goes to their defense," Winter said. "They have some good defensive linemen that caused us some problems. We were not in sync on offense all day. Our defense picked us up and our special teams did some nice things. We just didn't play up to our capability offensively."
Concordia got on the board with freshman running back Trey Barnes' scamper over the goal line from eight yards out with 2:07 left in the first quarter. The touchdown was the team-leading sixth of the season for the Seward native, who finished with a game high 74 rushing yards on 13 carries.
But the Bulldog defense emerged as the biggest story of the game. Defensive coordinator Patrick Daberkow's unit stuffed a fourth down plunge from Whisenhunt towards the middle of the fourth quarter to preserve the shutout. Saturday's game marked Concordia's first shutout since a 10-0 win over Hastings on Sept. 17, 2011.
The score remained 7-0 until Thomas found fullback Jerad Leifeld for an eight-yard touchdown connection with 8:56 to go in the third quarter. The Bulldogs added three more points before the end of the third with Adam Meirose's 28-yard field goal to make it 17-0.
Thomas finished 14-for-27 through the air with 129 yards and a touchdown. He also added 63 yards rushing on 12 attempts. Freshman running back Bryce Collins carried seven times for 23 yards.
Senior defensive end Dylan Heithoff wreaked havoc upon the Trojan offense for much of Saturday's game. The Elgin, Neb., native registered nine tackles, two sacks and 3.5 tackles for loss in one of his best performances as a Bulldog.
Sophomore safety Tait Sibbel plucked Concordia's other interception on the day. The native of O'Neill, Neb., snagged a Whisenhunt pass and returned it 19 yards to the Bulldog 24-yard line. The turnover thwarted a Trojan drive that had marched near the red zone late in the third quarter.
The Bulldogs entered the game first in the GPAC in both total defense and scoring defense. After the stellar effort at Dakota State, Concordia lowered its season averages to 249.0 yards per game allowed and 12.5 points per contest on average. The Bulldogs have yet to allow an opponent to reach 300 yards of offense in a game this season.
Winter noted that Concordia struggled with the wet field conditions on the grass surface at Trojan Field. Rain prior to the start of Saturday's affair made for a "muddy, wet surface" as Winter described it. The Bulldogs' fifth-year head coach, a Dakota State alum, says his team will have to learn to deal with similar conditions moving forward. The Bulldogs will play on a grass field for the third-straight week next Saturday.
The Bulldogs will complete their string of three-consecutive road games when they take on Dordt (1-3, 0-3 GPAC) next Saturday in Sioux Center, Iowa, at 1 p.m. Last season Concordia defeated the Defenders 52-12 inside Bulldog Stadium. Dordt fell, 54-14, at Briar Cliff on Saturday afternoon.
Winter says it won't be hard to motivate his team for next week's game despite the Defenders' winless GPAC record.
"We didn't play well today," Winter said. "We've got to play better. Every game is a different animal. The team that shows up and is ready to play is usually the team that wins."