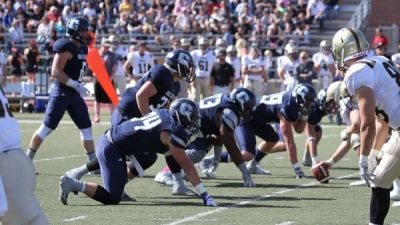 No. 15 Bulldogs remain unbeaten with homecoming win over No. 22 Prairie Wolves
SEWARD, Neb. – The unbeaten ride continued on Saturday as No. 15 Concordia knocked off rival and No. 22-ranked Nebraska Wesleyan, 19-3, in a tilt billed as the NAIA Football Game of the Week. Behind another dominant effort from a defense that has not given up a single touchdown in the last 13 quarters, Concordia improved to 6-0 overall and remains tied with No. 1 Morningside atop the conference at 4-0.
The stout Concordia defense, led by the nine total tackles from sophomore safety Tait Sibbel, made Nebraska Wesleyan one dimensional. The Bulldogs held the Prairie Wolves to 250 total yards – 142 on the ground – and allowed them to convert only 3 of 12 third downs as the Wesleyan passing game struggled.
"It was just a phenomenal effort," Bulldog head coach Vance Winter said. "I thought our guys were flying around. I thought we tackled pretty well. We gave up more rushing yards than we'd like to but when you give up 250 yards of total offense that's a pretty good performance against a good offense."
Offensively, the Bulldogs played keep away for much of the afternoon, chewing up 37:32 in time of possession with 338 total yards (181 rushing) behind junior quarterback Von Thomas. The signal caller from Miami, Fla., racked up 157 yards passing, including two touchdown tosses, and a team best 67 yards rushing. With Thomas leading the way, Concordia kept the chains moving with conversions on 10 of 19 third down attempts.
"We stuck with the running game," Thomas said. "Our running backs were huge this game. Our line did an excellent job of creating holes for them. Even if there weren't holes, our backs were good enough to bounce it and get extra yards off it."
Host Concordia seized momentum early in the game when senior safety Darnell Woods blocked a 19-yard field goal attempt by Nebraska Wesleyan's Aaron Lorraine after a high snap threw off the timing of the play. That ended a promising first possession of the game for the Prairie Wolves who marched 56 yards on seven plays.
"I thought we were just a little bit tentative early," Winter said. "That block was a huge turning point in the game."
The Bulldogs delivered the dagger in the third quarter when they put together their most impressive drive. Led by Thomas, Concordia covered 70 yards on 11 plays. Thomas found Jeff Balz wide open in the end zone for a score from four yards out. That gave the Bulldogs and their stifling defense a commanding 19-3 advantage with 10:29 remaining in the third quarter.
That crucial scoring drive came on the heels of a 13-yard touchdown catch by junior Brian Serra on the toss from Thomas late in the first half. Serra caught the ball on the left sideline and reached the ball over the goal line before going out of bounds. The first career touchdown grab for the Monterey, Calif., native allowed the Bulldogs to go to the halftime break with a 13-3 lead.
Serra's touchdown capitalized on a muffed punt by the Prairie Wolves' Corey Jones that gave Concordia a first and 10 at the Wesleyan 15-yard line. The Bulldogs scored three plays later.
Concordia got out to a 6-0 lead early in the second quarter when sophomore kicker Adam Meirose nailed his second field goal – this one from 34 yards away.
With Aaron Lorraine's 34-yard field goal at the 7:04 mark of the second quarter, Nebraska Wesleyan ended a streak of 10-consecutive scoreless quarters by Concordia's opponents. However, the Bulldogs carry active streaks of 27-straight quarters (251 rush opponent rush attempts) without allowing a rushing touchdown and 13 quarters in a row without surrendering any touchdowns.
Senior corner Derek Blessing became the eighth different Bulldog to intercept a pass this season. He came up with a pick late in the first half and then another one in the fourth quarter that essentially sealed the victory. Blessing, freshman Matt Keener and Sibbel each have two interceptions apiece on the season.
Some may have questioned the Bulldogs' No. 15 national ranking considering their first five opponents had only six combined wins entering the weekend, but Saturday's win left little doubt about this squad's legitimacy.
Still, Blessing and company are not up for boasting.
"We're going to look at it as just another game," Blessing said. "We're going to start studying film tomorrow, Monday and Tuesday and come out and try to go 1-0 next week and focus on the opponent next week."
The six wins guarantee Concordia's first winning season since 2001 when the Bulldogs started the season 8-0 on the way to a 10-2 finish and a co-GPAC title. Winter, now in his fifth season, has set a new personal watermark for wins a season. He has led Concordia to a record of 11-3 with two wins over ranked teams over the past 14 games.
The schedule does not relent for the Bulldogs, who travel to Orange City, Iowa, to take on Northwestern next Saturday at 1 p.m. The Red Raiders (2-2, 1-2 GPAC) were ranked 13th in the preseason coaches' poll. Last season, Concordia upset then No. 11 Northwestern, 17-16, in Seward to halt a nine-game losing streak in the series.
"We know their players and how good their players are and how tough they are to beat at their place," Winter said of Northwestern. "It's going to be another slugfest-type game."