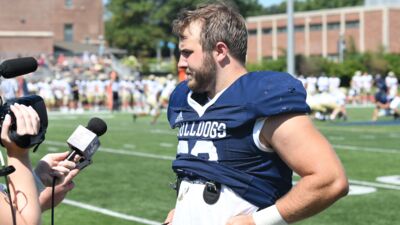 RELEASES: 2021 AP All-Americans | Cliff Harris Award Nominees
SEWARD, Neb. – Additional postseason recognition has streamed in for accomplished linebacker Lane Napier, who was selected as a 2021 NAIA First Team All-American by the American Football Coaches Association (AFCA) on Dec. 13. Late last week (Dec. 17), Napier was also recognized as a First Team All-American by the Associated Press and a nominee for the 2021 Cliff Harris Award, which honors the nation's top small college defensive player. Napier is now a two-time AP First Team All-American.
Throughout his career, the David City Aquinas High School alum was named an All-American four times by the AFCA and twice by the Associated Press (the AP did not release a team in 2020). A fifth-year member of the program in 2021, Napier garnered GPAC Defensive Player of the Year accolades this fall after piling up 134 tackles for a GPAC leading 13.4 tackles per game (second among all NAIA players). Napier also added three pass breakups, 2.5 tackles for loss, two fumble recoveries, an interception, one sack and one forced fumble. Napier was named the GPAC Defensive Player of the Week after a 20-tackle outing in the win over Mount Marty. Impressively, Napier raked in First Team All-GPAC accolades in each of his five seasons as a Bulldog linebacker.
Napier is the first Bulldog to be nominated for the Cliff Harris award since Darnell Woods in 2013. Napier is one of 28 NAIA football players to make the list of 2021 nominees. The winner of the 2021 Cliff Harris award will be announced on Dec. 28.
Napier career honors
· AFCA NAIA All-America awards: First Team (2021); Second Team (2020); Honorable Mention (2019); Honorable Mention (2018)
· Associated Press All-America awards: First Team (2021); First Team (2018)
· 2021 GPAC Defensive Player of the Year
· 2021 Cliff Harris Award nominee (nation's top small college defensive player)
· Five-Time First Team All-GPAC
· Two-time Omaha World-Herald All-Nebraska Defensive Honorary Captain (2018, 2019)
· Three-time Omaha World-Herald All-Nebraska First Team (2017, 2018, 2019)
· Four-Time GPAC Defensive Player of the Week
Year-by-year statistics:
2017 – 97 tackles, 8 tackles for loss, 2 pass breakups, 1 sack, 1 forced fumble
2018 – 142 tackles (led NAIA), 12.5 tackles for loss, 4 sacks, 3 pass breakups, 1 forced fumble
2019 – 108 tackles, 10.5 tackles for loss, 4.5 sacks, 1 pass breakup, 1 interception, 3 forced fumbles, 1 fumble recovery
2020 – 54 tackles, 3 tackles for loss, 1 sack, 1 pass breakup
2021 – 134 tackles, 2.5 tackles for loss, 1 sack, 3 pass breakups, 1 interception, 2 fumble recoveries, 1 forced fumble
CAREER – 535 tackles, 36.5 tackles for loss, 11.5 sacks, 10 pass breakups, 2 interceptions, 6 forced fumbles, 3 fumble recoveries