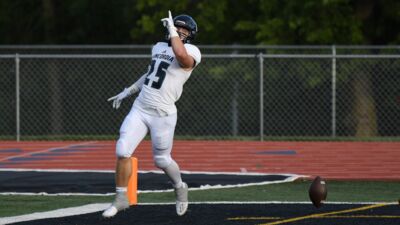 He once made eight 3-point field goals in a high school basketball game. As a college athlete, he's not far removed from a memorable five-touchdown performance in a classic overtime battle. Former Crete High School Cardinal Jonah Weyand is a man of many talents and a natural leader who teammates look up to. When success came his way last fall, Weyand was quick to give credit to his offensive line.
It's no wonder Concordia Head Football Coach Patrick Daberkow took joy in a significant recruiting win when Weyand pledged his commitment to the Bulldogs. Daberkow's program is the beneficiary of Weyand's decision to choose football over basketball.
"There was a lot of competition for him," Daberkow said. "He was a really good basketball player too. The first hurdle was for him to decide that he wanted to play football. He came to our prospect camp and we knew he was a great kid. He's been everything that I thought we were getting and more. He's a great leader, cares deeply about winning, cares deeply about this football program and wants things done the right way."
In the recruiting process, no school showed Weyand it wanted him more than Concordia. The relationship he developed with the coaching staff made a major difference. Said Weyand, "Up until my junior year I had actually wanted to play basketball. After my junior year of football I realized that football was probably my strong suit. My senior year I had a changed mindset with how I approached everything. Concordia had reached out my junior year and I came on a junior day visit. Coach (Wes) Coomes kept in touch with me and showed by far the most interest. Then you have Coach Daberkow and he's authentic with how he talks to you. That's what really got me interested – how intentional they were with me."
Now getting set for his fourth season within the program, Weyand has experienced a lot. Because of a medical redshirt season and the 2020 COVID season, he still has three years of athletic eligibility remaining. As Daberkow jokes, the recruitment process may not be over. Weyand is on track to graduate following this coming season and will have some options to weigh. He's a fine student who was recently named an Academic All-District honoree by CoSIDA.
On the football field, Weyand burst onto the scene in 2020 with two eye-popping performances to begin the campaign. In the season opener in his hometown Crete, Weyand burned Doane for 169 yards and two touchdowns. A week later, Weyand rushed for 177 yards and five touchdowns with the final score clinching an overtime victory over Hastings. He was subsequently named the NAIA National Offensive Player of the Week.
"It was a little different," said Weyand of being on the visitor's sideline at Crete's Papik Field. "I loved my years in Crete and I loved playing on that field. Being able to do it as a high schooler and now as a Bulldog is really cool. Last season when we went back there I was really looking forward to it. It was something I'll never forget. I think that was my best game on that field, even counting my high school days."
Such performances were the product of many hours of injury rehab and toil in the weight room. Weyand has transformed his body since arriving at Concordia in the fall of 2018. At 5-foot-11 and a little over 200 pounds, Weyand is built to run people over. He's also shown an ability to break the long run and to maneuver and stutter step his way around defenders when needed.
It still feels like the best is yet to come after Weyand rushed for 625 yards and nine touchdowns and was named a first team all-conference selection last season. Weyand showed he had regained his burst after suffering an ACL tear in 2018 the very first time he touched the football as a collegiate player. Weyand returned in 2019 and was the understudy to the accomplished Ryan Durdon. Heading into 2021, Weyand knows he's being counted upon for major production. Weyand has prepared himself for the physicality of the position and will be ready for the punishment that comes with 20+ touches per game.
Weyand said he's never been more motivated than he was after the ACL tear. From that moment, Weyand has bumped up his grade point average and improved in his faith while flourishing on the football field.
"It was a challenge that I really embraced," said Weyand of taking on a starting role. "I've always set high standards for myself. Coming in freshman and sophomore year, it was a blessing to be behind Ryan. He showed me a lot about the game. Those two years I was able to learn a lot. Coming back from the injury, I discovered instincts that I didn't realize that I had. I noticed I could do things that I hadn't done in high school. Coming into the moment, I feel like I was ready for it. I embrace being a leader on this team."
Weyand is the leader of a running back crew that Daberkow gushes about. It also includes Lyle Whitney, who rushed for 260 yards last season. The likes of Weyand and Whitney will run behind an offensive line with two returning All-GPAC players in guard Christian Schlepp and center Johnny Robinson. In order for Concordia Football to have the type of winning season it seeks, the run game has to continue to come along within Offensive Coordinator Reggie Corbin's scheme.
Says Daberkow, "We have a tremendous running back room with great kids and great athletes. They're always helping each other out and making sure everybody knows what they're doing. Jonah gets the most love because of the success he's had, but that whole room is outstanding. Jonah definitely fits in with that."
Weyand is not the only high profile Bulldog athlete to come out of the Crete High School class of 2018. The group also includes friends of Weyand in basketball players Carter Kent and Klay Uher as well as softball standout Camry Moore. They didn't plan it this way, but it worked out exceedingly well for everyone involved.
"With Carter and Klay, I didn't have a say on what they were doing," Weyand said. "They had a bunch of coaches reaching out to them for basketball. Carter told me Concordia was really interested in him. I actually came to a few basketball games that Carter and Klay attended as recruits. That was when we started talking about how this could be a lot of fun. When Carter told me he was going to commit to Concordia – that made me happy. He was my best friend growing up. Then Klay made the decision and I was like, 'this is pretty sweet.' It's cool to have those guys on campus and see our success from little kids, in high school and in the college level."
As for the Concordia Football team, Weyand says the next step is to finish games. He pointed directly to last season's losses at Northwestern and Dakota Wesleyan. In both instances the Bulldogs had their chances late in the game. Another year of development for Weyand, along with the improvement of an overall experienced roster, could help turn those losses into wins.
The presence of a running back like Weyand is a good start for any football team. Said Daberkow, "He's been a great player for us and equally great off the field."