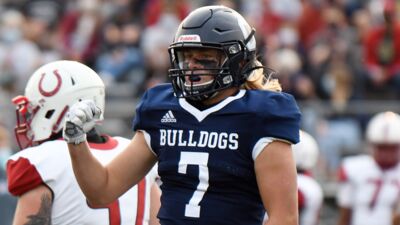 SEWARD, Neb. – For the fourth week in a row, the Concordia University Football team has earned a GPAC Player of the Week award. Following the 21-7 home win over Midland, senior safety Peyton Mitchell was voted the GPAC/Hauff Mid-America Sports Defensive Player of the Week, as announced on Monday (Oct. 25). Mitchell is the fifth different Bulldog to be honored with a GPAC weekly award this season. That group includes defensive teammates Caydren Cox and Lane Napier.
Mitchell enjoyed a performance that equaled a school record. His three interceptions of Midland quarterbacks tied a Concordia best for a single game best. Mitchell is the first Bulldog to accomplish that feat since current assistant coach D'Mauria Martin did the same in a 44-14 win over Midland on Oct. 14, 2017. Each of Mitchell's picks thwarted Warrior drives in Concordia territory. In addition, the native of Waverly, Kan., notched four tackles. A two-time Second Team All-GPAC honoree, Mitchell has collected 17 pass breakups and eight interceptions over 34 career games as a Bulldog.
As a team, Concordia picked off six passes in last week's win. That number is believed to have tied a school record for a single game. The 1967 squad intercepted six passes in a 33-0 win over Northwestern that season.
Mitchell and the Bulldogs (5-3) will have a bye this week while preparing to host Doane on Saturday, Nov. 6. Concordia will ride a four-game win streak into that matchup.
Three interceptions, one game (program history)
10/23/21 – Peyton Mitchell vs. Midland
10/14/17 – D'Mauria Martin vs. Midland
1979 – Andy Schwich vs. Doane
1951 – Marlin Zobel vs. Nebraska 'B' Team
2021 GPAC Players of the Week
Oct. 4 – DJ McGarvie (Offensive)
Oct. 11 – Caydren Cox (Defensive)
Oct. 18 – Lane Napier (Defensive); Korrell Koehlmoos (Special Teams)
Oct. 25 – Peyton Mitchell (Defensive)