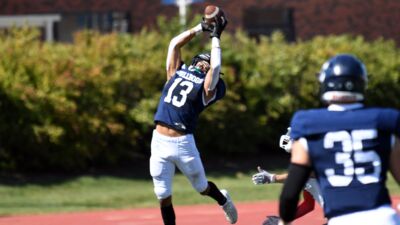 SEWARD, Neb. – Failure to take advantage of short fields caught up to the Concordia University Football team on Saturday (Sept. 25) in a 31-7 loss to No. 2 Northwestern, last season's NAIA national runner up. Considering the strength of the opponent, the Bulldogs did not have much margin for error anyway. Concordia turned the ball over four times (one pick-six) and watched as Red Raider quarterback Blake Fryar made two impressive touchdown flicks to open up a comfortable lead for the visitors.
Head Coach Patrick Daberkow's squad went 0-for-3 against the three 2020 NAIA playoff qualifiers within the conference. The Bulldogs stand at 1-3 with the victory coming over Briar Cliff two weeks ago.
"We just didn't make enough plays," Daberkow said. "We put our defense in a lot of sticky situations and we got out of most of them. I was really proud of their effort today. We have to find a way to score more points and do a better job of flipping the field on special teams. I thought we had some good things – we had a kick return that just about went (for a touchdown). We have to generate some points out of that."
During the opening quarter, Concordia had two cracks inside the red zone and came away with no points to show for it. Both drives ended in missed field goals. Northwestern led by just three points at the end of a quarter. The game got away from the Bulldogs in the second quarter when the Red Raiders cashed three separate interceptions into three touchdowns. The second score came after Tanner Oleson picked off DJ McGarvie and raced 19 yards for a Northwestern touchdown.
It was 24-0 before Concordia managed to dent the scoreboard. On McGarvie's best throw of the day, he somehow threaded the needle on a 20-yard touchdown strike to Korrell Koehlmoos in the second quarter. It was a rare offensive highlight on a day when the Bulldogs were limited to 200 total yards. Sixty-five of them came on a Jonah Weyand rush that ended with Northwestern recovering a fumble in the third quarter.
A bright spot for Concordia was the play of corner and return man Isiaha Conner, who showed game breaking ability. He took a kickoff for 67 yards in the first quarter and later intercepted a pass and returned it 35 yards. Conner's pick set up the lone Concordia score of the game. The Las Vegas native also made six tackles, including one for loss.
Other than the 32- and 36-yard pass plays allowed for touchdowns, the Bulldog defense stood tall. The potent Red Raider offense did not have a scoring drive longer than 53 yards. Carson Core and Caydren Cox came through with big fourth down stops and linebacker Lane Napier enjoyed another fine day while collecting 18 tackles for the second week in a row. Cox was credited with two tackles for loss, including a sack. Jorge Ochoa also registered a sack.
With the help of that 65-yard carry, Weyand finished with 102 rushing yards on 16 carries. The Crete High School product had missed the previous two games. McGarvie went 11-for-30 for 100 yards with a touchdown and three picks. Koehlmoos caught four passes for 53 yards and a score.
Northwestern (5-0, 4-0 GPAC) has now won 16 of its last 17 games. Star receiver Cade Moser reeled in eight receptions for 119 yards and a touchdown. Fryar finished 20-for-28 for 235 yards and two scores. Running back Konner McQuillan carried the ball 12 times for 88 yards and a touchdown. The Red Raiders got 21 of their 31 points off turnovers.
Said Daberkow, "Having played three playoff teams out of four games, it's important that we soak up the lessons that we learned and apply that moving forward. We've played really good competition and we have really good competition ahead of us. Our guys are playing hard. We have to stick with it and not get discouraged."
It will be homecoming next Saturday (Oct. 2) when the Bulldogs will welcome Dakota Wesleyan (2-2, 2-1 GPAC) to town for a 1 p.m. CT kickoff. Concordia enjoyed a three-game series win streak over the Tigers until DWU got the best of the Bulldogs, 28-17, in Mitchell, S.D., in the 2020 regular season finale.