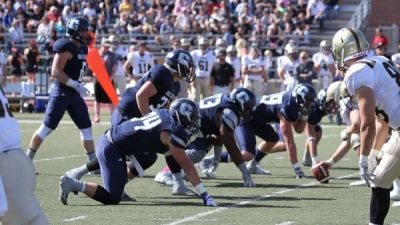 Midland University edges Concordia, 7-3
A blocked punt proved to be the difference as Midland University held on for a 7-3 GPAC football win over Concordia University on Saturday evening in Seward. Midland's Branden Brown blocked a punt and covered it in the end zone for the only touchdown of the game. The Warriors improved to 2-1 overall and 1-1 in conference play with the victory. Concordia dropped its second straight to fall to 2-2 overall and 1-2 in the GPAC.
Both defenses controlled the game, and neither team eclipsed 200 yards of total offense on a cold and damp evening in Seward. The Warriors finished with 175 yards of total offense, while the Bulldogs managed just 114 yards of offense on the night. The teams combined to go just 6-of-29 on third downs and 0-of-6 on fourth downs in the game.
Concordia grabbed a 3-0 lead late in the first half. Kenny Zoeller connected on a 41-yard field goal to give the Bulldogs the advantage heading into the halftime break. The play of the game took place early in the third quarter, as Brown blocked a punt by TJ Shirey with 9:25 left in the quarter. The blocked kick rolled into the end zone where it was recovered by Brown for the touchdown.
The Bulldogs had multiple opportunities to rally, but the Midland defense shut the door down the stretch. Concordia finished with three costly turnovers on the night. Midland totaled six fumbles but only lost one in the game.
John Faulkner completed 10-of-22 passes for 96 yards for Midland University. Derrick Middleton rushed 14 times for 67 yards, and Anthony White also carried it 14 times for 45 yards for the Warriors. Eddie Pertilla led the way with a game-high eight catches for 67 yards.
TJ Shirey completed 12-of-22 passes on the evening for 81 yards with an interception for Concordia. Zack Warner and Jamarcus Walker each caught three passes in the game. Ben Klein totaled 9.5 tackles and recovered a fumble for the Bulldogs defensively. Thomas Malander and Rusty McConnell added 8.5 and 8.0 tackles, respectively, for the Bulldogs in a losing effort.
Concordia has a bye next weekend. The Bulldogs host Hastings College on October 2.