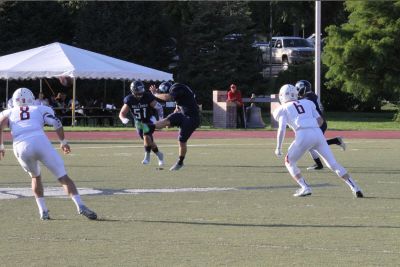 Meirose placed on the Watch List for the Fred Mitchell Award
SEWARD, Neb. – Senior place-kicker Adam Meirose has been selected to be on the Watch List for the Fred Mitchell Award. Meirose is one of just five kickers to be tabbed with this honor in the NAIA and the only student-athlete in the GPAC. The single-season school record holder in PAT's made (40) is among 41 total place-kickers in the country to be chosen for the Fred Mitchell Award Watch List.
Head football coach Vance Winter stated, "I feel like Adam Meirose is one of the best kickers in the country. I love his consistency and what he can do for us from a kickoff standpoint. He's got a ton of experience and he's worked really hard at it."
Meirose adds this recognition to his already impressive resume. The senior grabbed First Team All-GPAC honors and was chosen for the Capital One Academic All-District team last season and Second Team All-GPAC Team in 2013. Meirose is 15-21 for career field goals and 71 of 75 for career PAT's. Volunteering at the Cornhusker State Games, the North American Martyrs Church, Seward Memorial Hospital in physical therapy, Crete Physical Therapy, Habitat for Humanity in Lincoln and for the campus blood drive, Meirose stays active on and off the field.
The selection process of the Fred Mitchell Award Watch List goes through a blue-ribbon selection committee after the student-athletes are nominated by their schools. The student-athletes are chosen based on their actions on and off the field, representing their schools, teams, conferences, communities, families and themselves. The Fred Mitchell Award recipient will be announced in Dec. to one place-kicker from the Watch List. The award is named for Fred Mitchell, the All-American place-kicker from Wittenberg University.