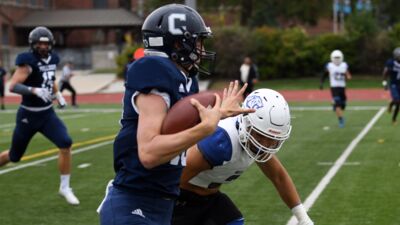 SEWARD, Neb. – Freshman quarterback DJ McGarvie had a hand in all five touchdowns and the Bulldog defense suffocated the life out of visiting Dakota Wesleyan on homecoming Saturday (Oct. 2) inside Bulldog Stadium. McGarvie was one of four players from the Concordia University Football team to find the end zone in what amounted to a 34-0 win. The Bulldogs easily overcame a minus-two turnover disadvantage by outgaining the Tigers, 442-138.
Head Coach Patrick Daberkow's squad has moved to 2-3 with both victories coming at home in dominant fashion. The shutout on Saturday marked the first for the program since its 44-0 win at Hastings on Sept. 21, 2019.
"I was proud of our effort both offensively and defensively. Both sides of the ball really did their jobs today," Daberkow said. "That was a team win. We still have some things we need to clean up in our special teams. I believe we'll get those things fixed, but I'm really proud of the effort.
"DJ is not easily flustered and I think that's what makes him a great quarterback. He'll sit in the pocket and deliver strikes – and he's dangerous with his legs. He can really hurt you when he gets loose. I was very pleased to see how he played today."
This game was more one-sided than the already lopsided score would indicate. Dakota Wesleyan's offense was completely flummoxed by a Concordia defensive unit that surrendered only seven first downs and 2.3 yards per play. Linebacker Caydren Cox cleaned up with 2.5 tackles for loss and 1.5 sacks. The Tigers (2-3, 2-2 GPAC) put two rushers over 100 yards in their win last week over Hastings. In this go-round, DWU ran for a grand total of 49 yards and standout running back Jamin Arend (30 yards on 13 carries) had nowhere to go.
Since the season opener at Morningside, the Bulldog defense has raised its game. In 13 possessions on Saturday, the Tigers punted nine times and turned it over on downs four times. They failed to reach the red zone even once.
Said Cox, "You try not to look at the scoreboard much, but you look up there and see a zero and that just motivates you to keep playing harder and keep the pressure on them. That was our goal to shut them out. Coach (Corby) Osten put together a great game plan and we just came out there and executed."
McGarvie looked a lot more like the quarterback that Bulldog fans saw in week two when Concordia blasted Briar Cliff, 61-21. The Lincoln North Star High School product went 14-for-19 passing for 210 yards and three touchdowns while adding 99 yards and two touchdowns on the ground. He became the first Bulldog quarterback to pass/rush for five touchdowns in a game since Von Thomas in 2014.
Concordia quickly got on the board in the first quarter when McGarvie raced 28 yards to the end zone while capping a hasty four-play, 75-yard drive. McGarvie also fired touchdown passes of 33 yards to tight end Garrett Schardt, 13 yards to Luke Lange (first career touchdown) and 22 yards to Art Anderson. In the final quarter, McGarvie took it over the goal himself one more time to complete the scoring. Four of the touchdown drives covered six plays or fewer.
"The offensive line was blocking amazing again and the receivers were catching balls like always," McGarvie said. "It was just an all-around team effort and everyone did great today … Wyatt (Ehlers)'s been helping me (acclimate to the starting role) and I have Jonah (Weyand) out there to always help me out and make sure I make the right reads. If I miss something, he's always telling me what I can do better. They're always looking out for me."
Anderson caught five passes for 52 yards and a touchdown as McGarvie's top target on the day. Schardt, who slipped a tackle on his receiving touchdown, finished with four grabs for 89 yards. Weyand bruised his way to 76 rushing yards on 18 carries.
The defense did not force any turnovers, but it was incredibly stout. Lane Napier paced the unit with eight tackles, including one of the bone crunching variety. Fellow linebacker Jorge Ochoa joined in on one of Cox's sacks. At corner, Isiaha Conner was credited with two pass breakups. DWU quarterback Kiel Nelson threw for just 89 yards on 34 pass attempts.
Said Daberkow, "The best part about that was the hitting we saw. We had a really physical performance from our defense today. I think physicality always sets the tone. Whether it's first-and-10 or fourth-and-one, we want a team that's going to put a hat on somebody and play the game the way it's meant to be played. It was a good win today."
The first of back-to-back road trips will have the Bulldogs headed to North Dakota to take on Jamestown (2-3, 2-2 GPAC) next Saturday. Kickoff is set for 1 p.m. CT from Rollie Greeno Field, where it will be homecoming for the Jimmies. Concordia has won two of three matchups with Jamestown since the Jimmies joined the GPAC beginning with the 2018 season.