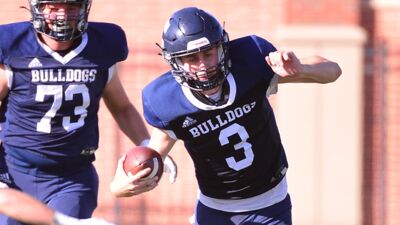 SEWARD, Neb. – Neither team led by more than eight points in a back-and-forth battle on Saturday (Oct. 22) afternoon between the Concordia University Football team and Dordt. A 20-yard fourth quarter field goal by the Defenders' Fulton Gunderson provided the winning score in a 29-28 victory for the visitors from Sioux Center, Iowa. The Bulldogs were edged at home despite a school record 458 passing yards from sophomore quarterback DJ McGarvie.
The loss snapped a three-game winning streak for Head Coach Patrick Daberkow's squad (3-4, 3-4 GPAC). Three of the team's four defeats have come by a combined margin of seven points.
"After a tough loss like this, the message is to do the next right thing," Daberkow said. "This one really hurts. We'll get better from it, no doubt about that, but right now you have to sit in it.
"We preach effort on every play. You never know which play it is that's going to be the play that breaks the game open. To have those plays not go our way today was very disappointing. We'll go back to the drawing board and see what we could have done differently."
Offensively, Concordia had two chances at mounting a game winning drive. Following Dordt's go-ahead field goal, McGarvie marched the Bulldogs to Dordt's 32-yard line before throwing an interception. Concordia got one more crack at it after its defense then forced a three and out. In their last gasp, the Bulldogs went backwards in the process of turning it over on downs. The defensive stands in crunch time allowed the Defenders (4-3, 4-3 GPAC) to celebrate their fifth-straight series win.
McGarvie may need to ice the right arm after he went 34-for-67 for 458 yards and four touchdown passes in another prolific performance. Concordia was one-dimensional on offense, but it worked for the most part. McGarvie completed four or more passes to six different receivers and fired touchdown strikes of 27 yards to Korrell Koehlmoos, 22 and 14 yards to Austin Jablonski and six yards to Luke Lang. The fireworks came after the Bulldog offense was largely held in check in the first half (seven points and 165 total yards).
The final McGarvie touchdown pass put Concordia in front, 28-20, at the time. That lead could have been larger considering the Bulldogs had a 27-yard field goal attempt blocked and returned for a 78-yard touchdown and missed a 31-yard field goal. Down eight in the fourth quarter, the Dordt offense mustered a touchdown drive that covered 75 yards on nine plays and the field goal that came after a 10-play, 59-yard drive.
With McGarvie slinging it, the Bulldogs have found an offensive identity. The six receivers with at least four receptions were Koehlmoos (seven for 96), Lang (six for 117), Devin Zeigler (six for 34), Carsen Arline (five for 91), Jablonski (five for 80) and Daylan Russell (four for 34). Over the past four games, McGarvie has completed 112-of-182 passes (.615) for 1,341 yards and 11 touchdowns to go against two interceptions.
Said Daberkow, "We have something going with our offense and throwing the ball right now. You have to build on your strengths. We have four offensive linemen starting for the first time the last few weeks. We threw the ball because we were having some success in the air. DJ's got a good arm, a good eye and he's a good leader. He's willing to take risks, and a lot of those risks paid off with touchdowns. He has receivers who trust him."
For a game that started slow from an offensive standpoint, the final numbers were a bit staggering – Concordia outgained Dordt, 499-485. The run-heavy Defenders were actually forced to throw the ball at times and finished with 232 passing yards and 253 rushing yards. Eighty-eight of their yards came on the halfback pass from Ethan Thomas to Jayden Huisman for a second quarter touchdown. The Bulldog offense was not nearly as balanced with 458 passing yards compared to 41 rushing yards.
As for the record-setting receiver Koehlmoos, his punting was phenomenal on Saturday. He punted seven times for an average of 48.7 yards with five of his punts pinning the Defenders inside their own 20. The Concordia defense was led by 12 tackles from Kam Baker and 11 apiece from Jayzen Armstrong, Michael Doiel and Gabe Knisley. In addition, Michael Grindey recorded a sack, Isiaha Conner came up with two pass breakups and Lukas Coe intercepted a fourth down pass.
After three in a row at home, the Bulldogs will be on the road the next two weeks. That stretch begins with a short drive to No. 17 Midland (7-1, 6-1 GPAC) for next Saturday (Oct. 29)'s 1 p.m. CT kickoff at Heedum Field in Fremont, Neb. Concordia won last season's matchup in Seward, 21-7, while picking off the Warrior quarterbacks six times. Three of those interceptions came from safety Peyton Mitchell.