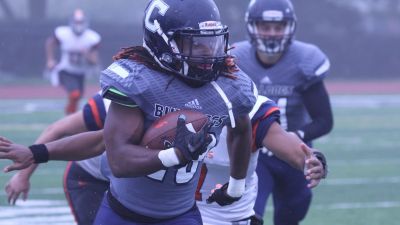 SEWARD, Neb. – Two days after tearing apart Midland, 44-14, inside Bulldog Stadium, a pair of native Texans on the Concordia University football team raked in individual honors. Named the GPAC/Hauff Mid-America Sports Defensive Player of the week Monday (Oct. 16) morning, senior D'Mauria Martin has also been tabbed the NAIA National Defensive Player of the Week. A record-setting day also allowed sophomore running back Ryan Durdon to claim GPAC/Hauff Mid-America Sports Offensive Player of the Week accolades.
Martin is the program's first national player of the week since defensive back Ben Klein collected the NAIA defensive player of the week award on Oct. 12, 2009. Head coach Patrick Daberkow's squad has now garnered three GPAC player of the week awards in 2017. Tarence Roby was selected as the GPAC defensive player of the week on Sept. 11.
A native of Converse, Texas, Martin hauled in all three of his interceptions in the first quarter of the win over Midland. He totaled 78 return yards on the three picks and set up touchdown passes by Riley Wiltfong with his second and third interceptions. A starting corner the previous three seasons, the converted safety also chipped in three tackles, one for loss, and two pass breakups last week. Martin's five interceptions this season rank as the second highest total of any player in the NAIA. To go along with the five picks, Martin has also posted 25 tackles (five for loss), four pass breakups and a forced fumble this fall.
Also a nominee for national honors, Durdon (Decatur, Texas) equaled a school single-game rushing record by galloping for 266 yards and four touchdowns on 28 carries in last week's win. Durdon cut through the Warrior defense for touchdown runs of 41, 54, three and 20 yards on the way to his second 200-yard rushing performance of the campaign. A converted receiver, Durdon ranks 10th nationally with an average of 119.8 rushing yards per game. He's currently on track to become the sixth player in program history to eclipse 1,000 rushing yards in a single season.
Durdon, Martin and the rest of the Bulldogs (3-3, 2-2 GPAC) are set to return to action on Saturday with a trip to Dordt (4-2, 2-2 GPAC) on the docket. Kickoff from Sioux Center, Iowa, is set for 1 p.m. CT.