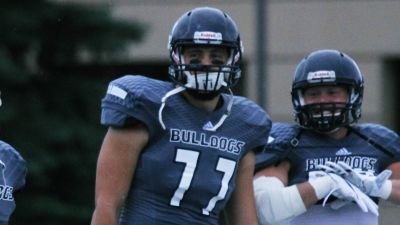 CoSIDA Academic All-America Football Teams
SEWARD, Neb. – For the second-straight year, senior Hallick Lehmann has been named to the CoSIDA Academic All-America® College Division football team. Academic All-America choices were revealed on Monday (Nov. 28). Lehmann and fellow senior Le'Dontrae Gooden also represented Concordia University football on the 2016 Academic All-District 3 Football teams of the College Division, announced on Nov. 3.
Selections were made by the College Sports Information Directors of America (CoSIDA). The CoSIDA Academic All-America® Football Teams have been released to recognize the nation's top student-athletes for their combined performances athletically and in the classroom. For more information about the Academic All-District™ and Academic All-America® Teams program, please visit http://cosida.com.
Lehmann, who hails from Albion, Neb., battled injury this past fall after beginning the season as the team's starting left tackle. A psychology and behavioral science major, Lehmann held down a starting role along the Concordia offensive line that helped pave the way for senior running back Bryce Collins to surpass 3,000 career rushing yards. Lehmann was also tabbed a 2015 Daktronics-NAIA Scholar-Athlete.
The College Division of District 3 includes the states of Iowa, Kansas, Minnesota, Missouri, Montana, North Dakota, Nebraska, South Dakota and Wisconsin.
Lehmann is the first Bulldog to garner Academic All-America recognition for the 2016-17 academic year.
2016-17 academic all-district honorees
(*Academic All-American)
Le'Dontrae Gooden, Football
*Hallick Lehmann, Football
2015-16 academic all-district honorees
(*Academic All-American)
*Amy Ahlers, Golf
*Stephanie Coley, Track & Field
*Chandler Folkerts, Basketball
*Hallick Lehmann, Football
Adam Meirose, Football
Becky Mueller, Basketball
*CJ Muller, Track & Field
*Kim Wood, Cross Country/Track & Field
2014-15 academic all-district honorees
(*Academic All-American)
Amy Ahlers, Golf
*Brendan Buchanan, Soccer
Stephanie Coley, Track & Field
*Chandler Folkerts, Basketball
Jaydee Jurgensen, Baseball
Adam Meirose, Football
Bailey Morris, Basketball
*Rachel Mussell, Soccer
Shawn Rodehorst, Golf
Ben Sievert, Cross Country/Track & Field
Melissa Stine, Soccer