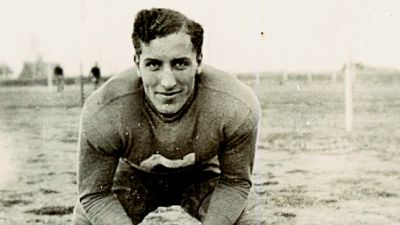 The following passage is derived from the book, Cultivating Men of Faith and Character: The History of Concordia Nebraska Football, written by Director of Athletic Communications Jake Knabel. This account details Concordia Athletic Hall of Famer Bernard Arkebauer a legendary figure at both Concordia High School and Concordia Teachers College. Incredibly, Arkebauer led Concordia High to a 6-0 record in 1930 before powering the Teachers to a 7-0 mark in 1931. The native Kansan is a major player in Bulldog football lore.
--------------------------
On his way to scoring a program record 19 total touchdowns (still a single-season school record), Bernard "Arkie" Arkebauer pretty much did it all. He ran for touchdowns, he caught touchdowns, he punted and he made opposing quarterbacks pay for mistakes by plucking interceptions. Wrote the Concordia College News, "Of course, we all know that there is Arkebauer as do all of our opponents. The husky Kansan just seems to have a way of making his presence felt." With Arkie at the forefront, it would be Concordia doing the "trimming" in 1931.
In facing its stiffest competition all year, Arkebauer showed off his big-play ability by returning an interception 70 yards for a score – only to have it called back by an offside penalty. In that same game – a 21-7 win over Hebron Junior College on November 7 – the "husky Kansan" made a spectacular catch of a pass from Herb "Bulldog" Meyer and "went for a touchdown being tackled just as he crossed the line." With the victory over Hebron, CTC pushed its mark to 6-0 and locked up a Nebraska Junior College Conference championship.
Indeed, Arkebauer and Meyer made for a deadly combo. They powered the 1931 team to a 7-0 record while outscoring opponents 206-19. They won games by counts of 25-0 over Nebraska Central, 31-0 and 32-0 over Dana, 13-12 and 21-7 over Hebron and 54-0 and 31-0 over Luther. In the 54-0 "snowing under" of Luther, Meyer tallied three scores and Arkebauer two. Even at a time when the forward pass had yet to become vogue, this team had aeronautical flair. Meyer raced into the end zone on a 20-yard "reverse lateral pass" for the fifth touchdown of the trouncing.
To this day the 1931 squad stands as arguably the best in program history. It held opponents to an average of a mere 2.7 points per game – a program record that is unlikely to ever be broken. The departing lettermen on the '31 team included The Bulldog Meyer in addition to guard Cocky Hellbusch, center Gib Kufahl, tackle Pop Stohlmann, end Fritz Kauffeld, end Ray Maag, halfback Emilia Petsch, guard Vern Ronnekamp, guard J.B. Tucker and tackle Bill Zobel. In summary, The Broadcaster read: "This year's team and the record they set will remain long in the memories of sport fans who give their loyalty and support to the school and its activities." The glorious season provided a measure of relief as America suffered through the Great Depression. As stated by The Broadcaster, "The financial depression which is holding our country in its grasp could hardly be expected to leave our institution untouched."
The first Hall of Fame nomination for Arkebauer incorrectly stated his years of participation at CTC as being from 1931-34. However, Arkebauer's name disappears from all game accounts following the 1931 season, his first as a collegiate athlete. A 1949 Broadcaster publication listed Arkebauer as a 1932 graduate of CTC. No records corroborate him as graduating in 1932, although a 2003 alumni directory shows a "Bernard H. Arkebauer" under the class of 1945. Mysteriously, he's not among those depicted in the 1945 graduation program. Based on Internet searches, Arkebauer is believed to have been born on August 3, 1912, and to have died on March 4, 1984 (as displayed on a gravestone located at Immanuel Cemetery in Dade County, Missouri). What Arkie did after his 1931 football season is not quite clear. Perhaps he was the same Bernard H. Arkebauer who became Director of Christian Education and Music at Mount Olive Lutheran Church in Madison, Wisconsin, in 1966. According to the church's website, Arkebauer died in 1984 and a garden was created in his memory.
What is known is that Arkie had already become well known in Seward during his time at Concordia High School. A 1930 headline read, "Arkebauer stars as high school trims Geneva, 19-6." In that contest Arkie scored all three Concordia High touchdowns, one of which came on an 80-yard punt return. In continuing his flair for the big play, Arkie intercepted a pass and sprinted 70 yards for the game's final score. In the November 1930 edition of The Broadcaster, Arkie was credited with punting a ball 70 yards and scoring the only touchdown of a 7-0 win in the rivalry game with Seward High School. He never stopped scoring touchdowns. Before engineering CTC's perfect 7-0 season in '31, Arkie paved the way for Concordia High School's 6-0 campaign in 1930. Not only that, Arkebauer played center and captained the CTC basketball team that won the 1931 Nebraska Junior College Conference championship.
Very few individual athletes were featured in The Broadcaster during the 1930s, but an exception was made for the incredible Arkie. The publication revealed the following account of the then high school senior: "There goes a man through the line. Too bad, two men are on him at the six yard line. But there are the raised arms of the referee. The man scored. That was Arkebauer! Bernard Arkebauer, fullback, from Haven, Kansas, big, with black, kinky hair, is the boy who has been doing things like that all season. We can quite confidently say without delving into past records of Concordia gridiron heroes, that Arkebauer has set up a record that will be good for quite a number of seasons. He scored thirteen touchdowns and five extra points in six games. These touchdowns have been made in almost any method possible. Long runs, crashing plunges, snaring passes are all in his point-producing repertoire. Then on the defense he comes through with such tackles, and long, high punts. And he is not one of these stars who plays well one game then has an off day. He has played superior football in every game and finished with a flashing game at Bethany. True, he had a good, fighting line to help him, but when a lugger is tackled on the six-yard line and then goes over for a touchdown, that's not a line, that's Arkebauer!"
Not only referred to as Arkie, The Broadcaster once even dubbed him the "Haven Havoc" in a play off his hometown. Unfortunately, Arkie's compelling story survived in written accounts only, but his greatness was recognized by all who had the pleasure of watching him. In 1949 a group of 45 alums voted on an all-time Concordia football team. Arkebauer topped all vote getters.