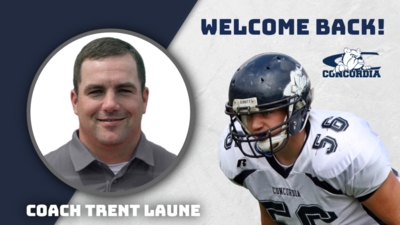 SEWARD, Neb. – (Feb. 18, 2022) Alum Trent Laune is coming back home. Head Coach Patrick Daberkow and the Concordia University Football program have announced the hiring of Laune as Special Teams Coordinator. Laune's first day on the job will be Feb. 21. He arrives at Concordia after serving as Defensive Coordinator at NCAA Division III Grove City College in Grove City, Penn.
Daberkow's full-time staff also includes Corby Osten and Grady Koch. Laune fills the void left by Reggie Corbin, who now serves as the Offensive Coordinator at another NAIA school.
Said Laune, "I thoroughly enjoyed my time at Concordia University as a student-athlete and I am very excited to return. I have followed Concordia Football closely, and I am very impressed with the development of the program under Coach Daberkow. I can't wait to get started and help CU Football take the next steps on and off the field."
Said Daberkow, "I'm really excited about the addition of Coach Laune to our staff. He brings a wealth of knowledge and experience as a coach and also as a man who will invest in our players. He will get the most out of our guys, and I look forward to working with him."
Originally from Ashland, Neb., Laune played linebacker for the Bulldogs from 2004 through 2007 and was named Second Team All-GPAC in 2007. He immediately began his coaching career following his graduation and served as a graduate assistant for the Bulldogs under former head coach Vance Winter. After leaving Seward, Laune landed at NCAA Division III Greenville University in Greenville, Ill., as Defensive Coordinator. Between Greenville and Grove City, Laune possesses a combined nine years of experience running defenses at the collegiate level.
While at Grove City, Laune collaborated on the program's turnaround and helped the Wolverines produce a combined record of 25-8 over the 2018 through 2021 seasons. Under Laune's direction, Grove City's 2021 defense limited the opposition to averages of 254.0 yards and 15.8 points per game. While at Greenville, Laune enjoyed similar success in elevating the defense and aiding the Panthers in a 9-2 campaign in 2013. Laune and the Greenville program produced an NFL free agent signee in Nicholas Morrow, a current member of the Las Vegas Raiders. As part of his duties, Laune proved successful on the recruiting trail in landing student-athletes from 11 different states throughout his career.
Laune will be returning to his roots. He led the 2007 Bulldogs in tackles with 70 while also recording 3.5 tackles for loss and two interceptions. As a graduate assistant at Concordia, Laune coached standouts such as linebacker Jerrod Fleming, a 2011 First Team All-GPAC performer. Laune earned both his Bachelor of Arts in Business Administration and his Master of Business Administration from Concordia.