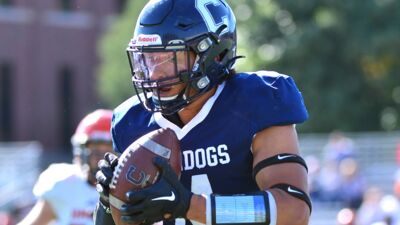 FREMONT, Neb. – Five-hundred yards of offensive output wasn't quite enough on Saturday (Oct. 29) as the Concordia University Football team gave its best shot at upsetting No. 14 Midland. The Warriors rallied from an early 10-0 deficit and won, 41-31, in what was the 67th all-time series meeting between the two rivals. Midland paved the way to victory by rushing for 259 yards, controlling time of possession and by blocking a punt that led to three points.
Head Coach Patrick Daberkow's squad slipped to 3-5 while dropping another close one. Three previous defeats came by margins of four points or less.
"We have to find a way to win close games. We haven't done that yet," Daberkow said. "It hurts when you work hard, you're in position and you don't make things happen. We have to be more disciplined and stay away from penalties. We'll figure out what we need to do to eliminate that. It's really hard to lose these games. Every week in this conference is a dogfight. In these tight games, everything you do wrong is exposed. We really need to shore those things up."
The Concordia offense totaled 307 passing yards and 194 rushing yards while up against a Midland defense that entered the game ranked top 15 nationally for both scoring and total defense. Tight end Luke Lang enjoyed a monster day as he caught touchdown passes that covered 18, 30 and six yards. Daberkow and his staff effectively used the talents of DJ McGarvie and Austin Jablonski. McGarvie threw for 296 yards and two scores and Jablonski engineered a 10-play, 99-yard drive that got the Bulldogs within three (34-31) midway through the fourth quarter.
Midland (8-1, 7-1 GPAC) was simply more efficient in converting its opportunities into points. The Warriors were 5-for-5 in the red zone with four touchdowns and a field goal. The Warriors are not apt to throw the ball, so they relied on a running game that got 91 yards and two touchdowns from Levi Markey, 69 yards from Gunner Todorovich and 61 yards from Trevor Jones (all on one play). Midland milked the clock on its final possession, which ended on a 37-yard touchdown pass from Desmond Prusia to Markey (with nine seconds remaining).
The Bulldogs squandered a major opportunity in the second quarter after Kyle Sterup forced a Warrior fumble that was recovered by Lukas Coe at the Midland 24. Concordia proceeded to miss a field goal in an empty red zone trip. The Bulldogs also had a punt blocked while trailing 31-24 late in the third quarter. The Warriors capitalized with one of Jared Quinonez's two field goals on Saturday. Those were the plays that made a difference on a day when Concordia outgained Midland, 501-368.
As part of the productive offensive day for the Bulldogs, Korrell Koehlmoos caught 12 passes for 96 yards. He now owns the program record for receptions in a single season (74) while pushing his career reception total to 200. Austin Jablonski ran for 78 yards and threw a jump pass to Lang for a touchdown. A breakout performer in 2022, Lang caught five passes for 77 yards and three touchdowns. McGarvie also ran for a score in addition to his two touchdown tosses.
Said Daberkow of the use of both McGarvie and Jablonski at quarterback, "Jabo is such a talented athlete and such a smart kid. To have DJ and Jabo to operate back there is a blessing. Jabo brings different things to the table. We had a couple things we wanted to try out of that look (with Jabo). It was working so we kept going to it."
It was a big outing for Sterup at defensive end. He collected 12 tackles, one stop for loss and a forced fumble. Meanwhile, Kam Baker made 11 stops (two for loss), Michael Grindey added 10 tackles and Coe came up with a sack and a fumble recovery.
The final road game of the 2022 season is coming up next Saturday (Nov. 5) when the Bulldogs will be in Sioux City, Iowa, to take on Briar Cliff (1-8, 1-7 GPAC). Kickoff is set for 1 p.m. CT from Memorial Field. Concordia has won three straight series meetings and is 16-3 all-time versus the Chargers. In Saturday's action, Briar Cliff was blown out at No. 4 Northwestern, 56-7.