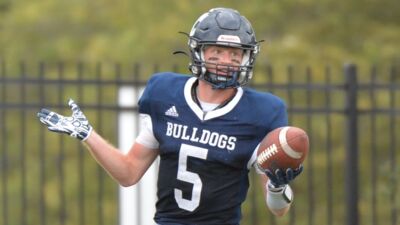 MITCHELL, S.D. – Both teams were starving for a victory as the Concordia University Football program met up with Dakota Wesleyan in Mitchell, S.D., on Saturday (Oct. 1) afternoon. After being held scoreless in the first half, the Bulldogs leaned upon the combination of DJ McGarvie and Korrell Koehlmoos in the passing game. Koehlmoos hauled in three touchdown receptions in the third quarter as Concordia defeated the Tigers, 20-12. The Bulldogs won in Mitchell for the first time since 2007.
This was a start for Head Coach Patrick Daberkow's squad, which let go of second half leads in each of its first three outings. Concordia moved to 1-3 while having played three of four away from home.
"The guys did a great job of responding in the second half," Daberkow said. "We had talked about how we need something different in the third quarter. We switched things up and were able to make some adjustments that really played a role in the outcome. I was proud of how the guys battled, didn't get down on each other and just stayed with it."
The Bulldogs have not been shy about feeding the ball to their best playmaker in Koehlmoos, who surpassed 150 career catches in the victory. The Pilger, Neb., native collected 15 catches for 115 yards and three touchdowns in perhaps one of the best statistical games ever by a Concordia receiver. His scoring grabs on Saturday came from 31, three and six yards out, respectively, as the Bulldogs erased what had been a 3-0 halftime deficit. Each of the three Concordia scoring drives covered at least 70 yards.
While making his 10th career start at quarterback, McGarvie completed 26-of-40 passes for 255 yards. McGarvie now has 22 career touchdown passes to his credit. He found Austin Jablonski six times for 95 yards in the best offensive outing of the season to date. Luke Lang also pulled down two catches for 42 yards. On the ground, the Bulldogs got things going with 40 rushes for 179 yards as a team. Devin Zeigler ran for 76 yards on 19 carries and Mark Arp rushed for 63 yards on 13 attempts.
Defensively, Concordia limited Dakota Wesleyan to 14 first downs and 303 total yards. Gabriel Knisley paced that unit with eight tackles, including 1.5 for loss. Jayzen Armstrong and Michael Grindey added eight tackles apiece while linebacker Nick Leader came up to make two sacks and nose guard Devon Polley even picked off a pass that deflected off a receiver. The defense had the difficult task of going up against Tiger running back Jamin Arend, who wound up with 125 yards and a touchdown.
"It's a matter of getting the right run fits and getting push up front," Daberkow said. "We made some adjustments in the second half. I was proud of the defensive coaching staff. Anytime you're playing low scoring games, there's a ton of pressure on the defense. To be able to stand up and make the necessary adjustments, I thought that was really big."
Through four games, Koehlmoos has compiled 373 receiving yards and five touchdowns on 34 catches. With 160 career receptions, Koehlmoos is just eight shy of the program record of 168 by former All-American tight end Ross Wurdeman. As of Saturday night, Koehlmoos ranks fifth among all NAIA receivers in catches this season. Not to be overlooked, Koehlmoos has been steady as a punter and put two of his four punts inside the 20 on Saturday. He averaged 40.8 yards per punt.
Dakota Wesleyan (0-6, 0-5 GPAC) had won each of the previous six home meetings with Concordia. The Tigers got their points on Saturday from a Jaxon Patrick 24-yard field goal, a PAT attempt returned back the other way and via a four-yard run by Arend. Dating back to last season, DWU has lost seven games in a row.
A string of three straight home games will begin next Saturday (Oct. 8) when the Bulldogs will host Jamestown (3-3, 2-3 GPAC) at 1 p.m. CT. Since the Jimmies joined the GPAC, Concordia has won three of the four series matchups, including the 2020 get together in Seward. Last year's meeting resulted in a 24-17 Bulldog victory in Jamestown. The Jimmies were impressive on Saturday in beating Doane, 41-17.