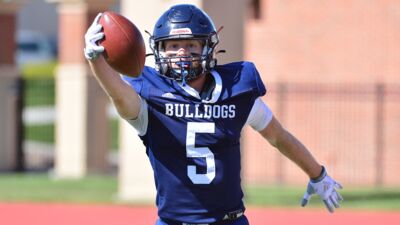 First Team: Michael Grindey (LB), Korrell Koehlmoos (WR)
Second Team: Kaden Peters (OL), Devon Polley (DL)
Honorable Mention: Kam Baker (DB), Isiaha Conner (DB), Korrell Koehlmoos (P), Luke Lang (TE), DJ McGarvie (QB)
SEWARD, Neb. – All-conference awards have been handed out for the 2022 football season. In highlighting the GPAC selections announced on Tuesday (Nov. 15), linebacker Michael Grindey and receiver Korrell Koehlmoos represented the Concordia University Football program with first team honors. Meanwhile, second team accolades went to offensive lineman Kaden Peters and defensive lineman Devon Polley. Koehlmoos was also given honorable mention for his punting while joined by four teammates in the honorable mention category: safety Kam Baker, cornerback Isiaha Conner, tight end Luke Lang and quarterback DJ McGarvie.
Head Coach Patrick Daberkow's squad completed the 2022 season this past Saturday with an overall record of 4-6. One of the major positives was the emergence of a passing game that led to the Bulldogs breaking the school record for total offense (average of 407.5 per game).
After fighting through injury in 2021, Grindey broke out as the team's leading tackler in 2022. The native of Phoenix, Ariz., totaled 92 tackles, four stops for loss, a sack, a forced fumble and a fumble recovery while starting all 10 games at linebacker. Grindey notched a season high 14 tackles in the game versus Hastings on Sept. 17. He reached double figures in tackles in three separate contests.
Koehlmoos made his fifth season of collegiate football count in 2022 while enjoying the greatest season ever for a Concordia receiver. The native of Pilger, Neb., and graduate of Lutheran High School Northeast posted 2022 numbers of 95 catches for 1,024 yards and 12 touchdowns – all school records for a single season. Koehlmoos will leave Concordia with additional school records for career receptions (221) and career receiving yards (2,894) in 48 games played. He ranks No. 2 in receiving touchdowns (25). At the close of the regular season, Koehlmoos owns 2022 NAIA national rankings of second in receptions, seventh in receiving yards and seventh in receiving yards. As the team's punter, Koehlmoos averaged 40.1 yards per attempt and landed 22 punts (out of 58) inside the opposition's 20. Koehlmoos was also a First Team All-GPAC selection in 2020.
With much of the offensive line in flux because of injuries, Peters provided a steadying force at left tackle while starting all 10 games. The native of Wood River, Neb., was a key cog in an offense that averaged more than 400 yards per game and put up 30 or more points four times. Peters was one of 12 seniors honored prior to kickoff of the regular season finale.
At nose guard, Polley wreaked havoc upon opposing offenses this fall. He led the team in tackles for loss (15) and sacks (six) as he consistently generated pressure up the middle. Polley also notched 43 tackles and made an interception in the win at Dakota Wesleyan. The native of Edmond, Okla., has racked up 22.5 tackles for loss and 9.5 sacks over his first two seasons as a Bulldog. Polley was named the GPAC Defensive Player of the Week on Oct. 10.
The Lincoln North Star High School product McGarvie is just beginning to rewrite the school's passing record book. With McGarvie at the controls, the '22 Concordia team became the most prolific pass offense in school history. The Bulldogs broke team records season records for total offense per game (407.5), overall passing yards (2,817), passing yards per game (281.7), completions (252) and passing attempts (444). Individually, McGarvie broke school season passing records for yards (2,553), completions (229) and attempts (388). McGarvie also threw for 18 touchdowns (rushed for two) while throwing only six interceptions. His 458 passing yards versus Dordt were a program single game record.
Baker and Conner excelled as part of a strong secondary. A San Antonio, Texas, native, Baker has racked up 68 tackles to go along with 8.5 stops for loss, four forced fumbles, two pass breakups, one sack and one fumble recovery. Meanwhile, Conner (Las Vegas, Nev.) led the team with four interceptions while adding 54 tackles, four pass breakups and one fumble recovery.
Lang burst onto the scene in 2022 as one of the league's top tight ends. He hauled in 39 receptions for 593 yards and five touchdowns this fall. Lang put together a string of three-straight games with a touchdown during the month of October. He pulled in three touchdown catches at Midland on Oct. 29. The Brentwood, Calif., native notched his first career 100-yard receiving game versus Dordt (six catches for 117 yards and a touchdown).