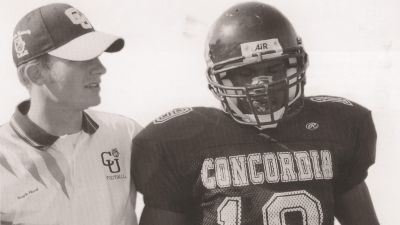 Concordia football records
There has never been an online source for comprehensive Concordia football career individual records, until now. Want to know who has the most career passing yards? Or the most intercepted passes in program history? Click the link ("individual career records") above to find out.
Only statistics that could be verified in official records (Concordia archives, newspaper accounts, etc.) are included. One "black hole" in the record books is the 1985 season (if you have statistical record of this year, check out the contact below). This was a significant year because it was the senior season for Concordia Athletic Hall of Famer Cleve Wester, the program's all-time leader in career rushing yards. A note should also be made about tackles. We have included GPAC era tackles only because of a concern over the accuracy of tackle statistics that predate the advent of computer stats software programs.
Both the single-season and career record books display plenty of current Bulldogs. Junior Jared Garcia continues to rocket up the career receiving lists, ranking No. 1 in touchdowns (29), second in receiving yards (2,188) and third in catches (140). He holds down three of the top four spots in terms of single-season touchdown catches and three of the top 10 positions for single-season receiving yards.
Running back Bryce Collins ended his career as one of the most prolific rushers in program history. He finished his time as a Bulldog at No. 2 in career rushing yards (3,547) behind only Wester (3,867). Collins also ranks in a tie for second in career total touchdowns (37). On the single-season rushing list, Collins appears three times among the top 13 and is one of five players in program history to eclipse 1,000 rushing yards in a season.
At the bottom of the career record book document is the list of every head coach in the program's history. Vance Winter ended his tenure with the eighth most wins among the nine head coaches all-time. Last week it was announced that Patrick Daberkow had become the 10th head coach in the history of a program that dates back to 1925.
NOTE: If you believe a football record is missing, please contact Jake Knabel (jacob.knabel@cune.edu), Director of Athletic Communications. Record books will not be edited/updated without documentation.