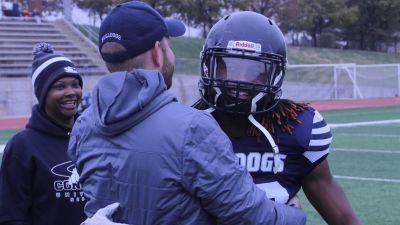 SEWARD, Neb. – Throughout an unbeaten regular season, third-ranked Morningside has proven itself to be on another level as compared to its GPAC brethren. Even an early lost fumble in the red zone failed to slow down the Mustang machine that handed the 25th-ranked Concordia University football team a 35-0 defeat inside Bulldog Stadium on Saturday afternoon (Nov. 11). The Bulldog home win streak ended at 10.
Patrick Dabekow's first season concluded with a 6-4 overall mark and a third-place GPAC finish (5-3). It's the highest conference placement for a Concordia football team since the 2001 squad shared the GPAC championship. Daberkow hopes to someday make his program a playoff qualifier like Morningside.
"They're good football players and they're well-coached so that's always difficult to play and coach against," Daberkow said. "Our plan was to run the football and try to limit how many series they got. Everybody who has run the ball this year was in a walking boot or crutches most of the week. We have a tough group. We just struggled to run the ball today. It was a holistic effort in what happened with the final score."
Morningside (11-0, 8-0 GPAC) has grown accustomed to overwhelming opponents with its size and physicality in the trenches on both sides of the ball. A Bulldog running game that had been rolling during the four-game win streak was stonewalled by the Mustangs. Concordia rushed 37 times for 38 yards and managed only 149 total yards. Hobbled by an injury to his right foot, star back Ryan Durdon ran for minus-one yard on seven carries.
That just wasn't going to get it done against a high-powered offense engineered by prolific quarterback Trent Solsma. He fired four more touchdown passes on Saturday while connecting often with receiver Chad Berg. Solsma went 23-for-35 for 282 yards. Berg hauled in 11 passes for 149 yards and two scores. Solsma also found Connor Niles and Tanner VerSteeg for touchdowns. Morningside ran 83 plays to 55 for the Bulldogs and piled up 508 total yards.
Freshman linebacker Lane Napier figures to be the cornerstone of future Concordia defenses. He flew around the field, making 17 tackles on Saturday to run his season total to 97. Napier and the Bulldog defense forced a pair of turnovers. The first one came when Napier jarred the ball loose from running back Bubba Jenkins. Derek Tachovsky came up with it. It was also a productive day for junior safety Caden Jameson, who collected 13 tackles and returned an interception 58 yards.
Saturday's game marked the final outing in the careers of a senior class that includes the likes of record-breaking receiver Jared Garcia and ball-hawking defensive backs D'Mauria Martin and Tarence Roby. The seniors helped the program to a record of 24-17 over the past four seasons. The group helped raise the program up.
"You find out a lot about people when you put them under pressure and make them work together with people that are different than them," Daberkow said. "What I love about our group of seniors is they're ready. They're ready for whatever is going to be thrown at them after graduation. It's a selfless group. I'm going to miss them a lot. It's hard to think about Concordia football without those guys."
Quarterback Riley Wiltfong went 7-for-17 for 103 yards and three interceptions. The Bulldogs were picked off three times by junior corner Xavier Spann. The top target was senior receiver Kiyoshi Brey, who made four catches for 54 yards.
Concordia ended up winning four of its five home games this fall. It went a perfect 5-0 at Bulldog Stadium during the 2016 campaign. The program has gone 13-7 over the past two seasons.