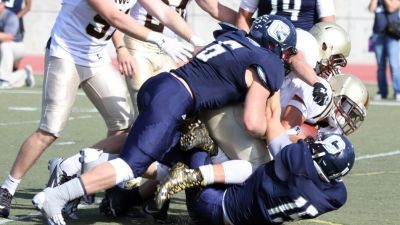 SEWARD, Neb. – Tackling machine Michael Hedlund enjoyed the most productive single game of his career in Saturday's 34-23 victory at Ottawa University. On Monday he was recognized for that performance, earning the distinction of GPAC/Hauff Mid-America Sports Defensive Player of the Week. It is the first weekly award in the career of Hedlund.
The pride of O'Neill, Neb., first arrived at Concordia as a quarterback, a position he played as a freshman. The 6-foot-1, 215-pound senior has found a home as an inside linebacker. In the win over Ottawa, Hedlund filled the stat sheet with 18 tackles (11 solo), 1.5 tackles for loss, an interception and a forced fumble. His interception helped preserve a 31-23 Concordia lead in the fourth quarter.
Hedlund is coming off a second team all-GPAC season as a junior in 2015. He topped Concordia last season with 105 tackles while also posting 4.5 tackles for loss, two sacks and an interception. Over 21 career games as a Bulldog, Hedlund has amassed 185 tackles (nine for loss), eight interceptions and five pass breakups. This season he currently ranks second among all NAIA players with an average of 15.5 tackles per game.
Hedlund and the Bulldogs (2-0) open up conference play on Saturday when Northwestern (0-2) visits Bulldog Stadium for a 1 p.m. kickoff.