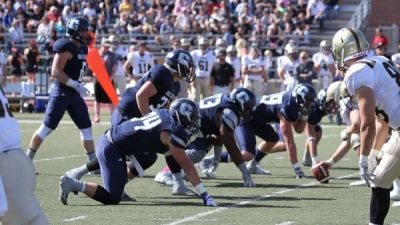 Hastings College cruises past Concordia, 23-6
Hastings College took advantage of turnovers and solid field position to cruise to a 23-6 GPAC football win over Concordia on Saturday afternoon. The visiting Broncos improved to 3-2 overall and in the GPAC with the win, while Concordia dropped to 2-3 overall and 1-3 in conference play with the loss.
Following a Concordia punting mistake, Hastings College marched 38 yards in six plays to take an early 7-0 lead with 5:40 remaining in the first quarter. Dalton Sealey scored from one yard out to put the Broncos on top.
The Bulldogs got on the board with 10:27 remaining in the second quarter. A 60-yard screen pass to Jamarcus Walker put the Bulldogs deep into Hastings territory, and Kenny Zoeller connected on a 24-yard field goal to make the score 7-3.
Hastings added to its lead early in the third quarter. Ernesto Lacayo hit a 41-yard field goal to increase the Bronco lead to seven at 10-3. Concordia had a great opportunity to tie the game late in the third. The Bulldogs drove all the way inside the Hastings five yard line but were unable to punch in a touchdown. Concordia settled for a 22-yard field goal by Zoeller to cut the lead to four at 10-6 heading into the final quarter of play.
The Broncos poured it on in the fourth quarter. Quarterback Troy Huebert connected with Blake Horstmann on a 25-yard touchdown strike with 10:34 remaining in the game to push the lead to 17-6. Following Concordia turnovers, Lacayo tacked on two more field goals down the stretch for the Broncos for the final score of 23-6.
Hastings finished with 340 yards of total offense on the day compared to 213 for Concordia. The teams combined for just 5-of-28 on third down conversions on the day. Concordia had five costly turnovers in the loss.
Huebert comleted 14-of-26 passes for 168 yards with a touchdown and an interception for the Broncos. Sealey rushed for 97 yards on 22 carries with a score, and Horstmann caught four passes for 65 yards and a score for Hastings College.
Cohl Tufford completed just 10-of-23 passes on the day for 82 yards and three interceptions for Concordia. Tufford also rushed for 108 yards on 17 carries. Jamarcus Walker finished with 58 receiving yards on three receptions. Ben Klein had 9.5 tackles, and Jerrod Fleming added 6.5 stops on the day for the Bulldog defense.
Concordia travels to Doane College next Saturday for a 1 pm contest against the Tigers.