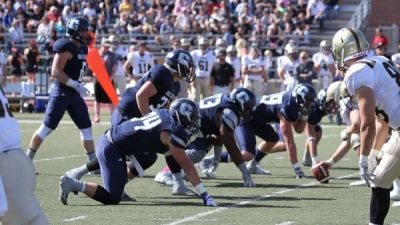 Harris, Fleming and Klein named to OWH All-Nebraska Team
Preston Harris, Jerrod Fleming and Ben Klein picked up more postseason honors, as they were selected to the Omaha World Herald's 2010 All-Nebraska NAIA Football Team. Heath Broekemeier, Nate Sindt, Charles Washington and Kenny Zoeller were honorable mention selections for the Bulldogs.
Harris (Lincoln, Neb.) was a First Team All-GPAC selection this season. He was fifth on the team with 40.5 tackles. He totaled 5.5 tackles for loss and three interceptions. Harris also led the team with nine defensive breakups on the season.
Fleming, a junior linebacker from Houston, battled through injuries to have a strong season for the Bulldogs. He was third on the team with 44 total tackles and finished with a team-high 8.0 tackles for loss.
Klein, a junior from Dallas, easily led Concordia with 63.5 tackles on the year. He picked off two passes and totaled seven pass breakups from his safety position. He also forced a fumble, recovered a fumble and blocked a kick during the 2010 season.
Broekemeier was second on the team with 46.5 tackles. The junior defensive back from Prairie Grove, Arkansas, led the team with four interceptions. He added seven pass breakups, two fumble recoveries and one forced fumble on the year.
Sindt, a senior from Scottsbluff, hauled in 18 passes for 148 yards on the year.
Washington, a junior offensive lineman from Houston, was a key leader for the Bulldogs in 2010. The Bulldogs battled injuries throughout the season, but Washington was a consistent force on the line this year.
Zoeller (Spring, Texas) was 8-of-11 on field goals in 2010. He was a perfect 4-of-4 from 20-29 yards and 3-of-3 from 40-49 yards.
The Bulldogs finished the 2010 campaign with a 4-7 overall record to go with a 3-7 mark in GPAC play.