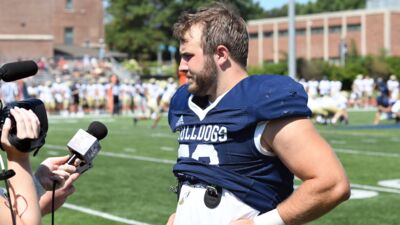 All-American linebacker Lane Napier is certainly proud of the accomplishments he's enjoyed on the football field, but he would probably rather talk to you about his teammates. Or maybe the fish he caught over the summer. Quite frankly, Napier just wants to be one of the guys again. That's why he's returned to the Concordia Football program for one more season.
Not only does he have a knack for reeling in opposing GPAC ball carriers, Napier is no stranger to landing big lunkers. Sometimes the fishing stories are just as good as the football stories.
"It was just a little farm pond and I went out there later on towards the evening," Napier explained of his big catch this summer. "I caught a very nice bass. I was so shaky I called my dad right away. It was just something like, 'I gotta tell someone.' I called him and he answered. He honestly thought something was wrong with me because my voice was shaking. It's kind of a funny story now how whenever he goes out and catches something, he calls me."
Patrick Daberkow and his staff lured in a prize fish when Napier signed on the dotted line and began his collegiate career in 2017. They just never imagined he would still be an active member of the program in 2021. Due to the circumstances brought about by the COVID-19 pandemic last fall, all NAIA college football players were granted an additional season of eligibility. The David City, Neb., native could have ridden off into the sunset and began his professional career.
Why do that when you can play another full season of college football? That was something of a rhetorical question for Napier. He's a football guy.
"Football's been a part of life for a long time," Napier said. "Knowing that we had the opportunity to come back another year and play – there wasn't a lot of kids that gave that up. A lot of guys took advantage of it. I just think being with the guys was one of the main reasons for coming back."
Apologies for the bad pun, but Napier is one of the biggest fish in the entire GPAC pond. Last season he became the all-time leading tackler in the history of the conference (2000-present) while eclipsing the 400-tackle mark. With a full 10-game slate on the docket, Napier stands a fair chance to push past 500 stops. Because of the "COVID season," Napier has a shot at another rare feat that could only happen in these strangest of times. How about FIVE first team all-conference awards?!
Also a three-time NAIA All-American, Napier is working on moving into a category all by himself, at least when it comes to Concordia defensive players. His 14 tackles in the 2020 season finale were enough to edge him over 400 career tackles. According to available records, the next highest tackle total in program history is 290, a figure recorded by another program great in former safety Sean Stewart (1999-2002).
"It was pretty awesome," said Napier of hitting the 400 milestone. "It was the last game of the year and someone told me I needed 13. After the game, one of the coaches came up and said that they had me down for 14. It was just cool to see how the hard work has paid off."
As an added bonus, the decision to play one more year will allow Lane to be teammates with his younger brother Kyle, now a freshman. For the most part, Lane stayed out of the way when it came to Kyle's college choice. Said Lane, "We really didn't know he was looking at Concordia and he did his verbal commitment. He called my parents and they had no clue about it. It was awesome because it was his decision. He didn't have me persuading him. You could tell this was where he wanted to be at."
Kyle has the perfect big brother to look up to. On the field, No. 23 is always about substance over style. Most of what he does isn't flashy, but he flows to the football as well as anyone. At an inside backer spot in Concordia's 3-4 defense, Napier found an immediate home. He made 97 tackles as a freshman, racked up a GPAC single-season record 142 as a sophomore, added 108 as a junior and then made 54 stops in the 'COVID year.' Despite missing three games last fall, Napier still managed to lead the team in tackles.
From a personality perspective, Napier is soft-spoken, humble and a well-respected leader. His teammates love to joke with him about the attention and the accolades he's received. Napier just smiles and takes it in stride. He would happily give away some of those tackles if he could exchange them for team success.
While interviewed last week by the Lincoln Journal Star, Napier expressed a simple desire. "To win," he said. "I think ultimately all of us guys just want to win. When we came in, now fifth years, we came in our freshmen year and had a pretty solid team. We had a couple down years, and we want that winning season and to show people what we can do."
As long as Napier is eligible to play, Daberkow is happy to have him on the roster. Said Daberkow, "It's exciting to have Lane back and we're also excited about our whole group of upperclassmen linebackers. We feel like we're deep at that position. We have the luxury of having a lot of guys back for their fifth years. We've seen the development that has taken place in the weight room with some of those guys. We've seen a ton of progression from freshman year to where they're at now. It's Lane and it's everybody, that whole group."
Instead of jumping into the business world, Napier will be diagnosing opposing offenses for one more fall. As Napier has joked, he wasn't ready to grow up yet anyway. And there will be plenty of time to go fishing after football season ends. If things shake out appropriately, the biggest catch is yet to come.
Said Napier, "I like the guys here. I've had a fun four years. I wouldn't trade it for the world. I wouldn't go anywhere else or do anything different."