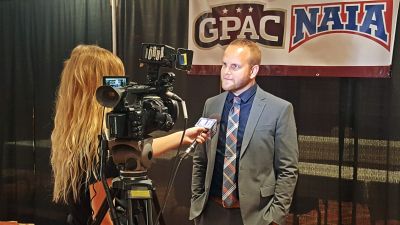 AUDIO: Patrick Daberkow Q&A with Tyler Cavalli
SOUTH SIOUX CITY, Neb. – For each of Patrick Daberkow's previous 10 seasons as an assistant coach at Concordia, he sat back and listened as either Courtney Meyer or Vance Winter took the podium at the annual GPAC Football Media Day. But on Thursday (Aug. 3), Daberkow took his turn as one of nine GPAC head coaches under the microscope at the 18th annual event. Daberkow spent roughly eight minutes addressing the media during the press conference held at the Marina Inn in South Sioux City, Neb.
Based on the league's preseason polls conducted on Thursday, Daberkow's first team is expected to place either fifth (coaches) or sixth (media) in the GPAC. Concordia is coming off a fourth-place finish in 2016.
Daberkow expressed a passion for winning, but also about building men who are followers of Christ.
"Regardless of his background or what his history is, while he's here I'm going to point him to Jesus because He changed my life," Daberkow said. "I want our players to be anchored in something that can't be stripped from them. That's an identity in Him."
Daberkow one of league's two new head coaches
Daberkow joins Briar Cliff's Dennis Wagner as the newest head coaches in the conference. Daberkow is just the 10th head coach for a Concordia football program that first engaged in intercollegiate competition in 1925. Daberkow is the program's sixth head coach to have graduated from Concordia. The others alums to take the leading role were Walter Hellwege (1925-40), Herb Meyer (1941-54), John Seevers (1970-76), Larry Oetting (1977-89) and Courtney Meyer (1990-2008).
Meanwhile, Wagner was announced as the Charger head coach on Feb. 14. Wagner spent the previous five years as associate head coach and offensive line coach at Liberty University. From 2004-07, Wagner worked as offensive line coach at the University of Nebraska. His coaching stops have also included Western Carolina University and Fresno State University, among several others.
Daberkow was the players' choice to assume the leading role after eight-year head coach Vance Winter stepped aside from his post following the 2016 season. Director of Athletics Devin Smith introduced Daberkow as head coach in front of a gathering of players and staff on Dec. 9.
Tight end Seth Fitzke: "We were pumped (when Daberkow was hired as head coach). We were all very excited. We had a couple players' only meetings about the offseason and the coaching situation. We had no idea who was going to be our coach, whether some coach might come in and clean house. We knew Coach Daberkow was interviewing. We wanted Coach Daberkow to be our new head coach. We were all psyched when we found out."
Defensive back D'Mauria Martin: "I wanted him to be our head coach immediately right after (Vance Winter resigned). He's passionate about what he does and what the Bulldogs mean to him. I used to wear other colleges' stuff and he used to get on me so much about it. He just strives for the Bulldogs to be successful. That's one thing I appreciate about him. His demeanor never changes. He could be made at me or happy. He always teaches life lessons when he talks. That's one thing I appreciate."
Accountability. Toughness. Authenticity.
Daberkow has been preaching these three words ever since he's been hired. He repeated them again on Thursday. Said Daberkow, "At Concordia Football, we're building men through accountability, toughness and authenticity." Basically, Daberkow wants his players to do the simple things well. Daberkow drove this point home during his speech while borrowing a line from former NFL head coach Tony Dungy, who said, "Champions don't do extraordinary things, they do ordinary things better than anyone else." Said Daberkow, "That really resonates with us and that's what we're trying to do."
In the polls
Expectations have risen considerably for the Bulldogs since early in Vance Winter's tenure. Pegged 10th in the conference poll in both 2009 and 2010, Concordia received its highest ever GPAC preseason placement of third a year ago. This time around, the Bulldogs appeared in a tie for fifth in the coaches' poll with a total of 35 points. Concordia has finished fourth in each of the last two years.
View 2017 GPAC preseason polls
Concordia in GPAC preseason coaches polls
2017: T-5th (finished ??)
2016: 3rd (finished 4th)
2015: 6th (finished T-4th)
2014: 4th (finished T-6th)
2013: 7th (finished 5th)
2012: 8th (finished 7th)
2011: 7th (finished 8th)
2010: 10th (finished 8th)
2009: 10th (finished 10th)
2008: 6th (finished 11th)
2007: 8th (finished 6th)
2006: 8th (finished 9th)
2005: 6th (finished 4-6 in GPAC)
2004: 8th (finished 6th)
Preseason national ranking?
The Concordia football program last received a preseason national ranking prior to the 2002 campaign. Following a co-GPAC championship season in 2001, the '02 Bulldogs checked in at No. 12 in the preseason poll. Last season in Vance Winter's final one as head coach, Concordia finished 19th thanks to a 7-3 overall record. In the NAIA's spring poll released on April 10, 2017, the Bulldogs landed at No. 20. Concordia has found itself inside the national top 25 in at least one poll in three of the past four years. During that time, the Bulldogs have climbed as high as 14th, where it jumped to in mid-October of 2013.
Defensive makeover
With eight starters to be replaced on defense, Daberkow acknowledged there was work to do in order for this year's team to live up to the standards set by top-five national defenses in 2013 and 2015. The returning starters are seniors D'Mauria Martin and Tarence Roby in the secondary and junior linebacker Kordell Glause. The defensive line will have an entirely new look with All-American Trey Barnes and company having moved on. Daberkow does not appear particularly concerned about the transition on defense. Said Daberkow, "They have some stuff to prove, but they can get the job done."
Byrd, Osten, Coomes align on Daberkow's first staff
Daberkow has assembled a full-time staff that includes offensive coordinator Thomas Byrd, defensive coordinator Corby Osten and special teams coordinator Wes Coomes. Both Osten and Coomes were promoted from within. Meanwhile, Byrd made his way to Seward from his previous stop at New Mexico Highlands University. Byrd is a Boise State University alum.
Cover boys
This header really is just an excuse to use an unforgettable quote from three-time All-American safety Sean Stewart. A 2016 inductee into the Concordia Athletic Hall of Fame, Stewart is featured on the back cover of this year's media guide. Now a member of the U.S. Coast Guard, Stewart told the audience during his Hall of Fame speech, "When I hit someone, I tried to take their soul." Stewart played for the 2001 GPAC championship and NAIA playoff qualifying team. He is the program's all-time leader with 20 career interceptions.
Appearing on the front of the cover are receiver Jared Garcia and defensive backs D'Mauria Martin and Tarence Roby. All three are seniors and all three have been first team all-conference selections at least once. Garcia has a chance to completely rewrite the receiving record book at Concordia. He already owns school records for touchdown catches in a season (11) and for a career (29). With 2,188 career receiving yards, Garcia is closing in on the program standard of 2,458 set by former All-American tight end Ross Wurdeman. Meanwhile, Martin and Roby make for one of the premier defensive back duos in the GPAC and perhaps the nation. Daberkow called Martin one of the smartest football players he's ever coached and made reference to Garcia's 305-pound hang clean this offseason.
Von makes return to alma mater
This summer Von Thomas made his way back to Seward and took on the position of Multicultural Program Specialist and Assistant Director of Student Life. The 2015 Concordia graduate will coach running backs as part of Daberkow's staff. Thomas enjoyed a record-setting career on the gridiron. The Miami, Fla., native piled up program career records of 7,260 total yards of offense and 65 total touchdowns while starting at quarterback in each of his final three seasons. He also left Concordia with school single-season records for touchdown passes (21), total offense (2,508), completions (197), passing attempts (334) and completion percentage (59.0). He owns additional career program standards for passing touchdowns (49), completions (510), pass attempts and rushing yards by a quarterback (1,598).
Said Daberkow, "He understands football. He understands student-athletes. The University recognizes that. His full-time role is as a liaison between students on campus and faculty and staff. He's really skilled in bridge building. We expect that from him on the football staff as well."
New voice of Concordia football
Jayson Jorgensen has moved on to become the play-by-play voice for University of Nebraska-Kearney football after two years calling the action for Concordia on 104.9 Max Country radio. In his place steps Tyler Cavalli, who last season worked as the color commentator for Bulldogs football and as the play-by-play man for men's and women's basketball. Cavalli also hosts the weekly Bulldog Coaches Show that will air every Thursday at 5:30 p.m. CT throughout the 2017-18 athletic year.
Cavalli, who called all the action during the women's basketball team's run to the 2017 national semifinals, is prepared to thrive in the football play-by-play role. Cavalli was in attendance at Thursday's media day.
Daberkow media day transcript
I want to echo everyone else's thanks to Corey (Westra) and Lucas (Mohrman) and the work they've put in and to the Marina Inn. I want to thank our staff. Being a first-year head coach, assembling a staff was the first thing to do. We have a group of guys that love to have fun and have thick skin. We believe the same things about the sport of football and what it can do in the lives of young men. I believe coaching football is one of the most important jobs, if not the most important job, in our country. Our world needs men who are more prepared for life. A big thing to prepare a man for life is learning self-sacrifice in a me generated world. Outside of the military, I don't think there is anything that does that better than being on a football team, as far as teaching self-sacrifice and preparing a young man for the obstacles and the responsibilities that are ahead of him.
Our staff works really hard on the field, in the office and in the weight room. We try to work equally hard when we get home, in our roles as husbands and fathers. We all, for the most part, have young families so finding balance is important. I don't know how well we do at that, but we have a group of understanding wives and families who are definitely in it with us.
I want to thank Vance Winter. In 2009, he took over a football program that was not the same kind of football program that I'm getting the keys to. He put in a lot of countless hours and gave me my first job in coaching. I will be forever grateful and appreciate that. I want to thank our administration, our Athletic Director Devin Smith and our Associate Athletic Director Angela Muller. They've put in a lot of hours as well. They've been very patient with me in my first year learning the ins and outs of a new role. Also, I want to thank Tyler Cavalli and Jake Knabel. They do a great job of promoting Bulldog athletics. Thank you guys and thanks to the media for coming up today.
At Concordia University Football, we're building men through accountability, toughness and authenticity. Everything we're trying to build in our football program centers around one of those three areas. Whether something good or bad is happening, I think it can be funneled into being accountable, being tough or being trustworthy. I believe one of the ways we can build that into our program and into our players is by keeping things simple. I don't know who said it originally, but "football's a simple game made complicated by coaches." I think that's true. Tony Dungy says that, "Champions don't do extraordinary things, they do ordinary things better than anyone else." That really resonates with us and that's what we're trying to do. It means things like showing up on time to weight sessions and giving 100 percent effort while you're there. It's things like being a good teammate and putting your ego aside for the sake of someone else on the team. That's what we try to build into the guys over the offseason. I feel like we made good progress in those areas.
As far as our 2017 season goes, we have very high expectations for what this season can be, but we also recognize that we have a lot of work to do. Defensively, we need to replace eight starters. We expect some leadership from some guys who haven't gotten a lot of playing time in the past, but have had really great spring balls.
D'Mauria Martin will be a defensive back for us in his senior year. He's probably one of the smartest football players I've ever coached. You can show him a picture of a scheme defensively and he could tell you what the defensive end and the nose guard are doing even though he's in man-to-man coverage. Another guy on defense is cornerback Tarence Roby. He's also a dynamic kick returner. He's got a lot of size and speed to match. There's a lot of things that he does that you can't coach that we appreciate. At linebacker, Kordell Glause comes back. He has some starting experience. He's a real hard-nosed kid from Palmer, Nebraska. He does a great job on the defensive side of the ball for us. Then we've got a lot of guys we're really excited about. They have some stuff to prove, but they can get the job done.
Offensively, we haven't settled on a quarterback yet. We had a good spring though. We have some guys with returning experience as well as some guys who haven't seen the field much that we think can compete as well. Some guys with proven experience – wide receiver Jared Garcia. He holds a lot of our records at Concordia for receiving touchdowns and yards. He actually put up 305 on hang clean last week. I think that's a testament to Todd Berner, our strength coach. He's a strong, physical receiver. He's dynamic and we're excited about him.
We have a true fullback in Erik Small coming back this year. He is a downhill kind of guy with traps that go for his ear to his shoulder. He looks like a fullback and he plays like one. We're excited to have him back. A guy who has developed in our program is Yoshi Brey. He'll be back for his senior year. Then we get Seth Fitzke back at tight end who I think is just a phenomenal player and a fun guy to be around. He brings a lot of energy. He was out last season with a torn ACL and he'll be back. We're excited about that.
I think regardless of your scheme you're going to be as good as your offensive line. Our offensive line has put in a lot of work this offseason. They've put in a lot of extra hours and time with our offensive coordinator. We're excited about that group. Hallick Lehmann and Austin Reese come back for their senior years.
I believe we have a tough-minded and physically tough team coming in this fall. We're taking one day at a time and we're learning as we go. Concordia is a unique place. I myself am a product of grace and second chances. If you're willing to work hard, put your ego aside and be a good teammate and willing to put the effort in, a kid can come in and have a great experience like I did. Regardless of his background or what his history is, while he's here I'm going to point him to Jesus because He changed my life. I want our players to be anchored in something that can't be stripped from them. That's an identity in Him.
With all the beliefs I have about building men and off-the-field program stuff, I'm passionate about winning. We're going to pour every ounce of effort into that endeavor and into the future. I believe in the guys in our locker room and we're thrilled to start next week. We're very excited for the 2017 season.