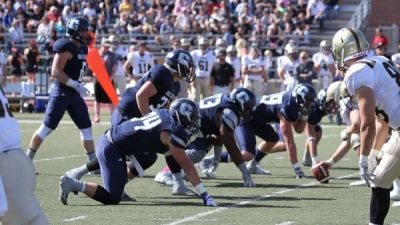 Gillory shakes off injuries, looks to make mark in 2012
By Jake Knabel, Sports Information Director
A 13-7 Bulldog victory over Peru State on Aug. 28, 2010, came at a heavy price for Concordia's Aaron Gillory. The highly-touted redshirt freshman running back, playing in his first collegiate game, suffered an injury that would keep the Houston native sidelined for two full seasons.
"It was a short-yardage play where I wedged through the middle and made contact with a linebacker," Gillory said. "And then one of the defensive lineman came from my back left side and either got tripped up or lost his balance and rolled into my left leg as I was planted and buckled me."
The start of a promising college career was quickly put on hold for Gillory, who would soon find out that he had torn his left ACL, MCL and lateral meniscus on his fourth career rushing attempt. Little did he know at the time that the injury would lead him down a long road to recovery that would include five surgeries and numerous setbacks. It became painfully obvious that the blow would severely try his will to return to the gridiron.
The story of Gillory's arrival on the practice field for full-contact participation in the spring of 2012 is one of triumph, toughness and perseverance. Just months ago, the 5-foot-11, 230-pound junior doubted whether it would be possible, but that didn't stop him from doing everything he could to get back to football shape.
"I had a little doubt once I had to have my last surgery," Gillory said. "Because I just planned and planned on playing this last season, and I was like, 'well, I have to have another surgery.' Once I had it and I started rehabbing, I was just having a lot of trouble (with the pain).
"But that was my goal was 'I will play again.' Even though other things happen, like I had to have (my ACL) taken out, 'I will play again.'"
Gillory found inspiration in his now 37-year-old brother Ronald, who Gillory says has been on crutches since four years of age due to a disease called McCune-Albright syndrome, which is commonly associated with softer, fibrous bone tissue. Relatively speaking, Gillory's knee issues did not seem so rough.
"Compared to what he's been through, mine was just a little blip," Gillory said. "It was nothing. Some people were like, 'I don't know why you would want to play again. That seems so awful.' But there are people that go through much worse stuff."
Gillory finds strength in just how normal a life his elder brother lives despite being legally disabled.
"He definitely had a big part in the way I handled it all," Gillory said. "Just seeing him, he's scarred up all down his legs. It's a one-in-a-million disease that he has.
"But he doesn't let his disability hold him back at all. He does anything and everything that I can do, so it's pretty cool."
Gillory credits the overwhelming support he received from his brother, the rest of his family, coaches, teammates and the Seward community for helping him get past the doubts that started to creep in only a couple weeks after a successful surgery in the fall of 2010. Abnormal draining of his knee led him back to the doctor for what was diagnosed as a staph infection, which required him to go back under the knife immediately. Gillory had surgery on consecutive days to clean up his knee.
But draining persisted and a fourth surgery was necessary to remove the ACL altogether. The procedure went well and Gillory decided to try to give it a go in the spring of 2011 without the benefit of an ACL in his left knee. The reoccurrence of pain led to another examination that revealed damage to his meniscus. In August of 2011, Gillory went back to the operating table to get his ACL replaced and his meniscus cleaned up in hopes of making it back in 2012.
Now it appears his resilience is paying off.
"He's worked so hard to get back to where he's at," head coach Vance Winter said. "I don't know many young men that would probably be able to stick it out through the stuff he's been through. He looked great this spring and he's put himself in great position."
The former University of Houston walk on football player has trained aggressively since his last surgery and is nearing 100 percent. Gillory figures to be a key cog in new offensive coordinator Curran White's spread rushing attack. Gillory even talked about his hopes of being a team leader and putting up healthy rushing totals in 2012 with his physical running style.
"We are really excited about what Aaron can do this fall," White said. "He is going to be a big component of what we are trying to accomplish offensively. He had a nice spring. I felt like he showed a great combination of speed and power. He is probably the strongest guy in our program and he is a load to try and bring down. Aaron has really battled and worked incredibly hard to get to this point and we feel like he could have a big year."
Winter, who enters his fourth year at the helm of the program in 2012, has been thoroughly impressed by Gillory's work ethic and determination.
"He kept an amazingly positive attitude throughout," Winter said. "He's been through a ton of trials. God has tested him in a variety of ways and he has been an amazingly positive and supportive teammate throughout the whole process. I just pray that he gets some fulfillment out of this year because he's worked so hard. He's just been working out like a crazy man to get back."
The chiseled Gillory shows none of the pain nor anguish one might expect from such a grueling and mentally trying battle with knee injuries. He believes it is finally his time to shine.