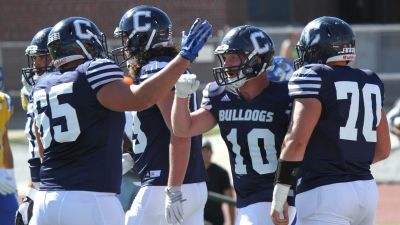 SEWARD, Neb. – It was a name the score homecoming Saturday for the Concordia University football team, which got that winning vibe back with a 56-0 domination of Briar Cliff inside Bulldog Stadium. A beat up Charger squad provided little resistance as Concordia extended its series win streak to 10.
Eighth-year head coach Vance Winter's squad shrugged off back-to-back road defeats against top-10 ranked opponents while running its record to 4-2 overall and 2-2 in conference play. It was the Bulldogs' first outing since five of their student-athletes were involved in a car accident that took place on Oct. 2. Three remain hospitalized.
"There's no doubt it was fresh on everyone's minds," Winter said. "We wanted to play well for those guys. It was brought up quite a bit in the locker room beforehand. We pride ourselves on being a brotherhood and a family. Those guys really wanted to be here competing. I'm glad they're doing better and continuing to improve."
Everything worked for an offense that had been plagued by turnovers the previous two weeks. Briar Cliff had no answer for Jared Garcia, who piled up more than 100 yards receiving before halftime. His 18-yard touchdown catch late in the second quarter pushed him to the top of the program's list for all-time touchdown catches. With his 25th career touchdown grab, Garcia broke the record formerly held by All-American tight end Ross Wurdeman.
"This week we just executed. That was the big key," Garcia said. "We finished drives and took advantage of the play calls. We took some deep shots and were able to capitalize on them. We meshed this week."
Garcia was the star of a passing game that got back on track. The duo of TJ Austin and Riley Wiltfong combined to go 15-for-22 for 209 yards and five touchdown tosses. Austin and Wiltfong both found Garcia for a touchdown pass, including one from Austin that went for 44 yards. Fullback Erik Small began the scoring barrage with a touchdown catch of four yards less than four minutes after the opening kickoff.
The Bulldogs dominated struggling Briar Cliff on both sides of the ball. The Charger offense, which has taken a hit with injuries at the quarterback position, managed only 106 total yards on 48 plays. Limited by its quarterback situation, the Chargers attempted just three passes and did not complete a single one. A pass thrown by running back Colandus Rucker III was picked off by D'Mauria Martin, who returned the ball 60 yards to the Briar Cliff 20.
Up front, Briar Cliff (1-6, 0-4 GPAC) had a rough day dealing with Trey Barnes, who registered 11 tackles (three for loss) and a sack. Again making the start at a linebacker spot, senior Patrick Skwara posted nine tackles as part of the stifling defensive effort.
"Coach's main focus all week was focus," Skwara said. "We all came in wanting to be real focused. We made sure we each did our one job every play. They came out with a weird scheme that we hadn't planned for, but we made some adjustments and shut them down."
With the game well in hand by halftime, Concordia got a good look at many of its reserves. In addition, two Bulldogs found the end zone for the first time in their careers: tight end Derek Luzum and running back Jordan Slough. Josh Davis caught his first touchdown pass since converting to tight end. The offense kept humming no matter the personnel on the field. The Bulldogs amassed 446 total yards in what amounted to their best performance of the season.
Garcia finished with six catches for 136 yards to go along with his two scores. Bryce Collins, who last week surpassed 3,000 career rushing yards, totaled 101 yards and a touchdown on 16 carries. Slough got heavy duty in the second half and put up 66 rushing yards on 18 attempts. Rucker III ran for 53 yards on 18 carries.
A lengthy road trip awaits next Saturday when the Bulldogs will travel to Mitchell, S.D., to take on 16th-ranked Dakota Wesleyan (4-2, 2-1 GPAC). Kickoff is slated for 1 p.m. CT. Concordia also played the Tigers in Mitchell last season and fell by a 17-10 score. Dakota Wesleyan held off Dordt, 42-37, in Saturday afternoon's action.