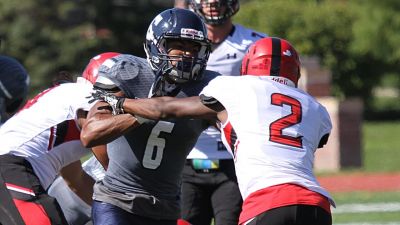 SEWARD, Neb. – Two of the NAIA's remaining 14 undefeated teams are headed for a collision course on Saturday at Al Papik Field in Crete, Neb. Fifth-ranked Doane will play host to No. 16 Concordia, which is off to a 3-0 start for the second time in four seasons. The two nearby rivals have met each season since 1958.
The Tigers, a 2015 playoff qualifier, blitzed 14th-ranked Dakota Wesleyan, 61-34, in last week's NAIA game of the week. Doane is averaging 43.0 points per game. Meanwhile, the Bulldogs have followed a stout defense to three-straight wins. They are coming off a 9-7 victory over Northwestern in a defensive slugfest.
GAME INFO
(16) Concordia (3-0, 1-0) at (5) Doane (3-0, 1-0)
Saturday, Sept. 24 | 1 p.m. CT
Al Papik Field | Crete, Neb.
Live Webcast: Livestream
Radio: KTMX-FM 104.9 Max Country
Commentators: Jayson Jorgenson and Tyler Cavalli
STATISTICAL BREAKDOWN
*National rank in parentheses
Concordia
Offensive PPG: 22.0 (57th)
Defensive PPG: 12.3 (9th)
Total Offense: 292.7 (67th)
Pass Offense: 157.0 (70th)
Rush Offense: 135.7 (48th)
Total Defense: 277.7 (10th)
Pass Defense: 186.7 (27th)
Rush Defense: 86.7 (T-10th)
Turnover +/-: +1 (31st)
Doane
Offensive PPG: 43.0 (T-7th)
Defensive PPG: 22.3 (T-27th)
Total Offense: 385.0 (33rd)
Pass Offense: 217.7 (T-36th)
Rush Offense: 167.3 (35th)
Total Defense: 307.3 (21st)
Pass Defense: 192.0 (33rd)
Rush Defense: 115.3 (22nd)
Turnover +/-: +11 (T-1st)
Individual Leaders
Concordia
Head Coach: Vance Winter (37-41, 8th season)
Quarterback: Riley Wiltfong – 24/49 (.490), 316 yards, 2 td, 3 int
Running Back: Bryce Collins – Rushing: 66 att, 228 yards, 3.5 avg, 1 td; Receiving: 9 catches, 69 yards
Receiving: Jared Garcia – 15 catches, 244 yards, 16.3 avg, 3 td
Defense: Michael Hedlund – 42 tackles, 1.5 tfl's, 2 int, 1 ff
Doane
Head Coach: Matt Franzen (54-42, 10th season)
Quarterback: Jack Shadley – 46/88 (.523), 583 yards, 6 td, 1 int
Running Back: Nate Meier – 53 att, 211 yards, 4.0 avg, 3 td; Receiving: 7 catches, 52 yards
Receiving: Drew Klein – 17 catches, 275 yards, 16.2 avg, 3 td
Defense: Frank Crawford – 11 tackles, 4.0 tfl's, 4.0 sacks
In the rankings
Concordia moved up four notches in the NAIA national coaches' poll released on Monday (Sept. 19), bumping it to No. 16. The Bulldogs returned to the top 25 last week after receiving votes in the preseason poll. It marks the 10th time that the Bulldogs have garnered a top-25 ranking under Winter's direction. Concordia jumped into the poll in back-to-back weeks last October before falling out. The 2013 squad enjoyed an extended stay in the top 25, spending six-straight weeks in the rankings while peaking at No. 14. The 2013 Bulldogs broke an extended ratings drought that dated back to 2002. The 2001 GPAC co-championship team was ranked in nine polls and finished at No. 7.
Doane held steady at No. 5 in the national poll. The Tigers have appeared inside the top 25 in 19-straight rankings. After going 9-2 in 2015, Doane garnered a No. 9 ranking in the 2016 preseason poll.
Dog-gone D
Many of the top teams in Concordia's history have forged identities as rugged defensive units. Patrick Daberkow, a 2003 alum, has coordinated defenses that finished in the top five nationally in terms of fewest yards allowed per game in two of the past three seasons. Led by stars such as defensive end Trey Barnes and linebacker Michael Hedlund, this year's team currently ranks No. 10 in the NAIA in total defense. Concordia stifled Northwestern's offense, holding it to 217 total yards. The only Red Raider points came after an interception gave Northwestern the ball at the Bulldog three-yard line.
Defensive ranks under Daberkow
2016 – 277.7 (10th)
2015 – 279.6 (4th)
2014 – 384.7 (48th)
2013 – 285.5 (4th)
2012 – 356.3 (39th)
2011 – 309.4 (29th)
2010 – 308.3 (25th)
Three and oh
This year marks the fourth time during the GPAC era (2000-present) that Concordia has started a season at 3-0. In each of the previous three instances (2000, 2001 and 2013), the Bulldogs went on to win at least seven games on the season. The 2001 team enjoyed the most success, finishing the year at 10-2 overall while advancing to the NAIA national quarterfinals. That squad won its first eight games, including a 14-3 victory at Doane in week eight of the season.
The last undefeated season for Concordia football occurred in 1945 when the Herb Meyer-coached Bulldogs went 6-0 following an 8-0 campaign in 1944. The 1931 squad, led by Bernard Arkebauer (19 touchdowns that season) went 7-0.
Hedlund on the tackle
Inside linebacker Michael Hedlund continues to make tackles at rate matched by just one player in the NAIA ranks. The native of O'Neill, Neb., has amassed 42 tackles this season over three games. Last week he registered 11 tackles in the win over Northwestern, giving him his 10th double-digit tackle effort in the last 11 contests. Hedlund now sits four stops shy of 200 tackles for his career that has spanned 22 games since the start of 2014. Hedlund first arrived at Concordia as a quarterback before moving to safety and then linebacker. Daberkow says Hedlund is like having another coach on the field.
100 club
Jared Garcia is believed to be the fifth player in program history to reel in 100 or more career passes. The 2015 first team all-conference choice sits at exactly 100 catches after grabbing six more, including two one-handed grabs, versus Northwestern. A native of Pearland, Texas, Garcia remains two touchdown receptions shy of former tight end Ross Wurdeman for the program record. Garcia has 22 touchdown catches as a Bulldog.
100+ catches, program history
1. Ross Wurdeman (1998-2001) – 168
2. Eric Pralle (1987-91) – 147
3. Dan Danielcyk (1968-71) – 140
4. Travis Soukup (1991-94) – 115
5. Jared Garcia (2014-- ) – 100
All-American punter?
Seward High School product Trey Barnes entered this season as a known commodity at the defensive end position, but he had never punted in a collegiate game until the 2016 opener. Barnes, who has a team high three sacks, has become a key weapon in the punting game. Last week he pinned Northwestern inside its own 20 on three of six punts. Barnes has been busy so far this season, punting 21 times for an average of 39.4 yards per attempt. He's landed seven inside the 20.
Series vs. Doane
Doane has been especially dominant recently in this series. The Tigers have won 10-consecutive meetings with the Bulldogs. Concordia's last win over Doane came by a 23-10 score in 2005. The last two matchups have gone down to the wire with the Tigers winning both by an identical 23-20 final. Last year's meeting in Seward was decided in overtime.
Scouting Doane
Led by 10th-year head coach Matt Franzen, Doane is now 19-5 since the start of the 2014 season. The Tigers have rattled off wins this season over Friends University (Kan.), 45-21, William Jewell College (Mo.), 23-12, and No. 14 Dakota Wesleyan, 61-34. The Tiger offense has been rolling behind first-year starting quarterback Jack Shadley, who has fired six touchdown passes on the year and was named the GPAC offensive player of the week on Monday (Sept. 19). Doane also likes to pound the rock with Nate Meier, a hard-nosed runner who has piled up 2,459 yards and 26 touchdowns on the ground during his collegiate career. A big key to the Tigers' fast start has been their opportunistic defense, which has 12 takeaways (six interceptions, six fumble recoveries) already this season. Doane has elevated its program to a level Concordia hopes to soon reach.