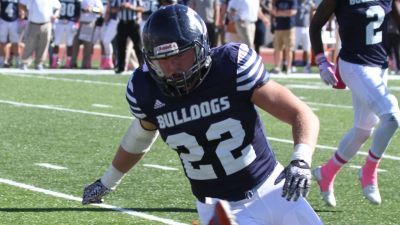 SEWARD, Neb. – The final game of the 2016 regular season has arrived for the 21st-ranked Concordia University football program, which will celebrate its senior class on Saturday when it hosts rival Hastings. Kickoff from Bulldog Stadium is set for 1 p.m. CT. Eighth-year head coach Vance Winter's program has already clinched its third winning season in four years.
Following a bye, Concordia returned to action last week and held off an improved Dordt team while earning its first GPAC road win of the season. The Bulldogs rode Bryce Collins (career high 179 rushing yards and three touchdowns) to a 35-28 victory in Sioux Center, Iowa.
Meanwhile, Hastings enters Saturday's game fresh off a 62-3 loss at the hands of No. 5 Morningside. A week earlier the Broncos picked up their first conference win of the season by knocking off Briar Cliff, 35-6, in a game played at the Dakota Dome. Hastings has struggled to get in the win column since opening the season with three nonconference victories.
GAME INFO
Hastings (4-6, 1-6 GPAC) at No. 21 Concordia (6-3, 4-3)
Saturday, Nov. 12 | 1 p.m. CT
Bulldog Stadium | Seward, Neb.
Live Webcast: Concordia Sports Network
Radio: KTMX-FM 104.9 Max Country
Commentators: Jayson Jorgenson and Tyler Cavalli
STATISTICAL BREAKDOWN
*National rank in parentheses
Concordia
Offensive PPG: 25.2 (53rd)
Defensive PPG: 23.7 (25th)
Total Offense: 348.0 (54th)
Pass Offense: 191.6 (51st)
Rush Offense: 156.4 (50th)
Total Defense: 320.6 (15th)
Pass Defense: 184.9 (21st)
Rush Defense: 135.7 (22nd)
Turnover +/-: +1 (T-33rd)
Hastings
Offensive PPG: 27.9 (38th)
Defensive PPG: 33.1 (61st)
Total Offense: 408.5 (29th)
Pass Offense: 212.0 (41st)
Rush Offense: 196.5 (25th)
Total Defense: 484.5 (78th)
Pass Defense: 228.3 (54th)
Rush Defense: 256.2 (78th)
Turnover +/-: -3 (T-48th)
Individual Leaders
Concordia
Head Coach: Vance Winter (40-44, 8th season)
Quarterback: Riley Wiltfong – 80/167 (.479), 1,070 yards, 12 td, 6 int; Rushing: 59 att, 176 yards, 2 td
Running Back: Bryce Collins – Rushing: 183 att, 811 yards, 4.4 avg, 7 td; Receiving: 18 catches, 150 yards
Receiving: Jared Garcia – 52 catches, 789 yards, 15.2 avg, 10 td
Defense: Michael Hedlund – 105 tackles, 4 tfl's, 3 int, 2 ff / Trey Barnes – 61 tackles, 19 tfl's, 8 sacks, int
Hastings
Head Coach: Tony Harper (29-31, 6th season)
Quarterback: Jason Gaines – 66/144 (.458), 957 yards, 6 td, 3 int
Running Back: Tahj Willingham – 99 att, 657 yards, 6.6 avg, 8 td
Receiving: Jordan Johnson – 41 catches, 872 yards, 21.3 avg, 7 td
Defense: Kelly McBride – 79 tackles, 4 tfl's, 1 sack, 1 fr
In the rankings
For the third-straight week, Concordia checked in at No. 21 in the NAIA national coaches' poll. The Bulldogs have garnered seven national rankings this season out of 10 polls, including the preseason edition. Concordia has appeared as high as No. 16 in 2016. They vaulted up to that position thanks to a 3-0 start. During head coach Vance Winter's tenure, Concordia has earned a total of 15 national rankings, rising as high as 14th in 2013.
2016 Concordia rankings
Aug. 8 – RV
Sept. 12 – 20th
Sept. 19 – 16th
Sept. 26 – 21st
Oct. 3 – RV
Oct. 10 – 24th
Oct. 17 – NR
Oct. 24 – 21st
Oct. 31 – 21st
Nov. 7 – 21st
Hastings has not cracked the national top 25 this season. The Broncos were listed among "others receiving votes" following their 3-0 start to the season. Hastings has been absent in the national poll since landing at No. 25 in late October of 2012.
Winter to step down after 2016 season
On Oct. 31 Vance Winter announced that he will be resigning his position as head coach, effective upon reaching the conclusion of this season. Winter is in his 12th season overall at Concordia. The Dakota State University alum first arrived as an assistant coach in 2005, serving on previous head coach Courtney Meyer's staff. Winter is now 40-44 over his eight seasons as head coach. With the win at Dordt, Winter pulled even with Walter Hellwege (40-32-9) for the fourth most coaching victories among the nine head coaches in program history. Originally from Miller, S.D., Winter oversaw record-breaking quarterback Von Thomas, a 2015 graduate. The star signal caller piled up 6,988 yards of total offense over three seasons. Winter has also coached All-Americans in defensive lineman Trey Barnes (2015), safety Darnell Woods (2013) and kicker Kenny Zoeller (2012). The Winter era has seen Jared Garcia break the school record for touchdown receptions and Bryce Collins' climb to 3,000 career rushing yards. Another high point came in 2013 when Concordia won its first six games of the season and jumped to No. 14 in the national coaches' poll.
Winningest coaches in program history
1. Courtney Meyer (1990-2008) – 70-115-1
2. Larry Oetting (1977-89) – 63-64
3. Herb Meyer (1941-54) – 62-34-8
4. Walter Hellwege (1925-40) – 40-32-9
4. Vance Winter (2009-present) – 40-44
The senior class
The current class of seniors has produced a four-year record of 24-17. Not since the 2000 through 2003 seasons has the program seen a better four-year run. The seniors on the 2003 squad helped the Bulldogs to a cumulative record of 27-16 and a co-GPAC championship in 2001. In terms of accolades, this year's senior group is headed by 2015 second team All-American defensive end Trey Barnes, two-time first team all-conference running back Bryce Collins and 2015 second team all-GPAC choices in safety Le'Dontrae Gooden and linebacker Michael Hedlund (more on Hedlund below).
Collins ranks as the second leading rusher in the history of the program with 3,447 career rushing yards. Over his four seasons as a Bulldog, he's posted single-season rushing totals of 704, 1,016, 946 and 811, respectively. Collins has found the end zone 36 times (34 rushing) throughout his career. He has also piled up more than 4,500 career all-purpose yards.
Barnes thrived after being moved to the defensive side of the ball. During his unique career, Barnes has totaled 18 sacks, 41.5 tackles for loss, 158 tackles, 575 rushing yards, 136 receiving yards and seven touchdowns. This season Barnes has registered eight sacks and 19 tackles for loss.
Gooden came to Concordia last fall after transferring from Southern Oregon University. He has amassed 122 tackles and seven interceptions in his two seasons as a Bulldog. Last season he intercepted five passes on his way to second team all-conference recognition.
Garcia resets career highs
Jared Garcia's pass-catching talents have been a constant no matter who has thrown him the football over the past three seasons. In last week's win at Dordt, Garcia caught eight passes for 98 yards and a touchdown, allowing him to set new single-season career highs for catches (52) and receiving yards (789). His 10 touchdown grabs put him one off his own school record that he set in 2014 as a freshman. From a program career perspective, Garcia ranks No. 1 in touchdown catches (29), No. 2 in receiving yards (2,152) and No. 4 in catches (137). Garcia will need a monster performance on Saturday to break the school's single-season records for receptions and receiving yards (see below).
Concordia all-time receiving yards leaders
1. Ross Wurdeman (1998-01) – 2,458
2. Jared Garcia (2014-- ) – 2,152
3. Eric Pralle (1987-90) – 1,974
4. Travis Soukup (1991-94) – 1,880
5. Jim Young (1964-67) – 1,692
Concordia all-time catches leaders
1. Ross Wurdeman (1998-01) – 168
2. Eric Pralle (1987-91) – 147
3. Dan Danielcyzk (1968-71) – 140
4. Jared Garcia (2014-- ) – 137
5. Travis Souckup (1991-94) – 115
Concordia single-season receiving records
Catches: 62, Eric Pralle (1990)
Yards: 951, Clarence Woods (1988)
Touchdowns: 11, Jared Garcia (2014)
Hedlund records back-to-back 100-tackle seasons
By making 12 stops last week, senior linebacker Michael Hedlund became the first Bulldog in the GPAC era (2000-present) to record multiple 100-tackle seasons. Hedlund now has two of the six 100-tackle seasons by Concordia defenders since the GPAC first formed. The native of O'Neill, Neb., currently stands at 105 tackles, the same total he had last season, putting him five off the program GPAC-era record held by Erik DeHaven. In addition, Hedlund has made more tackles than any other player during Winter's tenure as head coach. The converted quarterback garnered second team all-conference recognition last season.
100 tackle seasons, GPAC era
1. Erik DeHaven (2001) – 110
2. Michael Hedlund (2016) – 105
2. Michael Hedlund (2015) – 105
2. Josh Conrad (2000) – 105
5. Sean Stewart (2001) – 102
6. Troy Schlueter (2000) – 100
200+ career tackles, coached by Winter
Michael Hedlund (2013-16) – 259
Ben Klein (2008-11) – 246
Jerrod Fleming (2008-11) – 237
Tait Sibbel (2012-15) – 234
Langston Jones (2010-13) – 209
Rarefied air
While Concordia has made more regular appearances in the top 25 over the past few seasons, it still has yet to finish a year ranked since the 2001 squad completed that campaign with a No. 7 national placement. A 7-3 final record would also mark the program's highest win percentage in a season since the 2001 team went 10-2 overall.
HSH
Home has been sweet to Concordia so far. If they can defeat Hastings in the regular season finale, the Bulldogs would complete a perfect 5-0 home mark in 2016. The last time Concordia went undefeated at home occurred in 2000 when it won all six games played inside Bulldog Stadium. The 2001 co-GPAC championship team followed it up by going 5-1 at home. This year's team has captured home victories over University of Saint Mary (Kan.), Northwestern, Briar Cliff and Midland. Dating back to last season, Concordia owns a five-game home win streak. The 2000-01 squads combined for the program's longest home win streak during the GPAC era. They won nine home contests in a row.
Series vs. Hastings
The very first meeting between Concordia and Hastings took place in 1938 when the Broncos "B" team won, 12-0. According to data that goes back to 1946, Hastings has gone 34-13-1 in 48 matchups with the Bulldogs. Since the GPAC began in 2000, Concordia is 5-11 versus the Broncos. The Bulldogs are looking to make it two in a row over their rivals to the west following last season's dominant 28-3 win over Hastings. In the 2015 meeting that took place in Seward, Concordia held the Bronco offense to a paltry 146 total yards. Trey Barnes came up with eight tackles (three for loss) and two sacks to lead the Bulldogs.
Scouting Hastings
Jordan Johnson gives Hastings one of the most exciting deep play threats in the nation. He has averaged 21.3 yards per catch on 41 receptions. With Johnson and running back Tahj Willingham starring on that side of the ball, the Broncos have been a solid offensive team that averages more than 400 yards per game. The struggles have come on defense for a unit that ranks in the bottom 10 nationally in terms of yards allowed per game. Hastings has surrendered more than 30 points in seven of its 10 games this season. Following a 6-4 record in 2014 and a 5-5 mark in 2015, the Broncos will finish with a losing record for just the second time in 10 years. Sixth-year head coach Tony Harper's highest win totals were six in both 2011 and 2014.