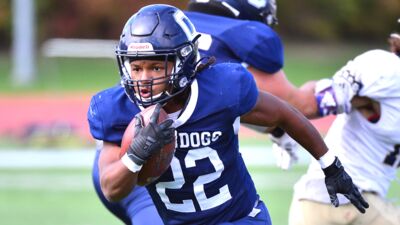 SEWARD, Neb. – The Concordia University Football program is suddenly surging behind an offense that has been prolific over the past two-and-a-half games. A string of three-straight home contests will conclude this Saturday when the Bulldogs will welcome Dordt to Bulldog Stadium for a 1 p.m. CT kickoff. Head Coach Patrick Daberkow's squad extended its win streak to three thanks to last week's 47-24 win over Mount Marty. Meanwhile, the Defenders were defeated by their closest rival, No. 4 Northwestern, 23-0, this past Saturday.
Concordia has earned wins over Dakota Wesleyan, Jamestown and Mount Marty over its last three outings. The Bulldogs have been a different team since shuffling the deck and re-inserting DJ McGarvie at the quarterback position. Concordia has gone 9-3 when McGarvie starts over the past two seasons. In the win last week, McGarvie threw for three touchdowns, the offense racked up 431 total yards and Jayzen Armstrong flipped the momentum with a fumble return for a touchdown. The Bulldogs allowed leads to slip away in their first two games and aren't far away from being 5-1.
Dordt's offense was shut out while being limited to a mere 129 total yards last week by Northwestern. That performance was certainly uncharacteristic for a program that owns a record of 32-16 since the start of the 2018 season. Head Coach Joel Penner has transformed Dordt football, which played its inaugural season in 2008. The Defenders are trying to regain the offensive firepower they had last season when they averaged 43.8 points per game. That average has dipped to 24.7 in 2022. Dordt employs a run-heavy offense that ranks fifth nationally in rushing average.
GAME INFO
Concordia (3-3, 3-3 GPAC) vs. Dordt (3-3, 3-3 GPAC)
Saturday, Oct. 22 | 1 p.m.
Bulldog Stadium | Seward, Neb.
Webcast/Live Stats: Concordia Sports Network
Radio: 104.9 Max Country
Commentators: Parker Cyza and Ross Wurdeman
Online Tickets: HomeTown Ticketing (also sold on site)

STATISTICAL BREAKDOWN
Team Statistics
*2022 national rankings out of 98 NAIA football programs
Concordia
Offensive PPG: 22.3 (62nd)
Defensive PPG: 19.7 (32nd)
Total Offense: 369.8 (36th)
Pass Offense: 243.3 (22nd)
Rush Offense: 126.5 (48th)
Total Defense: 336.2 (50th)
Pass Defense: 196.7 (43rd)
Rush Defense: 139.5 (52nd)
Turnover +/-: +3
Dordt
Offensive PPG: 24.7 (T-48th)
Defensive PPG: 22.3 (42nd)
Total Offense: 331.3 (51st)
Pass Offense: 104.2 (95th)
Rush Offense: 227.2 (5th)
Total Defense: 337.8 (52nd)
Pass Defense: 222.8 (71st)
Rush Defense: 115.0 (42nd)
Turnover +/-: +2
2022 INDIVIDUAL LEADERS
Concordia
Head Coach: Patrick Daberkow (26-28, 6th season)
Passing: DJ McGarvie – 114/183 (.623), 1,207 yards, 7 td, 2 int, 128.1 effic.
Rushing: Devin Zeigler – 100 rushes, 391 yards, 3.9 avg, 3 td
Receiving: Korrell Koehlmoos – 55 receptions, 634 yards, 11.5 avg, 8 td
Defense: Devon Polley – 34 tackles, 9.5 tfl's, 4.5 sacks, 1 ff, 1 int

Dordt
Head Coach: Joel Penner (42-27, 7th season)
Passing: Kade McDaniel – 33/76 (.434), 520 yards, 5 td, 3 int, 114.7 effic; 66 rushes for 254 yards, 2 td
Rushing: Nick Wellen – 50 rushes, 247 yards, 4.9 avg, 3 td
Receiving: Ethan Thomas – 16 receptions, 212 yards, 13.3 avg, 2 td
Defense: Colton Vander Berg – 29 tackles, 9.5 tfl's, 5.5 sacks
2022 SCHEDULE/RESULTS
Concordia (3-3, 3-3 GPAC)
9/3 at Doane, L, 10-12
9/17 vs. Hastings, L, 17-21 (homecoming)
9/24 at (4) Northwestern, L, 10-34
10/1 at Dakota Wesleyan, W, 20-12
10/8 vs. Jamestown, W, 30-15
10/15 vs. Mount Marty, W, 47-24
10/22 vs. Dordt, 1 p.m.
10/29 at (23) Midland, 1 p.m.
11/5 at Briar Cliff, 1 p.m.
11/12 vs. (1) Morningside, 1 p.m. (senior day)

Dordt (3-3, 3-3 GPAC)
9/3 at Briar Cliff, W, 35-13
9/10 vs. (1) Morningside, L, 21-49
9/17 at Dakota Wesleyan, W, 38-7
9/24 vs. Doane, L, 10-13 (OT)
10/7 at Mount Marty, W, 44-29
10/15 vs. (4) Northwestern, L, 0-23
10/22 at Concordia, 1 p.m.
10/29 vs. Jamestown, 1 p.m.
11/5 vs. Hastings, 1 p.m.
11/12 at (17) Midland, 1 p.m.

In the rankings
Concordia picked up three points in the 2022 NAIA preseason coaches' poll but fell off the national radar due to the 0-3 start. The program's most recent top 25 appearance came in November 2017 when they landed at No. 25. Current Massey Ratings list Concordia at No. 53 and Dordt at No. 28 in the NAIA. The Defenders were ranked in every NAIA top 25 poll last season with a peak position of 14th. Following a run to the 2020 NAIA playoffs, Dordt appeared at No. 15 in the postseason coaches' poll.
Concordia
GPAC preseason: 4th
Current Massey Ratings: 53rd
Dordt
GPAC preseason: 3rd
Current Massey Ratings: 28th

Last time out
Other than two special teams mistakes that directly led to Mount Marty touchdowns, Concordia took care of business. The Bulldogs turned the tide when Jayzen Armstrong scooped up a fumble (forced by Luke Sanchez) and raced 86 yards to the end zone. At the time, the play cut the deficit to 12-10 early in the second quarter. The Bulldog offense then came to life as DJ McGarvie connected with Korrell Koehlmoos for two touchdown passes and later fired another one to tight end Luke Lang. Concordia piled up 431 total yards while posting a season high point total in the 47-24 win. On the ground, Devin Zeigler ran for 113 yards and two touchdowns and an offensive line full of reinforcements did the job. Defensively, Devin Polley (3.5 tackles for loss) again dominated up front and Isiaha Conner helped the cause with a highlight reel interception on the sideline.

Koehlmoos breaks school records in back-to-back weeks
By the time it's all said and done, Korrell Koehlmoos is going to end up with one of the best seasons ever for a Concordia receiver. Koehlmoos has now gone past 100 receiving yards in five-straight outings while breaking a program all-time receiving record in back-to-back weeks. The Pilger, Neb., native rose to the top of the career receptions list in the win over Jamestown on Oct. 8 and then set a new standard for career receiving yards in last week's victory. In 44 career collegiate games, Koehlmoos has caught 181 passes for 2,504 yards and 20 touchdowns. Koehlmoos has gone past 100 yards receiving in each of the past five games and sports NAIA national rankings this season of second in receptions (55), fifth in receiving touchdowns (eight) and 10th in receiving yards (634). Koehlmoos is on pace to do something no receiver at Concordia has ever done – crack 1,000 receiving yards in a single season.

Receiving yards, career
1. Korrell Koehlmoos – 2,504 (2018-present)
2. Jared Garcia – 2,495 (2014-17)
3. Ross Wurdeman – 2,458 (1998-01)
4. Clarence Woods – 2,011 (1984-88)
5. Eric Pralle – 1,974 (1987-1991)

Receptions, career
1. Korrell Koehlmoos – 181 (2018-present)
2. Ross Wurdeman – 168 (1998-01)
3. Jared Garcia – 161 (2014-17)
4. Eric Pralle – 147 (1987-91)
5. Dan Danielczyk – 140 (1968-71)

Receiving TDs, career
1. Jared Garcia – 35 (2014-17)
2. Ross Wurdeman – 24 (1998-01)
3. Korrell Koehlmoos – 20 (2018-present)
4. Brian Naber – 17 (1967-70)
5. Marlin Zobel – 16 (1948-51)

McGarvie: 9-3 as starter
Koehlmoos wouldn't be having this type of year without the emergence of DJ McGarvie at quarterback. McGarvie moved to 9-3 in his 12 career starts at quarterback while helping engineer the 47-24 win over Mount Marty. The Lincoln North Star High School product has been off the charts the past three weeks while going a combined 78-for-115 (.678) for 883 yards and seven touchdown passes (and a rushing touchdown) to go against one interception. The sophomore from Valparaiso, Neb., owns a career touchdown-to-interception ratio of 26-to-9. McGarvie's 393 passing yards in the win over Jamestown were the second most in a single game in school history for a Bulldog quarterback.

Last three games:
--at Dakota Wesleyan: 26/40, 255 yards, 3 td, 1 int
--vs. Jamestown: 28/41, 393 yards, 1 td, 0 int (rushing td)
--vs. Mount Marty: 24/34, 235 yards, 3 td, 0 int

Offensive revival
After the first three games of 2022, Concordia ranked 73rd nationally in total offense in 83rd in scoring offense. The numbers have rocketed skyward since halftime of the win over Dakota Wesleyan. Over the past 10 quarters, the Bulldogs have amassed 97 points and 1,286 total yards. This is the type of offensive renaissance the program has been waiting for. Over the previous five years, Concordia has posted scoring averages of 24.6 in 2017, 15.4 in 2018, 15.6 in 2019, 21.9 in 2020 and 23.6 in 2021.
Next man up
It's been a situation of next man up on the offensive line. The Bulldogs opened the season with an offensive line of (from left to right): Kaden Peters, Toby Hager, Johnny Robinson III, Christian Schlepp and Gavin Mull. In recent action, Robinson III, Schlepp and Mull have all sat out due to injuries. To help make up for that loss of beef up front, Concordia moved true freshman Carson Fehlhafer over from the defensive line. He made his first career start last week while playing at left guard. Jackson Anderson (center) and Blake Schlegel (right tackle) have also stepped into starting positions and helped the offense put together its best stretch of offensive football this season.

Polley dominating up front, Grinding cleaning up at linebacker
Nose guard Devon Polley has become a big problem for the opposition. He singlehandedly thwarted two Mount Marty fourth down tries last week and posted a stat line that included 3.5 tackles for loss and 1.5 sacks. The Edmond, Okla., native was named the GPAC Defensive Player of the Week on Oct. 10, following the win over Jamestown. Polley's racked up 9.5 tackles for loss while consistently getting pressure right up the middle. The play of a defensive line that also includes stalwarts such as Kyle Sterup and Jordan Kavulak has helped free up the linebackers to make plays. Michael Grindey collected 13 more tackles last week and ran his team high season tackle total to 61.

Jabo makes transition
After starting at quarterback in the first two games of this season, Austin Jablonski has moved into a Swiss army knife type of do-it-all role. The results have spoken for themselves as McGarvie has thrived at quarterback and Jablonski has gotten more comfortable lining up away from the ball. A Lincoln Pius X High School alum and former Nebraska Cornhusker walk on, Jablonski has totaled 253 passing yards, 230 receiving yards and 152 rushing yards. If Jablonski can haul in a receiving touchdown, he would have the distinction of having passed for, rushed for and received a touchdown this season. While McGarvie is the quarterback, "Jabo" has continued to be used behind center in the shotgun formation as a dual threat.

Kicking-punting duo
One of the last additions to the 2022 team, Ty Harold has brought his soccer leg to the football field as a kicker. A transfer from Iowa Western Community College, Harold came to Concordia to play for Head Coach Jason Weides' men's soccer team. Harold impressed the coaching staff enough during preseason to be trusted with placekicking duties. Harold is now 6-for-10 on field goal tries and 14-for-17 on PATs in 2022. His 32 points are second on the team to Koehlmoos (48), who happens to be having a fine season at punter. On 32 punts this season, he is averaging 40.9 yards per attempt with 10 of them landing inside the 20.

Lang emerges at tight end
Two-time First Team All-GPAC tight end Garrett Schardt had planned on playing a fifth year of college football, but injuries have kept him sidelined in 2022. In his absence, Luke Lang has taken over the starting role at tight end and has caught 18 passes for 246 yards. The 6-foot-3, 215-pound native of Brentwood, Calif., briefly left Concordia at one point and then returned. Lang made a tough catch behind his back last week for a 10-yard touchdown reception from DJ McGarvie. Lang ranks second on the team in catches and third in receiving yards.

Series vs. Dordt
Concordia had won nine of the first 10 meetings with Dordt until the Defenders got the best of the Bulldogs in each of the past four seasons, 2018 through 2021 (the other victory in the series for Dordt came in 2008). That leaves the all-time series at 9-5 in favor of Concordia. Last year's meeting in Sioux Center, Iowa, resulted in a 27-7 win for Dordt. The story of the game was the play of the Defender defense, which held the Bulldogs to only 182 total yards. Offensively, Dordt ran for 281 yards with 100 (and two touchdowns) coming from running back Josh Bush. The only Concordia touchdown came on a four-yard pass play from DJ McGarvie to Cayden Beran.

Scouting Dordt
Compared to recent seasons, Dordt has been less explosive offensively as it is averaging roughly 20 points per game fewer than it did in 2021. The Defenders will lean heavily on a run game that incorporates quarterback Kade McDaniel. Even if the 3-3 start falls below its expectations, Dordt has made an overall massive leap forward under Head Coach Joel Penner, who began his tenure in 2016. The Defenders qualified for the NAIA playoffs in 2020 and finished both the '20 and '21 seasons with NAIA top 25 rankings. Dordt went its first 10 seasons of football without a winning record before breaking through with a combined mark of 29-13 over the 2018 through 2021 seasons. Both Dordt and Concordia have been solid defensively this season. Defender lineman Colton Vander Berg has made 9.5 tackles for loss.