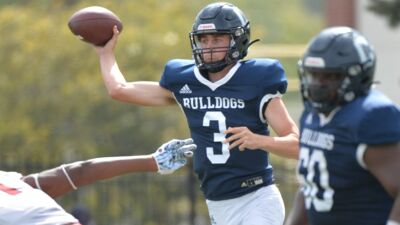 SEWARD, Neb. – As part of an unorthodox schedule that included a bye after game one of the season, the Concordia University Football now looks forward to staying at home for each of the next three Saturdays. Following their first win of 2022, the Bulldogs are prepping for a visit from Jamestown. This Saturday's kickoff is set for 1 p.m. CT from Bulldog Stadium. Both Concordia and Jamestown are fresh off GPAC victories.
Head Coach Patrick Daberkow's squad got the win last week that it had to have. The Bulldogs are now 1-3 following the 20-12 triumph at Dakota Wesleyan. The result marked the program's first win in Mitchell, S.D., since 2007. Concordia hopes to carry over its offensive momentum from the second half. Guided by quarterback DJ McGarvie, the Bulldogs racked up all 20 points in the third quarter and produced more than 300 total yards after halftime. Concordia began this fall with losses to Doane, Hastings and No. 4 Northwestern.
Jamestown appears to be a program on the rise. Head Coach Brian Mistro's squad pummeled Doane last week, 41-14, while outgaining the Tigers, 498-211. Cade Torgerson threw for 284 yards and four touchdowns. Javon Bowie-Monteiro was on the receiving end of three of those scores and was named the GPAC Offensive Player of the Week on Monday. The Jimmies will travel a passing offense that ranks in the top 25 nationally. So far this season, Jamestown is 3-1 at home and 0-2 on the road. This will be just the second time the Jimmies have ever played a football game in Seward.
GAME INFO
Concordia (1-3, 1-3 GPAC) vs. Jamestown (3-3, 2-3 GPAC)
Saturday, Oct. 8 | 1 p.m.
Bulldog Stadium | Seward, Neb.
Webcast/Live Stats: Concordia Sports Network
Radio: 104.9 Max Country
Commentators: Parker Cyza and Ross Wurdeman
Online Tickets: HomeTown Ticketing (also sold on site)

STATISTICAL BREAKDOWN
Team Statistics
*2022 national rankings out of 98 NAIA football programs
Concordia
Offensive PPG: 14.3 (82nd)
Defensive PPG: 19.8 (33rd)
Total Offense: 309.0 (65th)
Pass Offense: 208.0 (45th)
Rush Offense: 101.0 (69th)
Total Defense: 347.5 (55th)
Pass Defense: 185.3 (36th)
Rush Defense: 162.3 (69th)
Turnover +/-: +2
Jamestown
Offensive PPG: 23.3 (55th)
Defensive PPG: 28.5 (61st)
Total Offense: 335.2 (46th)
Pass Offense: 250.3 (22nd)
Rush Offense: 84.8 (81st)
Total Defense: 373.3 (68th)
Pass Defense: 192.3 (47th)
Rush Defense: 181.0 (77th)
Turnover +/-: -6
2022 INDIVIDUAL LEADERS
Concordia
Head Coach: Patrick Daberkow (24-28, 6th season)
Passing: DJ McGarvie – 62/108 (.529), 579 yards, 3 td, 2 int, 107.9 effic.
Rushing: Devin Zeigler – 67 rushes, 211 yards, 3.1 avg, 0 td
Receiving: Korrell Koehlmoos – 34 receptions, 373 yards, 11.0 avg, 5 td
Defense: Michael Grindey – 42 tackles, 2 tfl's, 1 ff, 0.5 sack

Jamestown
Head Coach: Brian Mistro (8-28, 4th season)
Passing: Cade Torgerson – 137/232 (.591), 1,478 yards, 13 td, 8 int, 124.2 effic.
Rushing: Zach Hammett – 47 rushes, 226 yards, 4.8 avg, 3 td
Receiving: Micah Madyn – 35 receptions, 289 yards, 8.3 avg, 1 td
Defense: Jed Rantz – 38 tackles, 5.5 tfl's, 3 sacks, 2 int
2022 SCHEDULE/RESULTS
Concordia (1-3, 1-3 GPAC)
9/3 at Doane, L, 10-12
9/17 vs. Hastings, L, 17-21 (homecoming)
9/24 at (4) Northwestern, L, 10-34
10/1 at Dakota Wesleyan, W, 20-12
10/8 vs. Jamestown, 1 p.m.
10/15 vs. Mount Marty, 1 p.m.
10/22 vs. Dordt, 1 p.m.
10/29 at (23) Midland, 1 p.m.
11/5 at Briar Cliff, 1 p.m.
11/12 vs. (1) Morningside, 1 p.m. (senior day)

Jamestown (3-3, 2-3 GPAC)
8/25 vs. Valley City State, W, 27-24 (OT)
9/3 vs. Dakota Wesleyan, W, 34-30
9/10 at Briar Cliff, L, 25-31
9/17 vs. (4) Northwestern, L, 3-48
9/24 at (19) Midland, L, 10-21
10/1 vs. Doane, W, 41-17
10/8 at Concordia, 1 p.m.
10/15 vs. (1) Morningside, 1 p.m.
10/22 vs. Hastings, 1 p.m.
10/29 at Dordt, 1 p.m.
11/12 at Mount Marty, 1 p.m.

In the rankings
Concordia picked up three points in the 2022 NAIA preseason coaches' poll but fell off the national radar due to the 0-3 start. The program's most recent top 25 appearance came in November 2017 when they landed at No. 25. Current Massey Ratings list Concordia at No. 54 and Jamestown at No. 60 in the NAIA. As for the Jimmies, they most recently cracked the NAIA top 25 in 2009 when they were ranked 24th in the preseason.
Concordia
GPAC preseason: 4th
Current Massey Ratings: 54th
Jamestown
GPAC preseason: 9th
Current Massey Ratings: 60th

Last time out
After a frustrating first half offensively at Dakota Wesleyan, the Bulldogs busted loose with 20 third quarter points as quarterback DJ McGarvie found Korrell Koehlmoos for three touchdown hookups. Those scoring plays covered 31, three and six yards, respectively. McGarvie threw for 255 yards while Koehlmoos hauled in 15 receptions for 110 yards and three scores. Concordia also got the ground game going as Devin Zeigler and Mark Arp combined to rush for 139 yards on 32 carries. Defensively, Concordia held Dakota Wesleyan to 14 first downs and 303 total yards in the 20-12 win in Mitchell. The Bulldogs own the all-time series lead over Dakota Wesleyan, 13-10.

Koehlmoos reaches another milestone, ranks among NAIA receiving leaders
There's no doubt that Korrell Koehlmoos is the most dangerous offensive threat for the Bulldogs. Koehlmoos has turned in three consecutive games with more than 100 receiving yards while starring as the primary focus in the passing game. Those outbursts have allowed the Pilger, Neb., native to become the fourth player in program history to eclipse 2,000 career receiving yards and the third to crack 150 career receptions. On the school career receiving charts, Koehlmoos ranks third in receptions (160), third in receiving yards (2,243) and third in receiving touchdowns (17). The school records in each of those categories are 2,495 receiving yards (Jared Garcia), 168 receptions (Ross Wurdeman) and 35 receiving touchdowns (Garcia). Koehlmoos has bested career highs for single game receptions in back-to-back weeks with 11 at Northwestern and 15 at Dakota Wesleyan. Among all NAIA receivers in 2022, Koehlmoos ranks fifth in catches (34), 13th in receiving touchdowns (five) and 32nd in receiving yards (373).

Receiving yards, career
1. Jared Garcia – 2,495 (2014-17)
2. Ross Wurdeman – 2,458 (1998-01)
3. Korrell Koehlmoos – 2,243 (2018-present)
4. Clarence Woods – 2,011 (1984-88)
5. Eric Pralle – 1,974 (1987-1991)

Receptions, career
1. Ross Wurdeman – 168 (1998-01)
2. Jared Garcia – 161 (2014-17)
3. Korrell Koehlmoos – 160 (2018-present)
4. Eric Pralle – 147 (1987-91)
5. Dan Danielczyk – 140 (1968-71)

Receiving TDs, career
1. Jared Garcia – 35 (2014-17)
2. Ross Wurdeman – 24 (1998-01)
3. Korrell Koehlmoos – 17 (2018-present)
3. Brian Naber – 17 (1967-70)
5. Marlin Zobel – 16 (1948-51)

McGarvie: 7-3 as starter
DJ McGarvie made his 10th career start at quarterback and responded by completing 26-of-40 passes for 255 yards and three touchdowns at Dakota Wesleyan. The Lincoln North Star High School product pushed his career touchdown pass total to 22 and is now 7-3 as a starter. In 13 career collegiate games, McGarvie has completed 192-of-351 (.547) passes for 2,063 yards. He owns a touchdown-to-interception ratio of 22-to-9. McGarvie was recognized once last season with a GPAC Offensive Player of the Week award.

Third quarter reversal
The Bulldogs have owned a lead in the second half of each of their first four games. The largest leads for Concordia over the season's first three contests were 7-0 at Doane, 17-2 versus Hastings and 10-0 at Northwestern. Prior to last week's win at Dakota Wesleyan, the Bulldogs had struggled in the third quarter, having been outscored 39-7 over the first three outings. Concordia flipped the script last week and owned the third quarter, 20-2, in Mitchell. Through four weeks, the Bulldogs still have yet to allow a single point in the first quarter. Concordia owns a 24-0 first quarter advantage over its opponents in 2022.
Receiver position upgraded
The starter at quarterback for this season's first two games, Austin Jablonski has moved to receiver to give the team a talented one-two punch along with Koehlmoos. Jablonski caught six balls for 95 yards at Dakota Wesleyan. The Lincoln Pius X High School product can do a little bit of everything. So far in 2022, Jablonski has thrown for 253 yards, rushed for 122 yards and has accumulated 113 receiving yards. Daberkow and his staff have continued to tinker with creative means of putting the ball in Jablonski's hands.

Run game shows life at DWU
The run game showed signs of life last week as Concordia finished with 179 yards on 40 attempts for an average of 4.5 yards per rush. That was a big improvement from the previous three games – 35 rushes for 138 yards at Doane, 30 rushes for 49 yards versus Hastings and 26 rushes for 38 yards at Northwestern. Devin Zeigler paced the Bulldogs last week with 76 yards on 19 carries while Mark Arp added 63 yards on 13 totes and Austin Jablonski notched 26 yards on four attempts. The success came as Concordia had to shuffle the offensive line the past couple weeks without starting guard Christian Schlepp.

Bulldog D remains solid
It was a solid all-around effort last week for coordinator Corby Osten's defensive unit, which limited DWU to 14 first downs and 303 total yards. Three Bulldogs led the way with eight tackles apiece: Gabriel Knisley, Jayzen Armstrong and Michael Grindey. Meanwhile, linebacker Nick Leader made seven stops and two sacks. Nose guard Devon Polley picked off a pass that deflected off a Tiger receiver. Grindey paces the team this season with 42 tackles while Leader sports a team best three sacks on the year. There is still room for improvement as Concordia looks to cut back on its opponent average of 4.3 yards per rush.

Kicking-punting duo
One of the last additions to the 2022 team, Ty Harold has brought his soccer leg to the football field as a kicker. A transfer from Iowa Western Community College, Harold came to Concordia to play for Head Coach Jason Weides' men's soccer team. Harold impressed the coaching staff enough during preseason to be trusted with placekicking duties. Harold is now 3-for-6 on field goal tries and 6-for-7 on PATs in 2022. His 15 points are second on the team to Koehlmoos (30), who happens to be having a fine season at punter. In last week's win, Koehlmoos punted four times for an average of 40.8 yards per attempt with two being downed inside the opposition's 20. On 26 punts this season, he is averaging 42.6 yards per attempt with eight of them landing inside the 20.

Schardt's return in question
There's still uncertainty surrounding if and when two-time First Team All-GPAC tight end Garrett Schardt will be healthy enough to make his return to the field. Schardt has not yet played this season due to an injury. Already a Concordia graduate, Schardt made the decision to come back to the team for a fifth season. However, he was slowed in preseason camp and remains hopeful of making an impact at some point this season. Schardt was named an NAIA Honorable Mention All-American in 2021. In his career, Schardt has recorded 72 receptions for 1,188 yards and nine touchdowns.

Series vs. Jamestown
The two programs had never met until Jamestown became a member of the GPAC. The first two meetings (2018 and 2019) took place in North Dakota and were both decided by three-point margins with the two sides splitting those games. The Bulldogs moved to 3-1 all-time against the Jimmies with last season's 24-17 victory up north. Korrell Koehlmoos starred while catching six passes for 122 yards and two touchdowns. Garrett Schardt also caught a touchdown toss from quarterback DJ McGarvie. Defensively, Lane Napier made 13 tackles and broke up two passes. Concordia narrowly outgained Jamestown, 326-306, in a game that came down to the wire.

Scouting Jamestown
Jamestown hopes to be gaining steam after it pummeled Doane, 41-17, last week in North Dakota. The Jimmies like to air it out offensively behind quarterback Cade Torgerson, who threw for 2,978 yards and 23 touchdowns in 2021. He's piled up 1,478 yards and 13 touchdowns through the air so far in 2022. Head Coach Brian Mistro is working on getting the program to turn the corner after it went 2-9 overall in 2021. Jamestown has not had a winning season since it went 7-3 in 2008. The Jimmies were an NAIA playoff qualifier in 2006 and 2007. While Torgerson is the team's playmaker offensively, Jamestown has gotten stellar play on the other side of the ball from linebacker Jed Rantz, who has totaled 38 tackles, three sacks and two interceptions. Jamestown began this season at 2-0 with wins over Valley City State University and Dakota Wesleyan. Mistro is a Jimmie alum who played for the program from 2005 through 2008.