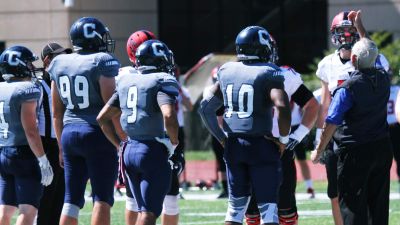 SEWARD, Neb. – The Concordia University football program continues its trek through a challenging stretch at the outset of conference play. Following a 27-7 loss at fifth-ranked Doane, the Bulldogs now turn their sights to a road trip to Sioux City, Iowa, where they will take on No. 6 Morningside, a program that has made 12-straight appearances in the NAIA Football Championship Series. Saturday's kickoff from Elwood Olsen Stadium is scheduled for 1:30 p.m. CT.
The Mustangs, like Concordia, are coming off their first loss of the 2016 season. Despite 500 passing yards from quarterback Trent Solsma, then No. 2 Morningside fell to NCAA Division III second-ranked University of Wisconsin-Whitewater, 35-21, in Wisconsin last week. Winner of five-straight GPAC titles, Morningside was picked by league coaches to again finish in first place.
GAME INFO
(21) Concordia (3-1, 1-1) at (6) Morningside (2-1, 1-0)
Saturday, Oct. 1 | 1:30 p.m. CT
Elwood Olsen Stadium | Sioux City, Iowa
Live Webcast: Live Stream
Radio: KTMX-FM 104.9 Max Country
Commentators: Jayson Jorgenson and Tyler Cavalli
STATISTICAL BREAKDOWN
*National rank in parentheses
Concordia
Offensive PPG: 18.3 (68th)
Defensive PPG: 16.0 (T-9th)
Total Offense: 320.5 (66th)
Pass Offense: 198.3 (52nd)
Rush Offense: 122.3 (61st)
Total Defense: 285.5 (9th)
Pass Defense: 164.3 (18th)
Rush Defense: 109.3 (12th)
Turnover +/-: -1 (T-46th)
Morningside
Offensive PPG: 56.7 (3rd)
Defensive PPG: 16.3 (T-12th)
Total Offense: 628.7 (1st)
Pass Offense: 384.3 (2nd)
Rush Offense: 244.3 (13th)
Total Defense: 259.0 (4th)
Pass Defense: 142.3 (6th)
Rush Defense: 116.7 (18th)
Turnover +/-: +4 (T-14th)
Individual Leaders
Concordia
Head Coach: Vance Winter (37-42, 8th season)
Quarterback: Riley Wiltfong – 31/63 (.492), 481 yards, 3 td, 4 int
Running Back: Bryce Collins – Rushing: 89 att, 318 yards, 3.6 avg, 1 td; Receiving: 12 catches, 94 yards
Receiving: Jared Garcia – 20 catches, 311 yards, 15.6 avg, 4 td
Defense: Michael Hedlund – 49 tackles, 2.0 tfl's, 2 int, 1 ff / Trey Barnes – 24 tackles, 7.5 tfl's, 3 sacks
Morningside
Head Coach: Steve Ryan (134-38, 15th season)
Quarterback: Trent Solsma – 60/96 (.625), 877 yards, 6 td, 2 int
Running Back: Tyler Kavan – 42 att, 276 yards, 6.6 avg, 7 td
Receiving: Tanner Ver Steeg – 15 catches, 386 yards, 25.7 avg, 2 td
Defense: Caden McDonald – 24 tackles, 7.5 tfl's, 1 sack, 2 fr
In the rankings
Concordia made its third-straight appearance in the top 25 this week, checking in at No. 21 in Monday's (Sept. 26) poll. The Bulldogs fell five spots following the loss at Doane. It marks the 11th time that the Bulldogs have garnered a top 25 ranking under Winter's direction. Concordia jumped into the poll in back-to-back weeks last October before falling out. The 2013 squad enjoyed an extended stay in the top 25, spending six-straight weeks in the rankings while peaking at No. 14. The 2013 Bulldogs broke an extended ratings drought that dated back to 2002. The 2001 GPAC co-championship team was ranked in nine polls and finished at No. 7.
Morningside also moved backwards in the national poll following its defeat at Wisconsin-Whitewater. The Mustangs landed at No. 6 on Monday, four spots down from their placement a week earlier. Fourth-ranked Doane is now the highest rated team in the GPAC. Five GPAC squads are ranked this week: No. 4 Doane, No. 6 Morningside, No. 16 Dakota Wesleyan, No. 18 Midland and No. 21 Concordia.
Slowing down Morningside
The Mustangs enter this weekend averaging more than 600 yards of total offense per game, in line with their averages from recent seasons (see below). Slowing down Morningside has proved especially difficult for GPAC opponents. During their run of five-straight conference titles, the Mustangs have lost a grand total of three GPAC games. Concordia has become more competitive with Morningside in recent seasons. In last year's meeting, the Bulldogs, trailing 27-21 early in the fourth quarter, possessed the ball in Morningside territory before the game unraveled. In 2013, Concordia led then top-ranked Morningside by three at halftime. While the Bulldogs are looking to defeat the Mustangs for the first time since 2003, they have shown an ability to hang in there with Morningside.
Morningside total yards vs. Concordia
*Morningside season average in parentheses
2015 – 517 (593.1)
2014 – 525 (662.2)
2013 – 541 (551.2)
Concordia total yards vs. Morningside
*Morningside season average allowed in parentheses
2015 – 321 (296.9)
2014 – 360 (300.3)
2013 – 364 (313.6)
Mr. 3,000
After rushing for 90 yards last week at Doane, senior running back Bryce Collins now stands 16 yards shy of 3,000 for his career, which has spanned 34 games since 2013. Only two players in the history of the program have eclipsed 3,000 career rushing yards: Cleve Wester and Gary Seevers. Additionally, Collins surpassed 4,000 career all-purpose yards last week. His career numbers include 727 receiving yards on 74 catches, 59 punt return yards and 279 kick return yards. Collins has found the end zone a total of 30 times (28 rushing, two receiving) as a Bulldog.
Concordia all-time leading rushers
1. Cleve Wester (1982-85) – 3,867
2. Gary Seevers (1953-56) – 3,257
3. Bryce Collins (2013-16) – 2,984
4. Alex Alvarez (1999-03) – 2,959
5. JaMaine Lewis (2004-07) – 2,731
Playmaking safeties
Concordia got an interception apiece from its safety tandem of Cory Evans and Le'Dontrae Gooden in last week's contest at Doane. It was the second-straight game that Evans has picked off a pass. His interception on Sept. 17 sealed the 9-7 win over Northwestern. Meanwhile, Gooden now has six interceptions, including five in 2015, as a Bulldog. Gooden is in the midst of a productive season that has seen him pile up 36 tackles over the first four weeks of play. Concordia's star-studded secondary includes corners D'Mauria Martin and Tarence Roby.
Touchdown Garcia
Junior Jared Garcia has caught at least one touchdown pass in three of four games this season and now has 23 career scoring receptions. The 6-foot-3 native of Pearland, Texas, needs just one more touchdown grab to tie Concordia Athletic Hall of Fame tight end Ross Wurdeman for the most in program history. Garcia has been the Bulldogs' go-to passing target since he arrived in Seward in 2014. Over 23 career games, he's caught 105 passes for 1,674 yards to go along with his 23 touchdowns. Wurdeman still stands as Concordia's all-time leading receiver in terms of touchdowns as well as catches (168) and yards (2,458).
200 tackle club
Senior linebacker Michael Hedlund made seven stops last week and eclipsed 200 tackles for his career. The 6-foot-1, 215-pound native of O'Neill, Neb., became the fifth player during Winter's tenure as head coach to achieve the milestone. Hedlund has a chance to become the most prolific tackler under Winter. Hedlund, who piled up 105 tackles in 2015, trails Ben Klein ('12) by 43 tackles for that title.
200+ career tackles, coached by Winter
Ben Klein (2008-11) – 246
Jerrod Fleming (2008-11) – 237
Tait Sibbel (2012-15) – 234
Langston Jones (2010-13) – 209
Michael Hedlund (2013-16) – 203
Versus the top 25
Concordia has dropped its last five meetings with nationally-ranked teams. Prior to 2015, Winter's program had knocked off at least one top 25 squad each season from 2012 to 2014. The highest-rated victim was No. 11 Northwestern, which left Bulldog Stadium with a 17-16 defeat on homecoming 2012. Over the past four seasons, Concordia has gone a combined 4-11 versus the top 25 (see below). During that time, Morningside has never been ranked lower than fourth when playing the Bulldogs.
Vs. top 25 since 2012
9/24/16 – L, 7-27 at (5) Doane
11/7/15 – L, 10-17 at (18) Dakota Wesleyan
10/31/15 – L, 21-44 vs. (2) Morningside
10/24/15 – L, 20-23 (OT) vs. (6) Doane
9/19/15 – L, 14-17 at (9) Northwestern
11/8/14 – W, 27-19 vs. (24) Dakota Wesleyan
11/1/14 – L, 21-44 at (1) Morningside
10/18/14 – L, 21-27 vs. (12) Northwestern
9/6/14 – W, 21-15 at (15) Sterling College
11/2/13 – L, 31-48 vs. (1) Morningside
10/12/13 – W, 19-3 vs. (22) Nebraska Wesleyan
11/10/12 – L, 7-17 at (20) Doane
11/3/12 – L, 0-50 at (4) Morningside
10/13/12 – W, 17-16 vs. (11) Northwestern
8/25/12 – L, 37-45 vs. (13) Benedictine College
GPAC race
Five GPAC teams entered last week with unblemished records. Three of those squads – Concordia, Hastings and Morningside – lost on Sept. 24. That leaves Doane (4-0, 2-0) and Midland (5-0, 2-0) as the lone GPAC teams without a loss. Morningside (1-0) has yet to drop a league game. Meanwhile, three teams sport 1-1 GPAC records: Concordia, Dakota Wesleyan and Northwestern. Hastings (0-1) has only played one conference game.
Series vs. Morningside
Concordia and Morningside met each other for the first time ever in 2002. The Mustangs won the inaugural matchup, 31-14, in Seward. The two sides locked horns in Seward again in 2003 when the Bulldogs concluded a 5-5 season with a 34-19 victory over Morningside. Since then the Mustangs have won all 12 meetings. Concordia has never defeated Morningside in Sioux City.
Scouting Morningside
Despite the loss of prolific three-year starting quarterback Ryan Kasdorf, Morningside's offense has hardly missed a beat. Dakota Dunes, S.D., native Trent Solsma has taken over as signal caller and has already thrown for 877 yards in three games. The Mustangs have been the class of the conference ever since the University of Sioux Falls left the league after the 2010-11 academic year. Head coach Steve Ryan's program nearly won a NAIA national title in 2012 when it fell by a score of 30-27 at the hands of Marian University (Ind.) in the championship game. On paper, Morningside has no weaknesses, ranking first nationally in total offense and fourth in the NAIA in total defense. The Mustangs have won 10-straight GPAC games. Prior to last week's loss at Wisconsin-Whitewater, Morningside dominated its NAIA competition, winning by scores of 62-0 over Ottawa University (Kan.) and 87-14 over Dordt. The Mustangs remain the favorite to win a sixth-straight conference championship.