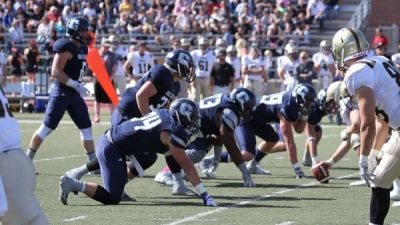 GAME NOTES: No. 12 Northwestern visits Bulldog Stadium for parent's day
SEWARD, Neb. – Twelfth-ranked Northwestern (4-1, 4-0 GPAC) will invade Bulldog Stadium on Saturday as Concordia University plays host as part of parent's day. The football program welcomes parents and family members to the Janzow Campus Center at the conclusion of the game. Kickoff is slated for 1 p.m.
"We need to start making our own breaks," head coach Vance Winter said. "This week against Northwestern would be a great time. We'll have to play a lot better."
The Bulldogs are coming off a 37-34 overtime loss at Nebraska Wesleyan last week. Meanwhile, Northwestern extended its winning streak to four with a 38-0 rout of Briar Cliff.
GAME INFO
No. 12 Northwestern (4-1, 4-0) at Concordia (3-3, 2-2)
Saturday, Oct. 18, 1 p.m.
Site: Seward, Neb.
Stadium: Bulldog Stadium
Webcast: Concordia Sports Network
Play-by-play: Frank Greene
STATISTICAL BREAKDOWN
2014 Team Statistics
Concordia
Offensive PPG: 32.0 (T-24th)
Defensive PPG: 27.3 (T-42nd)
Total Offense: 436.5 (17th)
Pass Offense: 213.7 (44th)
Rush Offense: 222.8 (12th)
Total Defense: 396.7 (50th)
Pass Defense: 245.5 (68th)
Rush Defense: 151.2 (33rd)
Turnover +/-: even (T-38th)
Northwestern
Offensive PPG: 26.2 (T-45th)
Defensive PPG: 11.6 (1st)
Total Offense: 326.0 (64th)
Pass Offense: 161.8 (67th)
Rush Offense: 164.2 (42nd)
Total Defense: 199.6 (1st)
Pass Defense: 125.6 (6th)
Rush Defense: 74.0 (3rd)
Turnover +/-: even (T-38th)
Individual Leaders
Concordia
Head Coach: Vance Winter (26-34, 6th year)
Passing: Von Thomas – 94/176 (.534), 14 TD, 5 INT, 1,277 yards, 134.9 effic. (rushing: 468 yards, 7 TD)
Rushing: Bryce Collins – 99 att, 527 yards, 5.3 avg, 4 TD
Receiving: Jared Garcia – 29 rec, 411 yards, 14.2 avg, 6 TD
Defense: Kyle Rakow – 44 tackles, 9.0 tfl's, 3.5 sacks
Northwestern
Head Coach: Kyle Achterhoff (37-11, 5th year)
Passing: Craig Bruinsma – 48/97 (.495), 4 TD, 2 INT, 537 yards, 105.5 effic.
Rushing: Jessie Riley – 96 att, 361 yards, 3.8 avg, 2 TD
Receiving: Ben Green – 25 rec, 367 yards, 14.7 avg, 5 TD
Defense: Justin Wohlert – 16 tackles, 6 INT / Greg Hegstad – 43 tackles, 11 tfl's, 3.5 sacks
Thomas tracker
By completing 20 of 36 passes in last week's overtime loss at Nebraska Wesleyan, senior quarterback Von Thomas surpassed another program career record formerly held by Jarrod Pimentel. Thomas, who also owns Concordia career marks for total yards of offense (6,825) and total touchdowns (58), is now nine pass completions (479) ahead of Pimentel (470) for the all-time school record. In 2013 Thomas broke single season Bulldog records for total offense (2,508), completions (197), passing attempts (334) and completion percentage (59.0).
Up next for Thomas?
Passing yards (career)
Pimentel – 6,435
Thomas – 5,253
Passing touchdowns (career)
Pimentel – 49
Thomas – 42
Pass attempts (career)
Pimentel – 943
Thomas – 889
Passing yards (season)
Pimentel – 2,150 (2001)
Thomas – 1,277 (2014)
Passing touchdowns (season)
Rod Giesselman – 17 (1970)
Thomas – 14 (2014)
Rushing touchdowns (season)
Cleve Wester – 13 (1984)
Thomas – 7 (2014)
Texas freshmen make for big-play duo
Freshman Logan Otte (Katy, Texas) enjoyed a breakout game last week, going for career highs with seven catches for 132 yards and a touchdown. Fellow freshman Jared Garcia (Humble, Texas) caught his team-leading sixth touchdown pass in the defeat. Garcia tops the team with 29 receptions for 411 yards. Now healthy after missing the loss at Hastings earlier this season, Otte is second on the Bulldogs with 11 catches for 191 yards and two touchdowns. The two have made Concordia much more explosive this season. Garcia has hauled in passes that have covered 68, 43, 31 and 27 yards this season. Otte has touchdown grabs of 62 and 23 yards and also has rushes of 36 and 24 yards.
Collins tops the century mark
Sophomore running back Bryce Collins followed up a career high 157 yards rushing in the win over Dordt with 113 yards at Nebraska Wesleyan. The native of Boerne, Texas, has topped the century mark three times in his five games this season and five times in his 16 career games. Collins ranks 11th among all NAIA ball carriers with an average of 105.4 rushing yards per game. He also rates seventh nationally in all-purpose yards per game (176.0).
Collins and Thomas have combined for 995 yards, 11 touchdowns and a 5.8 per carry average on the ground. Among GPAC teams, only Morningside (Brandon Wegher/Tyler Kavan – 1,165 yards, 18 touchdowns) boasts a more prolific rushing duo.
Explosive Bulldog O vs. top-ranked Red Raider D
This weekend's contest features Northwestern's No. 1 nationally-ranked defense (total yards and scoring) against a blossoming Concordia offense that rates third best in the GPAC in both total yards and scoring. The Red Raiders own an active streak of 11-straight quarters without allowing its opponents a single point. That stretch covers shutouts of both Nebraska Wesleyan (8-0) and Briar Cliff (38-0) and a 35-7 win over Dakota Wesleyan, which failed to score over the final three quarters of the Sept. 20 game in Mitchell, S.D.
On the flip side, the Concordia offense appears to have hit its stride over the last two weeks, amassing more than 500 total yards in both games and 72 combined points. Among all 88 NAIA football programs, the Bulldogs rank second in third down conversation rate (48.9 percent), 12th in rushing offense (222.8), 17th in total offense (436.5), 18th in pass efficiency (134.2) and 24th in scoring (32.0).
Close calls
Five of Concordia's first six games have been decided by a margin of seven points or less. Its three losses have come by a total of a mere nine points with defeats by margins of five (Hastings), one (Dakota State) and three (Nebraska Wesleyan) points.
Last two meetings decided by three combined points
From 2003 to 2011, Northwestern defeated Concordia nine-straight times. The Bulldogs snapped their series losing streak in 2012 by upsetting then No. 11 Northwestern, 17-16, inside Bulldog Stadium on Oct. 13. Concordia survived that game when the Red Raiders' Mike O'Brien missed a 25-yard field goal attempt with 39 seconds left. Two minutes earlier, the Bulldogs gained the lead on Kenny Zoeller's 24-yard field goal.
Last season's meeting also came down to the wire in Orange City, Iowa. Down 30-22 late in the fourth quarter, Concordia scored on Bryce Collins' one-yard touchdown run. The ensuing two-point try failed when Josh Slechta was ruled to be out of bounds on a throw from Von Thomas. The Bulldogs got the ball back with 1:30 remaining but ran out of time at their own 47. Northwestern, which led 13-0 after the first quarter, held on for a 30-28 win.
Scouting Northwestern
The Red Raiders are leaning upon a stout defense this season after saying goodbye to prolific quarterback Davis Bloemendaal (6,810 passing yards, 70 passing touchdowns over 42 career games from 2010-13). Northwestern had three different players throw at least one pass in last week's 38-0 victory over Briar Cliff. The quarterback position has been given time to develop by the nation's stingiest defense, which is led by senior linebacker Greg Hegstad, who has already racked up 11 tackles in the backfield, and junior cornerback Justin Wohlert (six interceptions). They also possess an elite pass rusher in defensive end Sam Van Ginkel (16 sacks since the beginning of the 2013 season). The Red Raider pass rush has piled up 20 sacks (sixth most in the NAIA) on the year. Von Thomas versus the Northwestern defense should make for one of the more intriguing matchups across NAIA football on Saturday.