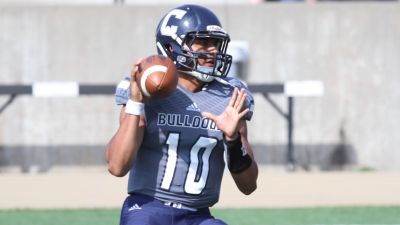 SEWARD, Neb. – Coming off a 28-13 loss at No. 20 Kansas Wesleyan in its season opener, the Concordia University football team hopes to bounce back this week when it welcomes Kansas Collegiate Athletic Conference member Ottawa University to Seward. The Bulldogs and Braves will kick off at 1 p.m. CT from Bulldog Stadium on a Parents' Day Saturday. Both teams are seeking their first win of the 2017 season.
Head coach Patrick Daberkow's squad fell last week despite gaining 482 yards of offense. Led by breakout running back Ryan Durdon (208 rushing yards), Concordia rattled off 318 rushing yards. However, the Bulldogs were unable to overcome 12 penalties for 118 yards and three turnovers. Meanwhile, Ottawa allowed 674 yards to Northwestern in a 41-16 home loss to the Red Raiders on Sept. 2. Head coach Kent Kessinger's program is coming off a 4-7 season in 2016.
GAME INFO
Ottawa (0-1) at Concordia (0-1)
Saturday, Sept. 9 | 1 p.m.
Bulldog Stadium | Seward, Neb.
Webcast: Concordia Sports Network
Live Stats: Stretch Internet
Radio: 104.9 Max Country
Commentators: Tyler Cavalli and Roger Fitzke
STATISTICAL BREAKDOWN
2017 Team Statistics
*National rank in parentheses
Concordia
Offensive PPG: 13.0 (T-74th)
Defensive PPG: 28.0 (T-39th)
Total Offense: 482.0 (T-18th)
Pass Offense: 164.0 (64th)
Rush Offense: 318.0 (5th)
Total Defense: 447.0 (66th)
Pass Defense: 235.0 (53rd)
Rush Defense: 212.0 (61st)
Turnover +/-: -2 (T-61st)
Ottawa
Offensive PPG: 16.0 (T-66th)
Defensive PPG: 41.0 (T-71st)
Total Offense: 439.0 (T-30th)
Pass Offense: 184.0 (T-54th)
Rush Offense: 255.0 (12th)
Total Defense: 674.0 (85th)
Pass Defense: 272.0 (67th)
Rush Defense: 402.0 (86th)
Turnover +/-: -1 (T-48th)
Returning Individual Leaders
Concordia
Head Coach: Patrick Daberkow (0-1, 1st season)
Passing: Riley Wiltfong – Passing: 7/17 (.412), 83 yards, td, int; Rushing: 8 rushes, 44 yards, 5.5 avg
Rushing: Ryan Durdon – 24 rushes, 208 yards, 8.7 avg, td
Receiving: Lane Castaneda – 8 catches, 89 yards, 11.1 avg, td
Defense: Erik Small – 5 tackles, 1.5 tfl's, 1 sack
Ottawa
Head Coach: Kent Kessinger (85-57, 14th season)
Passing: Connor Byers – 19/34 (.559), 184 yards, td, int; rushing: 15 rushes, 66 yards, td
Rushing: James Reeder – 21 rushes, 123 yards, 5.9 avg, 0 td
Receiving: Mauricio Uribe – 8 catches, 87 yards, 10.9 avg, 1 td
Defense: Marcus Fenderson – 11 tackles, tfl
In the rankings
Both teams were predicted to finish in the middle of the pack in their respective conferences. Concordia nearly cracked the top 25 in the NAIA preseason coaches' poll. The NAIA will not release a regular season poll until next week. Ottawa last appeared in the national rankings in the preseason of 2015.
Concordia
GPAC: 5th (coaches); 6th (media)
NAIA coaches' poll: first among others receiving votes
College Football America T25: 23rd
Massey Ratings: 50th
Ottawa
KCAC: 5th (coaches); 5th (media)
NAIA coaches' poll: NR
College Football America T25: NR
Massey Ratings: 70th
Durdon bursts onto scene
Ryan Durdon did not carry the football a single time during his freshman season in 2016. He then went into last week's season opener listed as the No. 2 running back on the two deep roster. He emerged as the biggest storyline of week one for Concordia, breaking loose for 208 yards and a touchdown on 24 rushes. The native of Decatur, Texas, showed both power and speed on a 77-yard gallop to the end zone in the fourth quarter. Durdon became just the fourth Bulldog player to rush for more than 200 yards in the GPAC era (2000-present).
200+ rushing yards, GPAC era
JaMaine Lewis – 261 vs. Dakota Wesleyan (10/20/07)
Phillip Elder – 215 vs. Doane (9-4-04)
Ryan Durdon – 208 vs. Kansas Wesleyan (9-2-17)
Cohl Tufford – 208 vs. Dakota State (10-1-11)
Castaneda fills the void
With star receiver Jared Garcia sidelined last week by a knee injury, freshman Lane Castaneda stepped into the role of top target for quarterbacks Riley Wiltfong and Andrew Perea. Castaneda caught eight passes for 89 yards and a touchdown. He gave the Bulldogs a 6-0 first quarter lead with an impressive 18-yard touchdown grab in the corner of the end zone. At 6-foot-2, the native of San Antonio, Texas, looks the part of someone who can complement Garcia upon his return to the lineup. Castaneda is listed as a starting receiver this week along with Vincent Beasley and Kiyoshi Brey.
Throwback
Erik Small is routinely cited by members of the coaching staff as one of the best pure football players on the team. Strong as an ox, the 6-0, 252-pounder is now playing on both sides of the ball. Already a starter at fullback, Small is anchoring the defensive line from his nose guard position in the team's 3-4 scheme. Small made an immediate impact at that spot last week, recording five tackles and a sack at Kansas Wesleyan. Offensively, Small is a punishing lead blocker who has also caught two touchdown passes in his career.
Offensive Lineman Awareness Month
Daberkow has declared the month of September Offensive Lineman Awareness Month. The first-year head coach wants to ensure that the big guys up front don't go unnoticed. This year's line is one of the most experienced position groups on the team. The unit got a boost with the return of left tackle Hallick Lehmann, who sat out last season with a torn ACL. Lehmann is in his fifth year in the program. Lehman is joins guards Austin Reese and Austin Taylor as the three seniors up front. Center Matt Romero and right tackle Grady Koch are juniors. All five players have extensive starting experience. They helped pave the way for Durdon and a ground attack that pounded out 318 rushing yards at Kansas Wesleyan. The group also helped former running back Bryce Collins amass 3,547 yards and 35 touchdowns on the ground.
Quarterback battle
Concordia enters the week with some uncertainty at the quarterback position after Riley Wiltfong and Andrew Perea split snaps last week in offensive coordinator Thomas Byrd's multiple offense. The two signal callers produced remarkably similar numbers at Kansas Wesleyan. Wiltfong, who got the nod as the starter, went 7-for-17 for 83 yards, a touchdown and one pick. He also ran for 44 yards on eight attempts. Perea, who entered the game in the third quarter, went 9-for-17 for 81 yards. Prior to last week, Perea had fired only six passes in his collegiate career. Wiltfong has 1,495 passing yards and 18 total touchdowns (15 passing, three rushing) in his career.
Rebuilt D
Daberkow and coordinator Corby Osten came away mostly pleased with the play of the defense in last week's loss. The defense was tagged with 28 points allowed, but seven of those were gifted to the Coyotes on a Concordia fumble in the end zone. The Bulldogs allowed 447 total yards, but got tougher in red zone situations. Kansas Wesleyan came up empty on two of its five trips to the red zone. One of its drives was thwarted by a Tarence Roby interception. Roby, fellow defensive back D'Mauria Martin and linebacker Kordell Glause are the lone returning starters on defense. Surrounding small up front are ends Zach Jackson and Aaron Rudloff. The linebacker unit includes inside backers Terrell Pearson and Derek Tachovsky and outside backer Shane Scott, a senior with starting experience. Martin and Roby are joined in the secondary by corner Sebastian Garces and safety Nate Gilmore. The Bulldogs have a history of solid defenses. Daberkow coordinated units that ranked in the top five nationally in total defense in 2013 and 2015.
Home cooking
The 2016 Concordia football team turned in the program's first undefeated home season since 2000. Dating back to the end of 2015, the Bulldogs own a six-game home win streak. Three of last season's five home victories were decided by six points or less. The last opponent to win inside Bulldog Stadium was then second ranked Morningside on Oct. 31, 2015.
Six-game home win streak
11/12/16 | W, 31-28 | Hastings
10/22/16 | W, 20-14 | #22 Midland
10/8/16 | W, 56-0 | Briar Cliff
9/17/16 | W, 9-7 | Northwestern
9/3/16 | W, 23-7 | Mary (Kan.)
11/14/15 | W, 48-0 | Briar Cliff
Concordia vs. the KCAC
Concordia has now played opponents from the Kansas Collegiate Athletic Conference five times since the start of 2014. The Bulldogs were a perfect 4-0 versus the KCAC in those outings until last week's defeat at Kansas Wesleyan. Like most of the GPAC, Concordia has had its way with the KCAC. Last season the Bulldogs opened up the 2016 campaign with wins over the University of Saint Mary and Ottawa. Concordia and Ottawa had never met on the football field until last fall. In last year's matchup, the Bulldogs bested the Braves, 34-23. Jared Garcia reeled in five passes for 88 yards and a touchdown. Defensively, then senior Michael Hedlund enjoyed a monster game, racking up 18 tackles, a forced fumble and an interception.
Scouting Ottawa
Kent Kessinger has built a perennially strong football program in Ottawa. Last season was a rare hiccup. The Braves went 4-7 overall, finishing below .500 for the first time since 2007. Between the 2008 and 2015 seasons, Ottawa went a combined 68-22 with six NAIA playoff appearances. The Braves are looking for a rebound year behind dual threat quarterback Connor Byers, who rushed for 905 yards in 2016. Kessinger and company will try to shore up a defense that ranked 46th in the nation in total defense last year and got gutted for 674 total yards last week by Northwestern. Ottawa will need to tighten up the rush defense while matching up with Ryan Durdon and Concordia's experienced offensive line. The two coaching staffs know each other well. Bulldog special teams coordinator Wes Coomes started at linebacker for the Braves in 2012 and 2013. On the flip side, Curran White is in his first season as offensive coordinator at Ottawa after spending five seasons on Vance Winter's coaching staff at Concordia.