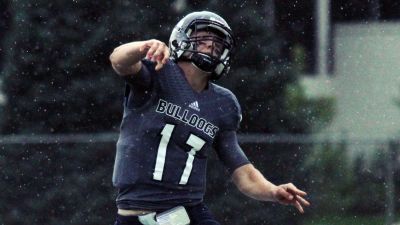 SEWARD, Neb. – Off to a 2-0 start and ranked No. 20 in the NAIA, the Concordia University football team looks ahead to conference play. After knocking off two members of the Kansas Collegiate Athletic Conference, the Bulldogs open up GPAC action by hosting Northwestern at 1 p.m. CT on Saturday. Concordia is trying to remain unbeaten while the Red Raiders are seeking their first victory of 2016.
The Bulldogs came back from a 17-14 halftime deficit to win at Ottawa University, 34-23, last week. That win followed a 23-7 home triumph over the University of Saint Mary on Sept. 3. Meanwhile, Northwestern has suffered losses to Sterling College, 28-21, and to No. 21 Dickinson State University, 42-13.
GAME INFO
Northwestern (0-2) at Concordia (2-0)
Saturday, Sept. 17 | 1 p.m. CT
Bulldog Stadium | Seward, Neb.
Live Webcast: Concordia Sports Network
Radio: KTMX-FM 104.9 Max Country
Commentators: Jayson Jorgenson and Tyler Cavalli
STATISTICAL BREAKDOWN
*National rank in parentheses
Concordia
Offensive PPG: 28.5 (35th)
Defensive PPG: 15.0 (13th)
Total Offense: 313.0 (60th)
Pass Offense: 160.5 (66th)
Rush Offense: 152.5 (38th)
Total Defense: 310.5 (21st)
Pass Defense: 212.0 (T-40th)
Rush Defense: 98.5 (16th)­­
Turnover +/-: +1 (T-26th)
Northwestern
Offensive PPG: 17.0 (T-65th)
Defensive PPG: 35.0 (T-58th)
Total Offense: 404.5 (24th)
Pass Offense: 251.0 (25th)
Rush Offense: 153.5 (T-36th)
Total Defense: 396.0 (51st)
Pass Defense: 305.5 (73rd)
Rush Defense: 90.5 (14th)
Turnover +/-: -3 (T-63rd)
Individual Leaders
Concordia
Head Coach: Vance Winter (36-41, 8th season)
Quarterback: Riley Wiltfong – 18/37 (.486), 246 yards, 2 td, 2 int
Running Back: Bryce Collins – Rushing: 49 att, 179 yards, 3.7 avg, 1 td; Receiving: 6 catches, 22 yards
Receiving: Jared Garcia – 9 catches, 166 yards, 18.4 avg, 3 td
Defense: Michael Hedlund – 31 tackles, 1.5 tfl's, 2 int, 1 ff
Northwestern
Head Coach: Matt McCarty (0-2, 1st season)
Quarterback: Jonathan Kodama – 41/78 (.526), 467 yards, 2 td, 3 int
Running Back: Jevon Jackson – 26 att, 157 yards, 6.0 avg, 1 td
Receiving: JC Koerselman – 12 catches, 139 yards, 11.6 avg, 0 td
Defense: Jerod Hansen – 3 tackles, 2 int
Football reunion celebration
Concordia will welcome back more than 300 registered guests as part of this weekend's football reunion celebration. Festivities begin Friday when a dinner and banquet will be held on campus. There will also be a social gathering Saturday night. For more information on the reunion, click HERE.
In the rankings
Winter's program made a return to the national rankings on Monday (Sept. 12). In the first NAIA national poll of the 2016 regular season, the Bulldogs checked in at No. 20, marking their highest ranking since the 2013 season. It marks the ninth time that the Bulldogs have garnered a top-25 ranking under Winter's direction. Concordia jumped into the poll in back-to-back weeks last October before falling out. The 2013 squad enjoyed an extended stay in the top 25, spending six-straight weeks in the rankings while peaking at No. 14. The 2013 Bulldogs broke an extended ratings drought that dated back to 2002. The 2001 GPAC co-championship team was ranked in nine polls and finished at No. 7.
Northwestern was listed among "others receiving votes" in the preseason national ranking. In the preseason GPAC polls, the Red Raiders were picked to finish fourth by the media and fifth by the coaches.
Hedlund collects first career weekly honor
Senior linebacker Michael Hedlund starred for the Concordia defense in last week's victory at Ottawa. The native of O'Neill, Neb., made 18 stops (11 solos), 1.5 tackles for loss, picked off a pass and forced a fumble as part of a monster day. As a unit, the Bulldogs limited the Braves to 360 total yards of offense. A second team all-conference choice in 2015, Hedlund currently ranks second among all NAIA players in tackles per game (15.5). Last season Hedlund racked up a team high 105 tackles and also added 4.5 tackles for loss, two sacks and an interception. Hedlund, who has eight career picks, needs 15 more tackles to reach 200 for his career.
Garcia closing in on Wurdeman
Pearland, Texas, native Jared Garcia continues to close in on former All-American tight end Ross Wurdeman's program record for most career touchdown receptions. Garcia hauled in a 15-yard scoring toss for Riley Wiltfong at Ottawa, running his career touchdown catch count to 22. Wurdeman caught 24 touchdown passes during his career that spanned the 1998 through 2001 seasons. Wurdeman also stands as the school's all-time leader for receptions (168) and receiving yards (2,458). Garcia has hauled in 94 passes for 1,529 yards over 23 games as a Bulldog. A 6-foot-3, 200-pound junior, Garcia's 11 touchdown catches in 2014 remain a program single-season record.
Happy returns
Junior Tarence Roby made his first appearance of 2016 on Sept. 10 and wasted little time in making a big impact. He took the opening kickoff 91 yards for a touchdown – his fourth career score. The native of Rockford, Ill., has found creative ways to score. He's found the end zone three times on special teams and once on defense since arriving in Seward as a transfer from Northern Illinois University. Last week Roby totaled 179 kickoff return yards on four attempts. He also broke up two passes from his cornerback spot. Roby's first career touchdown came on a kickoff return versus Northwestern.
Roby touchdowns
9/20/2014 – 46-yard fumble return vs. Midland
10/18/2014 – 90-yard kickoff return vs. Northwestern
10/24/2015 – 12-yard blocked punt return vs. Doane
9/10/2016 – 91-yard kickoff return at Ottawa
Kickin' it
Though it entered 2016 with 17 returning starters, Concordia needed to answer questions about the kicking game after graduating kicker Adam Meirose and punter Sandy Fisher. So far so good. Winter has used senior Jose Garcia at kicker. Garcia has responded by going a perfect 7-for-7 on extra points and 2-for-2 on field goals. He sealed last week's win with field goals of 34 and 28 yards in the fourth quarter. All-American defensive end Trey Barnes has handled punting duties. He's punted 15 times for an average of 39.2 yards per attempt while downing opponents inside the 20 on four of those punts. Junior college transfer Brendan Cremin has taken over kickoff duties.
Series vs. Northwestern
Concordia and Northwestern have played nailbiters in each of their last four meetings with those contests having been decided by a combined total of 12 points. The Red Raiders have won the last three meetings after the Bulldogs squeaked out a 17-16 win on their homecoming in 2012. According to data that dates back to 1946, Concordia is 13-25 all-time versus Northwestern.
Last four meetings vs. Northwestern
2015 at Northwestern – L, 14-17
2014 vs. Northwestern – L, 21-27
2013 at Northwestern – L, 28-30
2012 vs. Northwestern – W, 17-16
Scouting Northwestern
After seven years under the direction of head coach Kyle Achterhoff, Northwestern went in a different direction and promoted Matt McCarty, formerly the team's defensive coordinator. Achterhoff guided his Red Raider squads to a combined record of 56-19. After allowing an average of 17.7 points per game last season, Northwestern has already surrendered 70 points over two losses to begin 2016. The Red Raiders were victimized last week at Dickinson State by a series of big plays by the Blue Hawks, who scored on touchdown passes of 38 and 76 yards and on a 50-yard interception return. A typically stout Northwestern defense has been particularly susceptible through the air. Last week Kaler Ray burned the Red Raiders for 332 passing yards. Offensively, running back Jevon Jackson has rushed for 157 yards and a touchdown on 26 attempts. Northwestern has a proud football tradition having made three-consecutive playoff appearances from 2012 to 2014. The Red Raiders have not endured a losing season since going 4-5 in 1991.