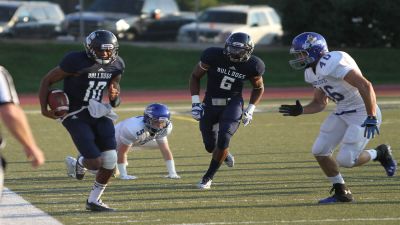 GAME NOTES: Concordia travels to Southwestern in inaugural GPAC-KCAC Challenge
SEWARD, Neb. – The Concordia University football team will attempt to defeat a Kansas Collegiate Athletic Conference team on the road for the second-straight season opener when it takes on Southwestern College in Winfield, Kan., on Saturday. Kickoff from Richard L. Jantz Stadium is slated for 6 p.m. CT. This Saturday marks the inaugural weekend of the GPAC-KCAC challenge.
Head coach Vance Winter returns six starters on offense and seven on defense from a 2014 team that went 5-6 overall. The Bulldogs carry a two-game win streak into this season after closing 2014 with wins over No. 24 Dakota Wesleyan and Briar Cliff.
This week's game will be the debut of Bulldog football on 104.9 Max Country radio. Jayson Jorgensen will call the play-by-play and Matt Harab will serve as color commentator.
GAME INFO
Concordia (0-0) at Southwestern (0-1)
Saturday, Sept. 5, 6 p.m.
Site: Winfield, Kan.
Stadium: Richard L. Jantz Stadium
Radio: 104.9 Max Country
Webcast: Stretch Internet
Live Stats: Dakstats
STATISTICAL BREAKDOWN
2014 Team Statistics
Concordia
Offensive PPG: 28.9 (T-35th)
Defensive PPG: 27.5 (T-44th)
Total Offense: 401.6 (29th)
Pass Offense: 197.8 (47th)
Rush Offense: 203.8 (22nd)
Total Defense: 384.7 (48th)
Pass Defense: 213.1 (47th)
Rush Defense: 171.6 (44th)
Turnover +/-: -1 (T-46th)
Southwestern
Offensive PPG: 14.7 (82nd)
Defensive PPG: 30.8 (57th)
Total Offense: 264.0 (80th)
Pass Offense: 121.6 (78th)
Rush Offense: 142.4 (57th)
Total Defense: 394.1 (52nd)
Pass Defense: 168.2 (17th)
Rush Defense: 225.9 (78th)
Turnover +/-: -6 (T-64th)
Individual Returning Leaders
Concordia
Head Coach: Vance Winter (28-37, 7th year)
Passing: TJ Austin – 28/59 (.475), 4 TD, 1 INT, 440 yds, 129.1 effic. (rushing: 168 yds)
Rushing: Bryce Collins – 182 att, 1,016 yds, 5.6 avg, 7 TD (receiving: 17 rec, 264 yds, 1 TD)
Receiving: Jared Garcia – 44 rec, 650 yds, 14.8 avg, 11 TD
Defense: Michael Gill – 64 tackles, 9.0 tfl's, 4.5 sacks
Southwestern
Head Coach: Brad Griffin (1st year)
Passing: Tyler Crandall – 90/252 (.357), 6 TD, 15 INT, 1,002 yds, 65.1 effic. (rushing: 172 yds, 3 TD)
Rushing: Anthony Sims – 180 att, 739 yds, 4.1 avg, 6 TD
Receiving: Marcus Bradford – 7 rec, 35 yds, 5.0 avg, 0 TD
Defense: Eric Walker – 148 tackles, 21 tfl's, 4.5 sacks, 2 INTs
Road Dawgs
For the third-straight season, Concordia is opening up a campaign with a nonconference road game. The Bulldogs will try to go 3-for-3 after having defeated William Jewell College (Mo.), 30-15, to open up the 2013 season and then 15th-ranked Sterling College (Kan.), 21-15, to kick off the 2014 slate. The Bulldogs are 3-3 in season openers under head coach Vance Winter.
Lone Star State of mind
In this week's depth chart, six of the 11 offensive starters listed hail from the state of Texas. The talented group of Lone Star State natives includes standout skill players in quarterback TJ Austin, running back Bryce Collins and receiver Jared Garcia. In addition, two defensive starters – Ron Jackson and D'Mauria Martin – also call Texas home.
Sibbel moves to outside backer
After three seasons as a starting safety, O'Neill, Neb., native Tait Sibbel has moved to a starting outside linebacker spot. Sibbel is listed as one of four starting linebackers along with Michael Hedlund, Clay Mauro and Brandon Namuth. In his career, Sibbel has recorded 181 tackles and eight interceptions while playing in 32 games.
Rebuilt offensive line
Bryce Collins will aim for his second-straight 1,000-yard rushing season behind a retooled offensive line that includes only one returning starter – senior Ben Balduc. This year's group of five entering week one includes left tackle Hallick Lehmann, left guard Austin Taylor, center Austin Reese, right guard Keddrick Fuselier and Balduc at right tackle. The Concordia o-line helped pave the way for an average of more than 200 rushing yards per game in 2014.
Offensive revolution
Under fourth-year coordinator Curran White, the Bulldog offense has improved each season (see numbers below). Last year Concordia broke the program record for total offense per game by averaging 401.6 yards. In addition, single-season records were broken by Von Thomas (most passing touchdowns, 21) and Jared Garcia (most receiving touchdowns, 11) and Bryce Collins became the program's first 1,000-yard rusher since 2007. In three seasons, White helped the offense increase its yards per game output from 249.5 in 2011 (year prior to White's arrival) by more than 150 yards.
Offensive output under White
2014 – YPG: 401.6 (29th) | PPG: 28.9 (T-35th)
2013 – YPG: 360.0 (45th) | PPG: 26.4 (43rd)
2012 – YPG: 306.5 (59th) | PPG: 24.0 (47th)
Clay day
Freshman Qyalyan Clay has emerged as the frontrunner to return kicks and punts for Concordia. The 5-foot-9, 165-pound running back from Manvel, Texas, has caught the attention of observers during fall camp with his speed, agility and ability to make cuts on a dime. A star at Manvel High School, Clay once wondered if he'd ever play football again after experiencing shortness of breath while playing for Manvel. In subsequent tests, doctors found a tiny hole in the cartilage between Clay's ribs next to his heart cavity. He eventually returned to the field and ran for 838 yards and 14 touchdowns as a senior.
Scouting Southwestern
Southwestern College opened its 2015 season on Aug. 29 with a 42-5 loss at Wayland Baptist University (Texas). In the loss the Moundbuilders debuted new head coach Brad Griffin and freshman quarterback Christian Gordon, who completed 6 of 28 passes for 56 yards. Ranked 80th out of 88 NAIA football programs in terms of total offense last season, Southwestern mustered only 84 total yards at Wayland Baptist. Defensively, the Moundbuilders possess a star in senior linebacker Eric Walker, who piled up 148 tackles last year. Southwestern, which went 1-10 last season, has lost seven-consecutive games since a 27-6 victory over Tabor College (Kan.) on Oct. 4, 2014.