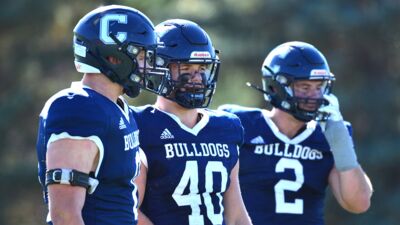 SEWARD, Neb. – The final road trip of the 2022 Concordia University Football season has arrived. The Bulldogs are preparing for Saturday's matchup at Briar Cliff. Kickoff from Memorial Field in Sioux City, Iowa, is set for 1 p.m. CT. This will be the 20th all-time meeting between the two sides. Both the Bulldogs and Chargers are coming off losses to ranked opponents. Head Coach Patrick Daberkow's squad is 1-3 on the road this season with the one victory coming at Dakota Wesleyan.
There will be a lot of thoughts of 'what if' when the 2022 season does conclude for Concordia. The Bulldogs (3-5, 3-5 GPAC) have had chances in four of their five losses with margins of defeat coming by two, four, one and 10 points, respectively. The 41-31 loss last week at No. 14 Midland was essentially a one-score game (the Warriors scored a touchdown with nine seconds left on the clock). Concordia wasn't able to pull it out despite outgaining Midland, 501-368. Key factors in the outcome were the Warrior rushing attack, an empty red zone trip for the Bulldogs and a blocked punt. Midland kept alive NAIA playoff hopes while moving to 8-1.
Meanwhile, Briar Cliff (1-8, 1-7 GPAC) endured a 56-7 loss last week at No. 4 Northwestern. The Chargers have dropped six in a row since their only win this season, 31-25 over Jamestown on Sept. 10. Head Coach Shane LaDage's squad will be looking to build momentum heading int 2023. Briar Cliff will close out its 2022 season by hosting Concordia and then playing at Doane. The biggest statistical strength for the Chargers has been their passing offense behind quarterback Luke Davies, who has thrown for 1,981 yards and 16 touchdowns.
GAME INFO
Concordia (3-5, 3-5 GPAC) at Briar Cliff (1-8, 1-7 GPAC)
Saturday, Nov. 5 | 1 p.m.
Memorial Field | Sioux City, Iowa
Webcast: Charger Sports Network
Live Stats: Presto Sports
Radio: 104.9 Max Country
Commentators: Parker Cyza and Ross Wurdeman
Online Tickets: HomeTown Ticketing (also sold on site)

STATISTICAL BREAKDOWN
Team Statistics
*2022 national rankings out of 98 NAIA football programs
Concordia
Offensive PPG: 24.1 (53rd)
Defensive PPG: 23.5 (T-41st)
Total Offense: 402.4 (21st)
Pass Offense: 278.1 (9th)
Rush Offense: 124.3 (53rd)
Total Defense: 358.8 (62nd)
Pass Defense: 190.1 (35th)
Rush Defense: 168.6 (70th)
Turnover +/-: +3
Briar Cliff
Offensive PPG: 19.0 (73rd)
Defensive PPG: 41.4 (87th)
Total Offense: 300.3 (T-69th)
Pass Offense: 230.8 (29th)
Rush Offense: 69.6 (87th)
Total Defense: 462.4 (93rd)
Pass Defense: 243.4 (82nd)
Rush Defense: 219.0 (89th)
Turnover +/-: -7
2022 INDIVIDUAL LEADERS
Concordia
Head Coach: Patrick Daberkow (26-30, 6th season)
Passing: DJ McGarvie – 172/296 (.581), 1,961 yards, 13 td, 4 int, 125.5 effic.
Rushing: Devin Zeigler – 122 rushes, 478 yards, 3.9 avg, 3 td
Receiving: Korrell Koehlmoos – 74 receptions, 826 yards, 11.2 avg, 9 td
Defense: Michael Grindey – 79 tackles, 4 tfl's, 1 sack, 1 ff

Briar Cliff
Head Coach: Shane LaDage (4-16, 2nd season)
Passing: Luke Davies – 157/287 (.547), 1,981 yards, 16 td, 11 int, 123.4 effic.
Rushing: Asante Anglin – 93 rushes, 418 yards, 4.5 avg, 2 td
Receiving: Kobe Johnson – 36 receptions, 420 yards, 11.7 avg, 2 td
Defense: MJ Montgomery – 57 tackles, 12 tfl's, 8 sacks, 1 ff, 1 fr
2022 SCHEDULE/RESULTS
Concordia (3-5, 3-5 GPAC)
9/3 at Doane, L, 10-12
9/17 vs. Hastings, L, 17-21 (homecoming)
9/24 at (4) Northwestern, L, 10-34
10/1 at Dakota Wesleyan, W, 20-12
10/8 vs. Jamestown, W, 30-15
10/15 vs. Mount Marty, W, 47-24
10/22 vs. Dordt, L, 28-29
10/29 at (14) Midland, L, 31-41
11/5 at Briar Cliff, 1 p.m.
11/12 vs. (1) Morningside, 1 p.m. (senior day)

Briar Cliff (1-8, 1-7 GPAC)
8/27 vs. Waldorf, L, 24-42
9/3 vs. (21) Dordt, L, 13-35
9/10 vs. Jamestown, W, 31-25
9/17 at (1) Morningside, L, 23-59
9/24 vs. Mount Marty, L, 19-41
10/1 at Hastings, L, 9-28
10/8 vs. (20) Midland, L, 21-56
10/15 at Dakota Wesleyan, L, 24-31
10/29 at (4) Northwestern, L, 7-56
11/5 vs. Concordia, 1 p.m.
11/12 at Doane, 1 p.m.

In the rankings
Concordia picked up three points in the 2022 NAIA preseason coaches' poll but fell off the national radar due to the 0-3 start. The program's most recent top 25 appearance came in November 2017 when they landed at No. 25. Current Massey Ratings list Concordia at No. 51 and Briar Cliff at No. 82 in the NAIA. The Chargers have never cracked the NAIA top 25 since their inaugural season of football in 2003. Briar Cliff did manage to receive votes in the national poll in 2018 in a campaign that finished with a 6-5 overall record.

Concordia
GPAC preseason: 4th
Current Massey Ratings: 51st
Briar Cliff
GPAC preseason: 10th
Current Massey Ratings: 82nd

Last time out
It was another loss (41-31 final score) that Concordia felt like could have gone the other way. The Bulldogs mounted a 10-0 lead at Midland piled up 501 yards of offense on the day. Tight end Luke Lang caught touchdown passes of 18 and 30 yards from DJ McGarvie and one from six yards out from Austin Jablonski. Concordia passed for 307 yards and ran 194 against a Warrior defense that entered the weekend ranked top 15 nationally in both total and scoring defense. Midland overcame that offensive production by rushing for 259 yards and with greater red zone efficiency (5-for-5 with four touchdowns a field goal). The Warriors also blocked a punt that set up a field goal. McGarvie finished with 296 passing yards and three total touchdowns while Jablonski ran for a team high 78 yards. Devin Zeigler added 70 rushing yards. Defensively, Kyle Sterup put together a fine afternoon that included 12 tackles, one tackle for loss and a forced fumble.

Lang breaks out
An injury has prevented tight end Garrett Schardt from competing in a fifth season of college football. While his absence has been unfortunate, Luke Lang has taken advantage of the opportunity and could push for First Team All-GPAC accolades at tight end. Lang reeled in three touchdown catches at Midland as part of a day that included five receptions for 77 yards. Lang has now scored a touchdown in three straight games and has bumped his season totals to 29 catches for 440 yards and five touchdowns. Lang ranks second to Korrell Koehlmoos on the team in each of those categories. As a comparison, Schardt caught 32 passes for 504 yards and five touchdowns last season when he was named first team all-conference.

McGarvie continues prolific sophomore season
Coming into this season, the Concordia football program team record for passing yardage per game was 214.4 (accomplished by the 2019 squad). The 2022 Bulldogs are on track to shatter that record behind prolific passer DJ McGarvie (now 9-5 as a starting quarterback in his career). Over the past five outings, McGarvie has thrown for at least 235 yards and for at least one touchdown in each game. His 458 yards in the 29-28 loss at Dordt represented a school record for a single game. The Lincoln North Star High School product ranks second among GPAC quarterbacks with an average of 280.1 passing yards per game. Overall this season, McGarvie has completed 172-of-296 passes (.581) for 1,961 yards to go along with a touchdown-to-interception ratio of 13-to-4. In 17 career collegiate games, McGarvie has thrown for 3,445 yards and 32 touchdowns.

Last five games:
--at Dakota Wesleyan: 26/40, 255 yards, 3 td, 1 int
--vs. Jamestown: 28/41, 393 yards, 1 td, 0 int (rushing td)
--vs. Mount Marty: 24/34, 235 yards, 3 td, 0 int
--vs. Dordt: 34/67, 458 yards, 4 td, 1 int
--at Midland: 24/46, 296 yards, 2 td, 1 int (rushing td)

Koehlmoos adds another school record
By the time it's all said and done, Korrell Koehlmoos is going to end up with one of the best seasons ever for a Concordia receiver. Koehlmoos caught 12 passes for 96 yards last week while just missing out on a sixth 100-yard receiving game this season. The Pilger, Neb., native rose to the top of the career receptions list in the win over Jamestown on Oct. 8 and then set a new standard for career receiving yards in the victory over Mount Marty on Oct. 15. Last week he added to his collection of records by claiming the program's new standard for catches in a season with 74 (the previous record was 62 by Eric Pralle in 1990). In 46 career collegiate games, Koehlmoos has caught 200 passes for 2,696 yards and 21 touchdowns. Koehlmoos sports NAIA national rankings this season of second in receptions (74), sixth in receiving touchdowns (nine) and seventh in receiving yards (826). Koehlmoos is on pace to do something no receiver at Concordia has ever done – crack 1,000 receiving yards in a single season.

Receiving yards, career
1. Korrell Koehlmoos – 2,696 (2018-present)
2. Jared Garcia – 2,495 (2014-17)
3. Ross Wurdeman – 2,458 (1998-01)
4. Clarence Woods – 2,011 (1984-88)
5. Eric Pralle – 1,974 (1987-1991)

Receptions, career
1. Korrell Koehlmoos – 200 (2018-present)
2. Ross Wurdeman – 168 (1998-01)
3. Jared Garcia – 161 (2014-17)
4. Eric Pralle – 147 (1987-91)
5. Dan Danielczyk – 140 (1968-71)

Receiving TDs, career
1. Jared Garcia – 35 (2014-17)
2. Ross Wurdeman – 24 (1998-01)
3. Korrell Koehlmoos – 21 (2018-present)
4. Brian Naber – 17 (1967-70)
5. Marlin Zobel – 16 (1948-51)

Defensive superlatives
Last week wasn't one of the better days for the defense, but the unit has been solid overall in holding opponents to an average of 23.5 points per game. Four Bulldogs have collected at least 50 tackles this season: Michael Grindey (79), Gabe Knisley (60), Kam Baker (58) and Kyle Sterup (51). Other category leaders include Devon Polley in sacks (4.5) and tackles for loss (9.5), Baker in forced fumbles (three), Jayzen Armstrong in pass breakups (nine) and Isiaha Conner in interceptions (three). Among GPAC teams, Concordia ranks sixth in scoring defense (23.5) and seventh in total defense (358.8).

Offense piles up yards
After the first three games of 2022, Concordia ranked 73rd nationally in total offense in 83rd in scoring offense. The numbers have rocketed skyward since halftime of the win over Dakota Wesleyan. The Bulldogs have leaned on a passing game that has leapt to No. 9 in the NAIA in terms of yardage per game (278.1). Over the past four games, Concordia has averaged 34.0 points per game. This is the type of offensive renaissance the program has been waiting for. Over the previous five years, Concordia has posted scoring averages of 24.6 in 2017, 15.4 in 2018, 15.6 in 2019, 21.9 in 2020 and 23.6 in 2021. Another hopeful step forward is converting the yardage totals into more points.

Next man up
It's been a situation of next man up on the offensive line. The Bulldogs opened the season with an offensive line of (from left to right): Kaden Peters, Toby Hager, Johnny Robinson III, Christian Schlepp and Gavin Mull. In recent action, Robinson III, Schlepp and Mull have all sat out due to injuries. To help make up for that loss of beef up front, Concordia moved true freshman Carson Fehlhafer over from the defensive line. He made his first career start in the win over Mount Marty while playing at left guard. Jackson Anderson (center) and Blake Schlegel (right tackle) have also stepped into starting positions and helped the offense put together its best stretch of offensive football this season.

Jabo engineers 99-yard drive
Down 34-24 in the fourth quarter with the ball at its own 1 last week at Midland, Concordia turned to Austin Jablonski at the quarterback position. He responded by leading a 10-play, 99-yard touchdown drive that kept alive hopes of an upset victory. On that drive, Jablonski ran for separate gains of 20, 32, 11, four, and eight yards. He then lobbed jump pass to tight end Luke Lang for a six-yard touchdown to cap the drive. Jablonski can do a little bit of everything. On the season, the former University of Nebraska walk on has produced yardage totals of 329 receiving, 264 passing and 230 rushing. He's accomplished a unique feat this season of having passed for a touchdown, rushed for a touchdown and received a touchdown. Only two other Concordia players have done that same thing since 2003 (Art Anderson and Alex Alvarez).

Kicking-punting duo
One of the last additions to the 2022 team, Ty Harold has brought his soccer leg to the football field as a kicker. A transfer from Iowa Western Community College, Harold came to Concordia to play for Head Coach Jason Weides' men's soccer team. Harold impressed the coaching staff enough during preseason to be trusted with placekicking duties. Harold is now 7-for-14 on field goal tries and 22-for-25 on PATs in 2022. His 43 points are second on the team to Koehlmoos (54), who happens to be having a fine season at punter. On 39 punts this season, Koehlmoos is averaging 40.7 yards per attempt with 17 of them landing inside the 20.

Series vs. Briar Cliff
The series between Concordia and Briar Cliff dates back to 2003 when the Chargers played their inaugural football season. The Bulldogs are 16-3 all-time versus Briar Cliff. Concordia won 11-straight in the series until the Chargers snapped the string in 2018 with a 23-14 victory. The Bulldogs got back on the winning side of the series the past three seasons via a 16-14 homecoming squeaker in 2019, a 24-9 triumph in Sioux City in 2020 and a 61-21 blowout in Seward in 2021. In last season's matchup, a true freshman version of DJ McGarvie turned heads by going 7-for-8 passing for 150 yards and four touchdowns. Four different Bulldogs caught a touchdown pass: Cayden Beran, Korrell Koehlmoos, Cole Schaedel and Garrett Schardt. Concordia outgained Briar Cliff, 520-154. The point total was the highest for the program since a 62-6 win over Mount Senario (Wis.) in 2001.

Scouting Briar Cliff
Briar Cliff can throw the football. It ranks fifth in the GPAC in passing yards per game (230.8) behind sophomore quarterback Luke Davies of Yorkville, Ill. The problems have come on defense with the Chargers sporting national rankings of 87th in scoring defense (41.4) and 93rd in total defense (462.4). Since the program's first season in 2003, Briar Cliff has finished above .500 once – 6-5 in 2018. In his second season leading the Chargers, Head Coach Shane LaDage is working on building the program back up. While the defensive numbers are not stellar, Briar Cliff does have one of the league's better defensive linemen in MJ Montgomery, who has accumulated eight sacks. The Chargers will be looking to knock off Concordia for the first time since 2018.