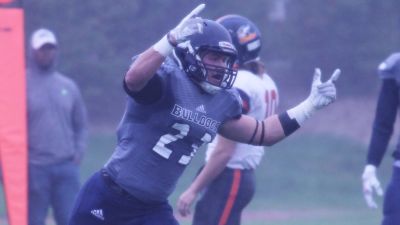 SEWARD, Neb. – The Concordia University football team has not won or lost consecutive games all season, trading victories at home with defeats on the road. The Bulldogs hope to buck the trend this Saturday when they visit Dordt for a 1 p.m. CT kickoff in Sioux Center, Iowa. Head coach Patrick Daberkow's squad is coming off a dominant 44-14 home win over Midland.
On the other side, the Defenders appear to have their best team yet since the football program kicked off its first season in 2008. In his second season in Sioux Center, head coach Joel Penner has his team off to a 4-2 start that includes back-to-back wins over NAIA top 25 teams: No. 12 Doane and No. 19 Hastings. Last week's victory over the Broncos ended in double overtime.
GAME INFO
Concordia (3-3, 2-2) at Dordt (4-2, 2-2)
Saturday, Oct. 21 | 1 p.m.
Open Space Park Football Field | Sioux Center, Iowa
Radio: 104.9 Max Country
Commentators: Tyler Cavalli and Roger Fitzke
Live Stats: Dakstats
STATISTICAL BREAKDOWN
2017 Team Statistics
*National rank in parentheses
Concordia
Offensive PPG: 24.8 (55th)
Defensive PPG: 23.2 (23rd)
Total Offense: 358.7 (54th)
Pass Offense: 176.8 (60th)
Rush Offense: 181.8 (35th)
Total Defense: 355.8 (23rd)
Pass Defense: 209.2 (35th)
Rush Defense: 146.7 (34th)
Turnover +/-: 0 (T-39th)
Dordt
Offensive PPG: 34.2 (29th)
Defensive PPG: 26.3 (38th)
Total Offense: 487.2 (12th)
Pass Offense: 201.3 (47th)
Rush Offense: 285.8 (4th)
Total Defense: 421.7 (65th)
Pass Defense: 216.7 (T-42nd)
Rush Defense: 205.0 (65th)
Turnover +/-: +4 (T-22nd)
INDIVIDUAL LEADERS
Concordia
Head Coach: Patrick Daberkow (3-3, 1st season)
Passing: Riley Wiltfong – 30/57 (.526), 437 yards, 6 td, 3 int; rushing: 26 carries, 130 yards, 5.0 avg
Rushing: Ryan Durdon – 121 rushes, 719 yards, 5.9 avg, 6 td; Receiving: 12 catches, 61 yards
Receiving: Jackson Hall – 17 catches, 268 yards, 15.8 avg, 3 td
Defense: D'Mauria Martin – 25 tackles, 5 tfl, 5 int, 4 pbu, ff
Dordt
Head Coach: Joel Penner (9-8, 2nd season)
Passing: Brock Lamle – 62/126 (.492), 1,150 yards, 11 td, 3 int; rushing: 27 carries, 98 yards, 3.6 avg
Rushing: Keithen Drury – 119 rushes, 795 yards, 6.7 avg, 8 td; receiving: 2 catches, 16 yards
Receiving: Levi Jungling – 31 catches, 687 yards, 22.2 avg, 6 td
Defense: Josiah Kotte – 44 tackles, 9 tfl
SCHEDULE/RESULTS
Concordia (3-3, 2-2 GPAC)
9/2 at (20) Kansas Wesleyan, L, 13-28
9/9 vs. Ottawa, W, 24-6
9/16 at (24) Northwestern, L, 21-35
9/23 vs. (7) Doane, W, 29-18 (homecoming)
9/30 at Hastings, L, 18-38
10/14 vs. Midland, W, 44-14
10/21 at Dordt, 1 p.m.
10/28 vs. Dakota Wesleyan, 1 p.m.
11/4 at Briar Cliff, 1 p.m.
11/11 vs. (4) Morningside, 1 p.m.

Dordt (4-2, 2-2 GPAC)
9/2 at Bethel, W, 44-10
9/9 vs. Waldorf, W, 59-14
9/16 at (4) Morningside, L, 23-62
9/23 vs. Midland, L, 28-33
10/7 at (12) Doane, W, 21-16
10/14 vs. (19) Hastings, W, 30-23 (2 OT)
10/21 vs. Concordia, 1 p.m.
10/28 at (17) Northwestern, 1 p.m.
11/4 at Dakota Wesleyan, 1 p.m.
11/11 vs. Briar Cliff, 1 p.m.
In the rankings
Both teams have received votes in the national poll during this season. Dordt is currently knocking on the door of its first-ever top 25 ranking. The Defenders collected 12 points in the poll released on Monday (Oct. 16) and were second among others receiving votes. The two teams are closely grouped in the latest Massey Ratings (see below).
Concordia
GPAC preseason: 5th (coaches); 6th (media)
NAIA coaches' poll (Oct. 16): did not receive votes
Massey Ratings: 41st
Dordt
GPAC preseason: 7th (coaches); 7th (media)
NAIA coaches' poll (Oct. 16): second among others receiving votes
Massey Ratings: 35th
Durdon breaks out in record-setting performance
Sophomore Ryan Durdon, with the help of fullback Robert Ferguson and a strong offensive line, put together perhaps the finest performance ever by a Concordia running back in last week's thumping of Midland. The native of Decatur, Texas, equaled the program's single-game rushing record with 266 yards to go along with four touchdowns on 28 carries, allowing him to earn GPAC offensive player of the week accolades. Durdon's touchdown runs covered distances of 41, 54, three and 20 yards. His 266 rushing yards rank as the highest single-game total for any NAIA player this season. In program history, there are eight confirmed 200+ yard rushing games. Durdon now has two of those performances. Overall this season, Durdon has rushed for 719 yards and six touchdowns on 121 attempts. He ranks as the nation's 10th leading rusher in terms of yards per game (119.8). Durdon is currently on pace to become the sixth player in school history to rack up more than 1,000 yards rushing in a single season. The single-season rushing record stands at 1,265, a number recorded by JaMaine Lewis in 2007.
200+ yard rushing games, program history
266 – Ryan Durdon vs. Midland, 2017
266 – Randy Pospishil vs. Dana, 1972
261 – JaMaine Lewis vs. Dakota Wesleyan, 2007
224 – Bob Voelker vs. Doane, 1962
215 – Phillip Elder vs. Doane, 2004
208 – Ryan Durdon vs. Kansas Wesleyan, 2017
208 – Cohl Tufford vs. Dakota State, 2011
206 – Gary Seevers vs. Omaha, 1955
Picking on quarterbacks
GPAC and NAIA national defensive player of the week D'Mauria Martin made Midland quarterbacks pay for their mistakes last week. He plucked all three of his interceptions during the first quarter. Two of those picks led to touchdown passes for quarterback Riley Wiltfong. In his first season playing safety after three years as a starting corner, the Converse, Texas, native has a team high five interceptions on the season. That total ranks him second nationally behind only Doane's Cole Wiseman. The school record for interceptions in a season is a lofty nine picks. Four different Bulldogs have accomplished that feat: Sean Stewart (2002), Andy Schwich (1979), Steve Sirek (1970) and Jim Young (1964). In addition to the five picks, Martin has recorded five tackles for loss and four pass breakups.
Wiltfong's return
The return of Riley Wiltfong from injury is a positive for an offense that rolled up 428 yards in last week's win. With Durdon and others like TJ Austin in the backfield, Concordia isn't necessarily a pass-happy offensive team. What Wiltfong excelled at against Midland was making plays on third and long to extend drives. On the first touchdown drive last week, Wiltfong converted a third-and-six with an eight-yard strike to Jackson Hall. In addition, Wiltfong found Vincent Beasley for 13 on a third-and-10 on a second quarter touchdown drive, hit Hall for five on a third-and-five on another touchdown drive and fired for 34 yards to Beasley on a third-and-eight, leading to a Brendan Cremin field goal. A Doniphan, Neb., native, Wiltfong shook off an early interception and went 8-for-11 for 107 yards and two touchdowns.
On the run
Saturday's outcome could come down to which side does a better job of stopping the run. On one side of the ball, Dordt's 65th-ranked rush defense will have its hands full with Durdon and the Concordia ground game. In last season's 35-28 Concordia win in Sioux Center, tailback Bryce Collins got loose for 179 yards and three touchdowns. Defensively, the Bulldogs' 34th-ranked rush defense will try to slow down the Defenders' fourth-ranked rush offense. Dordt has hardly missed a beat despite losing the 2016 national rushing leader, Bryce Lidtka (1,714 rushing yards). In has place stepped Keithen Drury, who is averaging 132.5 rushing yards per game. Backup Levi Schoonhoven has also been productive. He has carried the ball 69 times for 358 yards and three touchdowns.
Weary travelers
Sioux Center happens to be the site of Concordia's most recent road victory. After going 2-3 away from home last season, the Bulldogs have dropped road games this fall to then No. 20 Kansas Wesleyan University, No. 24 Northwestern and Hastings. Each of those losses have come by double digit margins. Concordia last produced an above .500 road record in 2015 when it went 3-2 on the road as part of a 6-4 campaign.
Home cooking
Concordia's home win streak has moved to nine with 2017 wins at Bulldog Stadium over Ottawa University, Doane and Midland. The Bulldogs went a perfect 5-0 at home during the 2016 season. Concordia also won its final home contest of 2015. Included in the win streak are seven wins over GPAC opponents and two over squads from the Kansas Collegiate Athletic Conference. The 2016 team was the program's first to complete an undefeated home season since 2000.
Nine-game home win streak
10/14/17 | W, 44-14 | Midland
9/23/17 | W, 29-18 | No. 7 Doane
9/9/17 | W, 24-6 | Ottawa (Kan.)
11/12/16 | W, 31-28 | Hastings
10/22/16 | W, 20-14 | #22 Midland
10/8/16 | W, 56-0 | Briar Cliff
9/17/16 | W, 9-7 | Northwestern
9/3/16 | W, 23-7 | Mary (Kan.)
11/14/15 | W, 48-0 | Briar Cliff
Series vs. Dordt
The first-ever win for the Dordt football program came against Concordia during the 2008 season. Since then, the Bulldogs have won each of the last eight meetings with the Defenders. Many of those contests have resulted in lopsided final scores. Concordia topped Dordt, 28-12 in 2009, 24-7 in 2010, 21-7 in 2011, 52-12 in 2012, 32-0 in 2013, 38-14 in 2014 and 34-21 in 2015. Last season's 35-28 result marked the smallest margin of victory for the Bulldogs in the nine-game series history.
Scouting Dordt
Through the first eight seasons of the program's existence, Dordt failed to win more than two games in any year. Things changed dramatically when Joel Penner took over and changed the culture last year. The Defenders went 5-6 last season with their most significant victory being a 44-43 squeaker over Hastings on the road. Under Penner, the program has featured a more balanced offense with a capable passing attack to go along with a more competitive defense. The running game remains stout while the defense ranks a respectable 38th nationally in scoring (26.3). The battle between running backs Keithen Drury and Ryan Durdon will be worth watching. The Concordia offensive line will have to account for linebacker Josiah Kotte, who has made nine tackles in the backfield.