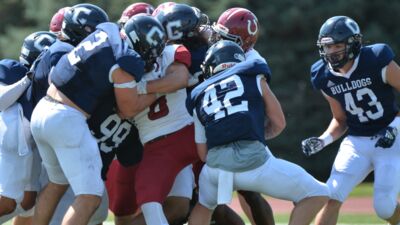 SEWARD, Neb. – The Concordia Football program has had to wait at least one more week for its first win of the 2022 season. The Bulldogs made a spirited first half effort at fourth-ranked Northwestern last week before the Red Raiders turned on the jets in the second half. Both Concordia and Dakota Wesleyan will be attempting to claim win No. 1 when they face off at Joe Quintal Field in Mitchell, S.D., on Saturday. This will be the 23rd all-time meeting between the two programs, which had rarely met prior to the formation of the GPAC in 2000.
Now the question becomes whether Head Coach Patrick Daberkow's squad can shake off a tough start and finish strong like the 2021 Bulldogs did. Concordia forced five turnovers at Northwestern but could not contain Jalyn Gramstad, who came off the bench to account for all five touchdowns in the game's second half. The Bulldogs felt like they could have easily started out 2-0 after close losses to both Doane, 12-10, and Hastings, 21-17. Offensively, Concordia is trying to spark an offense that is averaging 12.3 points per game through three outings.
Dating back to last season, Dakota Wesleyan has dropped six straight games and nine of its last 10. The past few weeks have been a struggle with losses by margins of 19 points or more to Northwestern, Dordt and Hastings. The biggest asset to the Tigers has been running back Jamin Arend, who is averaging nearly 100 yards rushing per game. Head Coach Ross Cimpl's squad began this season with a 29-19 nonconference loss at Dakota State University.
GAME INFO
Concordia (0-3, 0-3 GPAC) at Dakota Wesleyan (0-5, 0-4 GPAC)
Saturday, Oct. 1 | 1 p.m.
Joe Quintal Field | Mitchell, S.D.
Live Webcast: DWU Stretch Portal
Live Stats: PrestoStats
Radio: 104.9 Max Country
Commentators: Parker Cyza and Ross Wurdeman

STATISTICAL BREAKDOWN
Team Statistics
*2022 national rankings out of 98 NAIA football programs
Concordia
Offensive PPG: 12.3 (83rd)
Defensive PPG: 22.3 (T-41st)
Total Offense: 267.3 (73rd)
Pass Offense: 192.3 (54th)
Rush Offense: 75.0 (82nd)
Total Defense: 362.3 (60th)
Pass Defense: 197.7 (T-53rd)
Rush Defense: 164.7 (67th)
Turnover +/-: +2
Dakota Wesleyan
Offensive PPG: 15.2 (77th)
Defensive PPG: 37.4 (81st)
Total Offense: 302.6 (T-57th)
Pass Offense: 195.4 (51st)
Rush Offense: 107.2 (T-58th)
Total Defense: 396.2 (74th)
Pass Defense: 239.8 (78th)
Rush Defense: 156.4 (59th)
Turnover +/-: -6
2022 INDIVIDUAL LEADERS
Concordia
Head Coach: Patrick Daberkow (23-28, 6th season)
Passing: DJ McGarvie – 36/68 (.529), 324 yards, 0 td, 1 int, 90.0 effic.
Rushing: Devin Zeigler – 48 rushes, 135 yards, 2.8 avg, 0 td
Receiving: Korrell Koehlmoos – 19 receptions, 263 yards, 13.8 avg, 2 td
Defense: Michael Grindey – 34 tackles, 1 ff, 0.5 tfl's

Dakota Wesleyan
Head Coach: Ross Cimpl (57-55, 10th season)
Passing: Austin Lee – 64/99 (.646), 576 yards, 2 td, 5 int, 110.1 effic.
Rushing: Jamin Arend – 112 rushes, 497 yards, 4.4 avg, 5 td; 20 catches, 143 yards
Receiving: Kiel Nelson – 34 receptions, 411 yards, 12.1 avg, 3 td
Defense: Layton Eide – 33 tackles, 2 pbu's, 1 int
2022 SCHEDULE/RESULTS
Concordia (0-3, 0-3 GPAC)
9/3 at Doane, L, 10-12
9/17 vs. Hastings, L, 17-21 (homecoming)
9/24 at (4) Northwestern, L, 10-34
10/1 at Dakota Wesleyan, 1 p.m.
10/8 vs. Jamestown, 1 p.m.
10/15 vs. Mount Marty, 1 p.m.
10/22 vs. Dordt, 1 p.m.
10/29 at (23) Midland, 1 p.m.
11/5 at Briar Cliff, 1 p.m.
11/12 vs. (1) Morningside, 1 p.m.

Dakota Wesleyan (0-5, 0-4 GPAC)
8/25 at Dakota State, L, 19-29
9/3 at Jamestown, L, 30-34
9/10 at (3) Northwestern, L, 7-54
9/17 vs. Dordt, L, 7-38
9/24 at Hastings, L, 13-32
10/1 vs. Concordia, 1 p.m.
10/8 at Doane, 1 p.m.
10/15 vs. Briar Cliff, 1 p.m.
10/22 vs. (19 Midland, 1 p.m.
10/29 at (1) Morningside, 1 p.m.
11/5 vs. Mount Marty, 1 p.m.

In the rankings
Concordia picked up three points in the 2022 NAIA preseason coaches' poll but has fallen off the national radar due to the 0-3 start. The program's most recent top 25 appearance came in November 2017 when they landed at No. 25. Current Massey Ratings list Concordia at No. 56 and Dakota Wesleyan at No. 78 in the NAIA. The Tigers last landed in the NAIA top 25 in the postseason of 2017 when they were ranked 23rd. DWU was ranked as high as 16th that season.
Concordia
GPAC preseason: 4th
Current Massey Ratings: 56th
Dakota Wesleyan
GPAC preseason: 7th
Current Massey Ratings: 78th

Last time out
The Bulldogs took a 10-0 lead to the half while wreaking havoc on No. 4 Northwestern with a pair of interceptions and two forced fumbles over the game's first 30 minutes. The second half was a different story as the Red Raiders leaned upon backup quarterback Jalyn Gramstad, who ran for 177 yards and four touchdowns and threw for 179 yards and one touchdown. His exploits were more than enough for Northwestern to avoid the upset and overcome a minus-four turnover margin. For Concordia, Jayzen Armstrong and Luke Sanchez both picked off a pass and a forced fumble was credited to each of the following players: Stephen Hughes, Kam Baker and Devon Polley. One of the fumbles set up Austin Jablonski's four-yard touchdown rush that gave the Bulldogs an early 7-0 advantage. The Red Raiders have now won each of the past six meetings with Concordia.

Koehlmoos rising on all-time receiving lists
There's no doubt that Korrell Koehlmoos is the most dangerous offensive threat for the Bulldogs. Koehlmoos has turned in back-to-back games with more than 100 receiving yards while starring as the primary focus in the passing game. Those outbursts have allowed the Pilger, Neb., native to become the fourth player in program history to eclipse 2,000 career receiving yards. In school history, Koehlmoos currently ranks third in receiving yards (2,133), fourth in receptions (145) and fifth in receiving touchdowns (14). The school records in each of those categories are 2,495 receiving yards (Jared Garcia), 168 receptions (Ross Wurdeman) and 35 receiving touchdowns (Garcia). With his career high 11 catches at Northwestern, Koehlmoos moved up a run to No. 4 (past Dan Danielczyk) on the all-time receptions list.

Receiving yards, career
1. Jared Garcia – 2,495 (2014-17)
2. Ross Wurdeman – 2,458 (1998-01)
3. Korrell Koehlmoos – 2,133 (2018-present)
4. Clarence Woods – 2,011 (1984-88)
5. Eric Pralle – 1,974 (1987-1991)

Receptions, career
1. Ross Wurdeman – 168 (1998-01)
2. Jared Garcia – 161 (2014-17)
3. Eric Pralle – 147 (1987-91)
4. Korrell Koehlmoos – 145 (2018-present)
5. Dan Danielczyk – 140 (1968-71)

Rough start, strong finish?
This wasn't the start Concordia had planned on, but perhaps it can put together a season something like the one it had in 2021. The Bulldogs opened last fall at 1-3 before rattling off six wins in a row. That streak started with the 34-0 blowout of Dakota Wesleyan and continued with victories over Jamestown, Mount Marty, Midland, Doane and Hastings. The Bulldogs will need to go at least 6-1 the rest of the way in order for the program to notch back-to-back winning seasons for the first time since 2016 and 2017 when it went 7-3 and 6-4, respectively.

Playing in the lead
The Bulldogs have owned a lead in the second half of each of their first three games. The largest leads for Concordia over the season's first three contests were 7-0 at Doane, 17-2 versus Hastings and 10-0 at Northwestern. Once in the lead, the Bulldogs have been unable to add on due to an offense that has struggled in the second half of games. Concordia has outscored its opponents in the first quarter by a collective score of 24-0. The Bulldogs have been outscored in the subsequent quarters: 5-3 in the second, 39-7 in the third and 23-3 in the fourth. In other words, Concordia has yet to allow a point in the first quarter this season.
Role reversals
DJ McGarvie got the nod at quarterback last week and made his first start of the season. McGarvie started the final eight games of the 2021 season, bringing his career total of quarterback starts to nine. The Bulldogs have gone 6-3 with McGarvie as a starter. With that change, Austin Jablonski (the starting QB versus Doane/Hastings) moved to a new role at receiver. In that spot, Concordia used Jablonski creatively as a receiver, runner and thrower. In a change on the offensive line, the Bulldogs made some moves in the absence of starting right guard Christian Schlepp. Gavin Mull went inside to right guard and Blake Schlegel got the start at right tackle. A multi-year starter and all-conference honoree, Schlepp hopes to soon return to the lineup.

Sparking the run game
On the offensive side of the ball, Concordia is working on ramping up a run game that is seeking more consistency. No. 1 running back Devin Zeigler was limited to 35 rushing yards on 18 attempts last week. Getting the run game going will be a priority moving forward. Currently, the Bulldogs are averaging 2.5 yards per carry and 75.0 rushing yards per game. Ziegler is the team's leading rusher with 135 yards on 48 carries. The program's most recent 1,000-yard rusher was Ryan Durdon with 1,247 yards in 2017.

Grindey doing best Napier impression
At linebacker, Michael Grindey is doing his best Lane Napier impression. Grindey made seven tackles last week and pushed his season total to a team high 34. Grindey also made 13 tackles at Doane and 14 versus Hastings. Of course, the linebackers are supported in the run game by a strong defensive line that features Kyle Sterup (19 tackles, 3.5 tfl's, two sacks), Jordan Kavulak (19 tackles) and Devon Polley (19 tackles, 2.5 tfl's, 1.5 sacks). Other than allowing the quarterback to get loose last week, Concordia has been strong against the run.

Schardt's return in question
There's still uncertainty surrounding if and when two-time First Team All-GPAC tight end Garrett Schardt will be healthy enough to make his return to the field. Schardt has not yet played this season due to an injury. Already a Concordia graduate, Schardt made the decision to come back to the team for a fifth season. However, he was slowed in preseason camp and remains hopeful of making an impact at some point this season. Schardt was named an NAIA Honorable Mention All-American in 2021. In his career, Schardt has recorded 72 receptions for 1,188 yards and nine touchdowns.

Harold transitions from soccer field
One of the last additions to the 2022 team, Ty Harold has brought his soccer leg to the football field as a kicker. A transfer from Iowa Western Community College, Harold came to Concordia to play for Head Coach Jason Weides' men's soccer team. Harold impressed the coaching staff enough during preseason to be trusted with placekicking duties. Harold converted a 24-yard field goal last week at Northwestern and is now 3-for-5 on field goal tries and 4-for-4 on PATs in 2022. His 13 points currently lead the team.

Series vs. Dakota Wesleyan
The series has been closely contested with Concordia's all-time record versus Dakota Wesleyan standing at 12-10. The first two meetings occurred prior to the formation of the GPAC in 2000. The Bulldogs defeated the Tigers, 36-29, in 1984 and then fell to them, 28-21, in 1985. The two programs finally met again in 2000 as GPAC members. From 2017 through 2019, Concordia defeated Dakota Wesleyan each year in matchups that took place in Seward. The Tigers got back on the winning side of the series in 2020 with a 28-17 victory in Mitchell, S.D. The Bulldogs avenged that loss in a big way in 2021 as quarterback DJ McGarvie threw for 210 yards and three touchdowns and ran for 99 yards and two scores. Concordia won in dominant fashion, 34-0, and McGarvie was subsequently named the GPAC Offensive Player of the Week. On the other side of the ball, the Tigers managed only 138 total yards and were forced to punt nine times.

Scouting Dakota Wesleyan
In the mid-2010s, Dakota Wesleyan was knocking on the door of the NAIA playoffs with records of 9-2 in 2015 and 8-3 in 2016. However, the Tigers have not showcased the same level of offensive firepower in recent seasons and have not enjoyed a winning campaign since going 6-5 in 2017. This is year No. 10 for Ross Cimpl as head coach. He was named the 2013 GPAC Coach of the Year. The current team has found success in the run game with Jamin Arend producing 497 yards and five touchdowns through five games. It just hasn't translated into the win column yet. The Tigers have not helped themselves in the turnover category (minus-six this season). DWU will be trying to snap a six-game losing streak in Saturday's game. Worth noting, the Tigers have beaten Concordia in each of the last six matchups that have been played in Mitchell. That streak dates back to 2007.