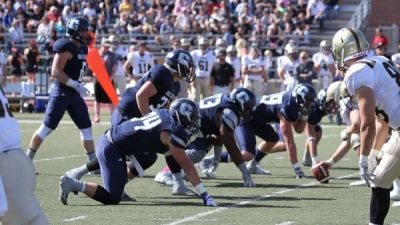 GAME NOTES: Concordia closes 2014 season at Briar Cliff
SEWARD, Neb. – The Concordia University football team will attempt to close the regular season with two-straight victories when it takes the field on Saturday at Briar Cliff. The Bulldogs have won each of the last seven meetings with Briar Cliff. Kickoff from Memorial Field in Sioux City, Iowa, is slated for 1 p.m.
Last week Concordia got some of the bad taste out of its mouth following four-consecutive losses. The Bulldogs jumped out to a 20-0 halftime lead on No. 24 Dakota Wesleyan and held onto a 27-19 victory behind a big day from junior safety Tait Sibbel. The O'Neill, Neb., native returned a fumble 41 yards for a touchdown and also intercepted a pass. Meanwhile, the Chargers were shut out, 20-0, at Doane on Saturday. A week earlier Briar Cliff won at Midland, 27-21.
GAME INFO
Concordia (4-6, 3-5 GPAC) at Briar Cliff (2-8, 2-6 GPAC)
Saturday, Nov. 15, 1 p.m.
Site: Sioux City, Iowa
Stadium: Memorial Field
Webcast: Stretch Internet
STATISTICAL BREAKDOWN
2014 Team Statistics
Concordia
Offensive PPG: 28.1 (40th)
Defensive PPG: 27.7 (T-47th)
Total Offense: 399.2 (31st)
Pass Offense: 197.2 (48th)
Rush Offense: 202.0 (22nd)
Total Defense: 403.1 (56th)
Pass Defense: 223.1 (58th)
Rush Defense: 180.0 (54th)
Turnover +/-: -3 (T-57th)
Briar Cliff
Offensive PPG: 17.3 (80th)
Defensive PPG: 32.9 (T-61st)
Total Offense: 318.0 (T-67th)
Pass Offense: 193.6 (51st)
Rush Offense: 124.4 (67th)
Total Defense: 421.4 (61st)
Pass Defense: 223.9 (61st)
Rush Defense: 197.5 (61st)
Turnover +/-: 0 (T-42nd)
Individual Leaders
Concordia
Head Coach: Vance Winter (27-37, 6th year)
Passing: Von Thomas – 119/235 (.506), 18 TD, 11 INT, 1,596 yds, 123.6 effic. (rushing: 493 yds, 7 TD)
Rushing: Bryce Collins – 182 att, 1,016 yds, 5.6 avg, 7 TD (receiving: 17 rec, 264 yds, 1 TD)
Receiving: Jared Garcia – 42 rec, 629 yds, 15.0 avg, 10 TD
Defense: Kyle Rakow – 73 tackles, 13.5 tfl's, 4.5 sacks
Briar Cliff
Head Coach: Tom Rethman (6th year)
Passing: Kevin Van Egdom – 145/340 (.426), 13 TD, 13 INT, 1,907 yds, 94.7 effic.
Rushing: Mitch Heikes – 225 att, 947 yds, 4.2 avg, 5 TD
Receiving: Bret Van Muyden – 40 rec, 563 yds, 14.1 avg, 2 TD
Defense: Kenny Hanes – 105 tackles, 4 INT, 4.5 tfl's
Bulldogs 'Play for Parker'
Last week's game versus Dakota Wesleyan featured a fundraising campaign for five-year-old Parker Chipman, who was diagnosed with acute myeloid leukemia on Aug. 22. Parker is a close family friend of Concordia junior long snapper Seth Schlenger. The Bulldog football program began wearing "Play for Parker" bracelets, helmet decals and ankle tape at the Nebraska Wesleyan game (Oct. 11) in support of Parker. More details about the fundraiser and how to donate are available HERE.
Sibbel named GPAC defensive player of the week
Junior Tait Sibbel did it all defensively in leading Concordia to a 27-19 win over No. 24 Dakota Wesleyan on Saturday. The native of O'Neill, Neb., returned a Francois Barnaud fumble 41 yards for a first-quarter touchdown that put the Bulldogs on the board first. On Dakota Wesleyan's previous possession, Sibbel intercepted Dillon Turner's pass. Sibbel also made seven tackles from his safety position. A second team all-conference selection last season, Sibbel ranks fourth on the team with 55 tackles this season. He also has two interceptions, two pass break ups, a fumble recovery and a tackle for loss. A starter for each of his first three seasons, Sibbel's career numbers include 176 tackles, seven interceptions and seven pass break ups.
Team records on the line
While the four-game losing streak ended any chance of a playoff run this season, Concordia's offense has an opportunity to break at least one school record on Saturday. The Bulldogs' current average of 399.2 total yards of offense per game is on track to surpass the school record of 388.4 by the 2004 team. Here's a look at records that coordinator Curran White's team has a shot at rewriting.
Program records
Points per game – 32.0 (1951)
Total points – 326 (2001)
Total offense per game – 388.4 (2004)
2014
Points per game – 28.1
Total points – 281
Total offense per game – 399.2
Collins becomes fifth Bulldog 1,000-yard rusher
Despite missing the conference opener, sophomore Bryce Collins has eclipsed 1,000 yards rushing with one game left to play. The native of Boerne, Texas, sits at 1,016 rushing yards after going for 127 in the win over Dakota Wesleyan. The fifth 1,000-yard rusher in program history, Collins has surpassed 100 yards in a game six times this season and in three-consecutive games. He will need 250 rushing yards at Briar Cliff to break the school record of 1,265 yards in a season by JaMaine Lewis in 2007. A 99-yard performance would place him second above Cleve Wester (1984).
1,000-yard rushers in Concordia history
1,265 – JaMaine Lewis, 2007
1,114 – Cleve Wester, 1984
1,085 – Randy Pospisil, 1972
1,016 – Bryce Collins, 2014
1,002 – Jeff Towns, 1979
Garcia equals touchdown reception record
While Von Thomas has garnered attention for the multitude of season and career program records he has broken, freshman receiver Jared Garcia equaled a school record of his own over the weekend. The native of Humble, Texas, hauled in his 10th touchdown reception of the season in the victory over Dakota Wesleyan, tying Brian Naber's school record from 1970. With 63 receiving yards in his latest outing, Garcia also moved up to No. 11 on the single-season list for receiving yards with 629.
Fellow freshman Logan Otte has been the team's No. 2 receiver. He has 25 catches for 391 yards and four touchdowns, giving Concordia one of the GPAC's top young wide out duos.
Austin answers call at quarterback
Due to an injury suffered at Doane on Oct. 25, quarterback Von Thomas has seen limited action the past two weeks. Enter redshirt freshman TJ Austin. The native of Angleton, Texas, got his first career start at Morningside and took most of the snaps in the win over Dakota Wesleyan. Over the last two weeks, Austin has completed 20 of 45 passes for 326 yards and three touchdowns. Like Thomas, Austin can also beat teams with his legs. The 6-foot, 210-pound Austin has bowled his way to 117 yards on 26 carries in his two games of extensive action. As a star at Angleton High School, Austin earned district offensive MVP honors as a senior and led the Wildcats to a four-year record of 41-10.
Ball-hawking D returns
The Concordia defense played a large role in the team's second win over a ranked opponent this season. Micahel Hedlund, Landon Oelke and Tait Sibbel each picked off a pass thrown by Dakota Wesleyan's Dillon Turner. Oelke's interception came at a key moment with the Tigers in the red zone in the first quarter. Known for stout defenses over the year, Concordia actually went three-straight games (Dordt, Nebraska Wesleyan, Northwestern) without forcing a turnover. Over the last three weeks, the Bulldogs have caused nine turnovers.
Thomas records update
With seven passing attempts last week versus Dakota Wesleyan, senior quarterback Von Thomas broke Jarrod Pimentel's former school career record of 943 pass attempts. Thomas holds Bulldog single-season records for touchdown passes (18), total offense (2,508), completions (197), passing attempts (334) and completion percentage (59.0). He owns program career records for total offense (7,162), total touchdowns (62), completions (503) and pass attempts (948). Thomas remains three passing touchdowns shy of tying Pimentel's program career mark of 49 touchdown tosses.
Scouting Briar Cliff
Briar Cliff brings the NAIA's 67th-ranked offense and 61st-ranked defense into action on Saturday. The Chargers possess one of the GPAC's most productive safety tandems in Steve Trujillo (2013 first team all-conference) and Kenny Hanes. From his strong safety spot, Hanes ranks second among all GPAC players with an average of 10.5 tackles per game. He has also intercepted four passes. Offensively, quarterback Kevin Van Egdom has made a habit of throwing to Bret Van Muyden (40 catches, 563 yards) and Tyler McGhee (26 catches, 618 yards, seven touchdowns). Head coach Tom Rethman's squad also has a workhorse back in Mitch Heikes, who has carried 225 times for 947 yards. Four of Briar Cliff's eight losses have come by margins of two scores or less.