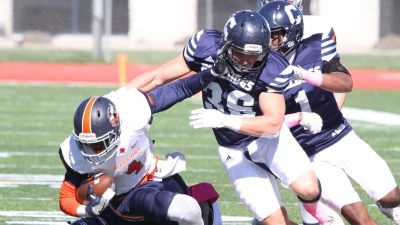 SEWARD, Neb. – Coming off an unusual late-season bye, the Concordia University football team is refreshed and hopeful of finishing strong in a season that has just two games remaining on the schedule. Up next is the final road trip of the 2016 campaign. Saturday's kickoff from Open Space Park Football Field in Sioux Center, Iowa, is slated for 1 p.m. CT. It will be the final home game of the year for Dordt.
Last time Concordia appeared on the football field it polished off a 20-14 home win over then No. 22 Midland. The Bulldogs have clinched at least a .500 record and sit at 5-3 overall and 3-3 in the conference. With two victories to close the season, Concordia would finish with its highest season winning percentage since 2001.
Meanwhile, the Defenders are one of the most improved teams in the nation behind a prolific running game that ranks fourth in the nation. Dordt, under the direction of first-year head coach Joel Penner, owns conference victories over Briar Cliff and Hastings.
GAME INFO
No. 21 Concordia (5-3, 3-3) at Dordt (4-5, 2-5)
Saturday, Nov. 5 | 1 p.m. CT
Open Space Park Football Field | Sioux Center, Iowa
Live Webcast: Dordt athletics website
Radio: KTMX-FM 104.9 Max Country
Commentators: Jayson Jorgenson and Tyler Cavalli
STATISTICAL BREAKDOWN
*National rank in parentheses
Concordia
Offensive PPG: 24.0 (T-53rd)
Defensive PPG: 23.1 (25th)
Total Offense: 340.0 (52nd)
Pass Offense: 191.0 (51st)
Rush Offense: 149.0 (53rd)
Total Defense: 310.4 (9th)
Pass Defense: 182.4 (23rd)
Rush Defense: 128.0 (16th)
Turnover +/-: 0 (T-34th)
Dordt
Offensive PPG: 29.9 (T-34th)
Defensive PPG: 44.6 (78th)
Total Offense: 456.1 (17th)
Pass Offense: 177.6 (59th)
Rush Offense: 278.6 (4th)
Total Defense: 533.4 (83rd)
Pass Defense: 274.6 (77th)
Rush Defense: 258.9 (79th)
Turnover +/-: -6 (T-62nd)
Individual Leaders
Concordia
Head Coach: Vance Winter (39-44, 8th season)
Quarterback: Riley Wiltfong – 71/150 (.473), 979 yards, 11 td, 6 int; Rushing: 53 att, 164 yards, 2 td
Running Back: Bryce Collins – Rushing: 153 att, 632 yards, 4.1 avg, 4 td; Receiving: 15 catches, 124 yards
Receiving: Jared Garcia – 44 catches, 691 yards, 15.7 avg, 9 td
Defense: Michael Hedlund – 93 tackles, 4.0 tfl's, 2 int, 2 ff / Trey Barnes – 55 tackles, 15.5 tfl's, 6 sacks, int
Dordt
Head Coach: Joel Penner (4-5, 1st season)
Quarterback: Brock Lamle – 103/209 (.493), 1,519 yards, 9 td, 7 int; Rushing: 83 att, 329 yards, 2 td
Running Back: Bryce Lidtka – 229 att, 1,349 yards, 5.9 avg, 19 td
Receiving: Jason Miller – 65 catches, 1,145 yards, 17.6 avg, 9 td
Defense: Joey Loevetere – 81 tackles, 4 int, 3 fr
In the rankings
For the second-straight week, Concordia checked in at No. 21 in the NAIA national coaches' poll. The Bulldogs have garnered six national rankings this season out of nine polls, including the preseason edition. Concordia has appeared as high as No. 16 in 2016. They vaulted up to that position thanks to a 3-0 start. During head coach Vance Winter's tenure, Concordia has garnered a total of 14 national rankings, rising as high as 14th in 2013.
2016 Concordia rankings
Aug. 8 – RV
Sept. 12 – 20th
Sept. 19 – 16th
Sept. 26 – 21st
Oct. 3 – RV
Oct. 10 – 24th
Oct. 17 – NR
Oct. 24 – 21st
Oct. 31 – 21st
Dordt has yet to receive a national ranking since the program kicked off its first season in 2008. The Defenders were picked to finish last in the GPAC by both the coaches and media in the preseason.
Winter to step down after 2016 season
On Monday Vance Winter announced that he will be resigning his position as head coach, effective upon reaching the conclusion of this season. Winter is in his 12th season overall at Concordia. The Dakota State University alum first arrived as an assistant coach in 2005, serving on previous head coach Courtney Meyer's staff. Winter is now 39-44 over his eight seasons as head coach. With one more victory, Winter would pull even with Walter Hellwege (40-32-9) for the fourth most coaching victories among the nine head coaches in program history. Originally from Miller, S.D., Winter oversaw record-breaking quarterback Von Thomas, a 2015 graduate. The star signal caller piled up 6,988 yards of total offense over three seasons. Winter has also coached All-Americans in defensive lineman Trey Barnes (2015), safety Darnell Woods (2013) and kicker Kenny Zoeller (2012). The Winter era has seen Jared Garcia break the school record for touchdown receptions and Bryce Collins' climb to 3,000 career rushing yards. Another high point came in 2013 when Concordia won its first six games of the season and jumped to No. 14 in the national coaches' poll.
Collins on the move
Two-time first team all-conference running back Bryce Collins did not play in the second half of the victory over Midland but is back at the No. 1 spot on this week's two deep. He will enter the final two games of his career with 3,298 rushing yards over 38 games as a Bulldog. In the game at Dakota Wesleyan, Collins surpassed legendary Gary Seevers (3,257) for second place on the Concordia rushing chart (see below). An inaugural inductee into the Concordia Athletic Hall of Fame, Seevers piled up his rushing yardage during the 1953 through 1956 seasons. Collins also is one of five running backs in program history to record a 1,000-yard rushing season.
Concordia all-time rushing leaders
1. Cleve Wester (1982-85) – 3,867
2. Bryce Collins (2013-16) – 3,298
3. Gary Seevers (1953-56) – 3,257
4. Alex Alvarez (1999-03) – 2,959
5. JaMaine Lewis (2004-07) – 2,731
Chasing Wurdeman … again
The most reliable weapon for the Concordia offense, Jared Garcia keeps raising the bar after moving himself to the top of the program's list of career touchdown receptions leaders. In the win over Midland, Garcia caught eight passes for 102 yards, pushing him past 2,000 career receiving yards while moving him ahead of Eric Pralle for second the school's list of all-time leading receivers (see below). Garcia and former All-American tight end Ross Wurdeman are the only pass catchers in program history to reach the 2,000-yard mark. Garcia stands 404 receiving yards behind Wurdeman with another full season ahead of him in 2017. Garcia has been especially productive the past three games, going past 100 receiving yards each time. During that three-game stretch, Garcia has hauled in 20 passes for 339 yards and five touchdowns. He's run his career totals to 129 receptions and 28 receiving touchdowns.
Concordia all-time receiving yards leaders
1. Ross Wurdeman (1998-01) – 2,458
2. Jared Garcia (2014-- ) – 2,054
3. Eric Pralle (1987-90) – 1,974
4. Travis Soukup (1991-94) – 1,880
5. Jim Young (1964-67) – 1,692
Hedlund chases century mark
In 2015 Michael Hedlund became the first Concordia player since both Erik DeHaven (110) and Sean Stewart (102) to record 100 or more tackles in a single season. Now Hedlund is knocking on the door of his second-straight 100-tackle season. Hedlund's 93 stops lead the conference by 12 tackles. Should Hedlund surpass 110 tackles, he would break DeHaven's GPAC-era program record for stops in a single season. Just five Bulldog players have reached the century mark since 2000. Not only that, Hedlund has now surpassed Ben Klein for the most career tackles among Bulldogs that have played during Winter's tenure. A quarterback as a freshman, Hedlund has 247 career tackles.
100 tackle seasons, GPAC era
1. Erik DeHaven (2001) – 110
2. Josh Conrad (2000) – 105
2. Michael Hedlund (2015) – 105
4. Sean Stewart (2001) – 102
5. Troy Schlueter (2000) – 100
200+ career tackles, coached by Winter
Michael Hedlund (2013-16) – 247
Ben Klein (2008-11) – 246
Jerrod Fleming (2008-11) – 237
Tait Sibbel (2012-15) – 234
Langston Jones (2010-13) – 209
Back in the top 10
While offensive stars like Collins and Garcia have rightfully drawn attention by piling up numbers, it's Concordia's rugged defense that has been a constant for a program that has improved significantly over the past few seasons. Coordinated by Patrick Daberkow, the Bulldogs have produced total defense national rankings of fourth in 2013, 48th in 2014, fourth in 2015 and ninth so far in 2016. Concordia jumped back into the top 10 of the national total defense ranks while sitting idle this past week. The Bulldogs rebounded impressively from the blowout loss at Dakota Wesleyan by limiting Midland to 234 total yards. In that game, senior Trey Barnes dominated. He recorded a pair of sacks and four quarterback hurries and was named the GPAC defensive player of the week for the second time in his career. Dylan Pierquin and Patrick Skwara also had a sack apiece in the victory.
HSH
Home has been sweet to Concordia so far. If they can defeat Hastings in the regular season finale, the Bulldogs would complete a perfect 5-0 home mark in 2016. The last time Concordia went undefeated at home occurred in 2000 when it won all six games played inside Bulldog Stadium. The 2001 co-GPAC championship team followed it up by going 5-1 at home. This year's team has captured home victories over University of Saint Mary (Kan.), Northwestern, Briar Cliff and Midland. Dating back to last season, Concordia owns a five-game home win streak. The 2000-01 squads combined for the program's longest home win streak during the GPAC era. They won nine home contests in a row.
Series vs. Dordt
Other than a blip in 2008, Concordia has dominated Dordt. The Bulldogs are 7-1 all-time in a series that started in 2008. Each of Concordia's seven wins over the Defenders have come by double digit margins. In last season's 34-21 Bulldog win over Dordt, Bryce Collins ran for 156 yards and TJ Austin and Garrett Folchert combined to throw for three touchdown passes. On the other side of the ball, senior linebacker Tait Sibbel made five tackles for loss while the Defenders were limited to 297 total yards.
Year-by-year versus Dordt
2015 – W, 34-21 (Sioux Center)
2014 – W, 38-14 (Seward)
2013 – W, 32-0 (Sioux Center)
2012 – W, 52-12 (Seward)
2011 – W, 21-7 (Sioux Center)
2010 – W, 24-7 (Seward)
2009 – W, 28-12 (Seward)
2008 – L, 14-17 (Sioux Center)
Scouting Dordt
Behind first-year head coach Joel Penner and running back Bryce Lidtka, Dordt has four victories in a single season for the first time in program history. Lidtka has carried the mail this season for the Defenders. He has surpassed 200 rushing yards on three separate occasions and ranks second nationally in rushing yards. Lidtka is the national leader in points scored (118). In last season's matchup with Concordia, Lidtka ran nine times for 45 yards. In the passing game, Jason Miller (1,145 receiving yards) has caught 65 of the team's 109 completed passes. The Defenders average 456.1 yards per game offensively, but their defense ranks 77th nationally or worse in total defense, rush defense, pass defense and scoring defense. Dordt has allowed more than 40 points in seven of nine games this season.