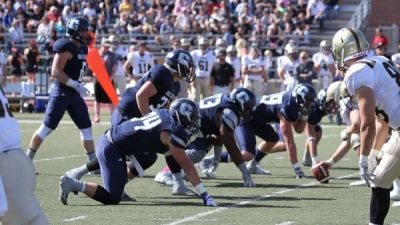 GAME NOTES: Bulldogs welcome No. 24 Dakota Wesleyan for senior day
SEWARD, Neb. – The Concordia University football team will honor its senior class on Saturday as the Bulldogs welcome No. 24 Dakota Wesleyan for the final game of the season inside Bulldog Stadium. Kickoff is slated for 1 p.m.
In last week's action, Concordia gave No. 1 Morningside it's most difficult test to date. Ultimately, the powerful Mustangs won 44-21 behind 258 yards and five touchdowns on the ground from star running back Brandon Wegher. Meanwhile, Dakota Wesleyan, ranked 19th in last week's top 25 poll, fell, 24-7, at Nebraska Wesleyan. The Tigers had entered the game with wins in four of their previous five outings.
GAME INFO
Dakota Wesleyan (6-3, 4-3) at Concordia (3-6, 2-5)
Saturday, Nov. 8, 1 p.m.
Site: Seward, Neb.
Stadium: Bulldog Stadium
Webcast: Concordia Sports Network
STATISTICAL BREAKDOWN
2014 Team Statistics
Concordia
Offensive PPG: 28.2 (38th)
Defensive PPG: 28.7 (51st)
Total Offense: 403.8 (31st)
Pass Offense: 202.2 (48th)
Rush Offense: 201.6 (18th)
Total Defense: 405.7 (58th)
Pass Defense: 223.7 (56th)
Rush Defense: 182.0 (53rd)
Turnover +/-: -5 (T-65th)
Dakota Wesleyan
Offensive PPG: 22.3 (62nd)
Defensive PPG: 26.8 (39th)
Total Offense: 362.9 (52nd)
Pass Offense: 175.0 (62nd)
Rush Offense: 187.9 (28th)
Total Defense: 393.9 (52nd)
Pass Defense: 247.0 (76th)
Rush Defense: 146.9 (31st)
Turnover +/-: +3 (T-27th)
Individual Leaders
Concordia
Head Coach: Vance Winter (26-37, 6th year)
Passing: Von Thomas – 118/228 (.518), 18 TD, 10 INT, 1,590 yds, 127.6 effic. (rushing: 492 yds, 7 TD)
Rushing: Bryce Collins – 156 att, 889 yds, 5.7 avg, 7 TD
Receiving: Jared Garcia – 40 rec, 566 yds, 14.2 avg, 9 TD
Defense: Kyle Rakow – 69 tackles, 13.5 tfl's, 4.5 sacks
Dakota Wesleyan
Head Coach: Ross Cimpl (20-10, 3rd year)
Passing: Dillon Turner – 134/269 (.498), 9 TD, 11 INT, 1,412 yds, 96.8 effic. (rushing: 281 yds, 7 TD)
Rushing: Francois Barnaud – 218 att, 1,149 yds, 5.3 avg, 12 TD
Receiving: Kodi Larson – 33 rec, 358 yds, 10.8 avg, 0 TD
Defense: Brady Bonte – 64 tackles, 19 tfl's, 5 sacks
Bulldogs 'Play for Parker'
Saturday's game will feature a fundraiser for five-year-old Parker Chipman, who was diagnosed with acute myeloid leukemia on Aug. 22. Parker is a close family friend of Concordia junior long snapper Seth Schlenger. The Bulldog football program began wearing "Play for Parker" bracelets, helmet decals and ankle tape at the Nebraska Wesleyan game (Oct. 11) in support of Parker. More details about the fundraiser will be released early this week on ConcordiaBulldogs.com.
Austin makes first career start
With Von Thomas out with an injury last week, redshirt freshman TJ Austin made his first career start at quarterback. The native of Angleton, Texas, led Concordia on an eight-play, 76-yard touchdown drive on the game's opening possession. Austin completed 11 of 29 passes for 180 yards and a touchdown while also running for 41 yards on 12 carries. He entered the game having never thrown a pass at the collegiate level. Thomas is expected to return on Saturday for senior day. Austin is listed as the No. 2 quarterback on this week's two deep.
Collins continues pursuit of 1,000-yard season
Despite missing the conference opener, sophomore Bryce Collins is on pace to become the first Bulldog ball carrier to eclipse 1,000 yards rushing since JaMaine Lewis' school record total of 1,265 in 2007. Four rushers in program history have reached the 1,000-yard figure. Collins, a native of Boerne, Texas, has racked up 889 yards on 156 carries over eight games. He ranks 11th among all NAIA players with an average of 111.1 rushing yards per game. By surpassing 100 yards rushing for the seventh time in his career and for the fourth time in the last five games last week at Morningside, Collins' rushing total ranks 10th best all-time on the program single-season list (see below).
Top single-season rushing totals in Concordia history
1,265 – JaMaine Lewis, 2007
1,114 – Cleve Wester, 1984
1,085 – Randy Pospisil, 1972
1,002 – Jeff Towns, 1979
970 – Cleve Wester, 1983
949 – Ritchie Bishop, 1994
928 – Jeff Towns, 1978
903 – Phillip Elder, 2004
899 – Alex Alvarez, 2001
889 – Bryce Collins, 2014
Reinforcements
Several fall camp injuries depleted key areas of the Concordia football team. In recent weeks, upperclassmen such as safety Drew Baxter and tight end Josh Slechta have returned to the field to help shore up positions that had lacked depth. After missing the first six weeks of the season, Slechta made his 2014 debut versus Northwestern on Oct. 18. The 6-foot-6 native of Kennard, Neb., has five catches for 101 yards over three games. Baxter was inserted into the lineup at Doane and plays what Vance Winter calls a "walk-up safety." Baxter has made six tackles and a sack in his two games this season.
Defense holds own at Morningside
While NAIA leading rusher Brandon Wegher scorched Concordia for 258 yards and five touchdowns on the ground, the Bulldog defense held up better than any of Morningside's first seven opponents. The Mustangs entered the game averaging 66.9 points and 722.3 total yards but were held to season lows of 44 points and 525 yards against defensive coordinator Patrick Daberkow's unit. Concordia also forced Morningside to punt four times, something it had done only 12 times in its first seven games. In addition, Tarence Roby (fourth), Michael Hedlund (fourth) and Tait Sibbel (first) each picked off a pass from Mustang quarterback Ryan Kasdorf. The 23-point victory margin for Morningside was by far its lowest of the season. The Mustangs won each of their first seven games by 40 points or more.
Otte cracks century mark
Von Thomas has benefited this season from the arrivals of freshmen receivers Jared Garcia and Logan Otte. With Austin at the controls last week, Otte caught four passes for 102 yards and a touchdown. The duo of Garcia and Otte has combined for 61 receptions, 931 receiving yards and 12 touchdown catches. Otte has eclipsed the 100-yard receiving mark twice this season. Garcia's 184 receiving yards at Hastings on Sept. 13 are a team high this season.
Thomas tracker
With two more touchdown passes at Doane on Oct. 25, senior quarterback Von Thomas broke Rod Giesselman's school record of 17 touchdown tosses in 1970. Thomas now holds Bulldog single-season records for touchdown passes (18), total offense (2,508), completions (197), passing attempts (334) and completion percentage (59.0). He owns program career records for total offense (7,162), total touchdowns (62) and completions (503). Thomas needs three more pass attempts to break the school record in that category.
Up next for Thomas?
Passing yards (career)
Pimentel – 6,435
Thomas – 5,566
Passing touchdowns (career)
Pimentel – 49
Thomas – 46
Pass attempts (career)
Pimentel – 943
Thomas – 941
Passing yards (season)
Pimentel – 2,150 (2001)
Thomas – 1,590 (2014)
Scouting Dakota Wesleyan
Dakota Wesleyan is 6-3 overall despite being outscored by a combined total of 241-201 over nine games. The Tigers three losses have all come by three scores or more (35-7 vs. Northwestern, 50-7 at Morningside and 24-7 at Nebraska Wesleyan). Offensively, Dakota Wesleyan has struggled to make up for the loss of four-year starting quarterback Jon Bane, who threw for 9,224 yards and 83 touchdowns over 40 career games. Head coach Ross Cimpl's squad leans upon star running back Francois Barnaud, who has 1,149 yards and 12 touchdowns on the ground this season. He has 3,298 career rushing yards in 36 games. The Tigers, who have won the last four meetings with Concordia, own conference wins over Briar Cliff (27-16), Hastings (34-31), Doane (27-23) and Midland (42-21). In terms of total yards, Dakota Wesleyan ranks 52nd nationally both offensively and defensively.