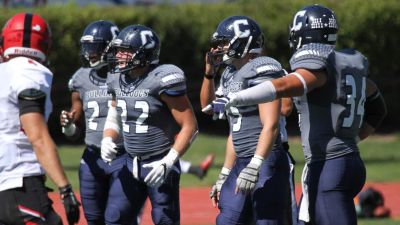 SEWARD, Neb. – It will be Military Appreciation Day and Parent's Day on the Concordia University campus as the Bulldog football team hosts Midland in the second-to-last home game of the 2016 season. Kickoff from Bulldog Stadium is set for 1 p.m. CT. It will mark the 65th meeting all-time between the longtime conference rivals.
Concordia will try to shake off its worst defensive performance of the season that came in last week's 52-30 loss at No. 16 Dakota Wesleyan. Head coach Vance Winter's squad is 3-0 at home compared to 1-3 on the road.
Meanwhile, 22nd-ranked Midland is a vastly improved team after a 1-10 season in 2015. The Warriors have thrived under the leadership of first-year head coach Jeff Jamrog. Midland pushed No. 5 Morningside last week before falling, 34-17. Jamrog's squad ranks in the top 20 nationally in both scoring offense and defense.
GAME INFO
No. 22 Midland (6-2, 3-2) at Concordia (4-3, 2-3)
Saturday, Oct. 22 | 1 p.m. CT
Bulldog Stadium | Seward, Neb.
Live Webcast: Concordia Sports Network
Radio: KTMX-FM 104.9 Max Country
Commentators: Jayson Jorgenson and Tyler Cavalli
STATISTICAL BREAKDOWN
*National rank in parentheses
Concordia
Offensive PPG: 24.6 (T-51st)
Defensive PPG: 24.4 (29th)
Total Offense: 340.9 (62nd)
Pass Offense: 191.0 (54th)
Rush Offense: 149.9 (56th)
Total Defense: 321.3 (14th)
Pass Defense: 183.4 (21st)
Rush Defense: 137.9 (26th)
Turnover +/-: -2 (T-45th)
Midland
Offensive PPG: 33.6 (T-20th)
Defensive PPG: 20.9 (T-19th)
Total Offense: 441.4 (22nd)
Pass Offense: 209.6 (46th)
Rush Offense: 231.8 (14th)
Total Defense: 362.6 (30th)
Pass Defense: 221.8 (47th)
Rush Defense: 140.9 (29th)
Turnover +/-: +9 (T­­-8th)
Individual Leaders
Concordia
Head Coach: Vance Winter (38-44, 8th season)
Quarterback: Riley Wiltfong – 63/137 (.460), 875 yards, 10 td, 6 int; Rushing: 45 att, 150 yards, 2 td
Running Back: Bryce Collins – Rushing: 140 att, 594 yards, 4.2 avg, 3 td; Receiving: 14 catches, 107 yards
Receiving: Jared Garcia – 36 catches, 589 yards, 16.4 avg, 9 td
Defense: Michael Hedlund – 85 tackles, 4.0 tfl's, 2 int, 2 ff / Trey Barnes – 48 tackles, 13.5 tfl's, 4 sacks, int
Midland
Head Coach: Jeff Jamrog (6-2, 1st season at Midland; 17-27 in 4 seasons at Minnesota State-Mankato)
Quarterback: Garry Cannon – 77/147 (.524), 1,148 yards, 8 td, 6 int; Rushing: 74 att, 304 yards, 3 td
Running Back: Deon Ransom – 150 att, 899 yards, 6.0 avg, 7 td; Receiving: 14 catches, 155 yards, td
Receiving: Javonte Willians – 20 catches, 556 yards, 27.8 avg, 7 td
Defense: Ethan Renner – 42 tackles, 11.0 tfl's, 6 sacks, int
In the rankings
Concordia had appeared inside the top 25 in four of five weeks before dropping out of the poll on Monday (Oct. 17). The Bulldogs landed at No. 24 prior to last week's loss at Dakota Wesleyan. Concordia has appeared as high as No. 16 in 2016. They vaulted up to that position thanks to a 3-0 start. During head coach Vance Winter's tenure, Concordia has garnered a total of 12 national rankings, rising as high as 14th in 2013.
Midland was well off the top 25 radar in the preseason. The Warriors first cracked the top 25 at 25th on Sept. 19 on the heels of a 4-0 start. Since then, Midland has appeared at No. 18 (Sept. 26), No. 21 (Oct. 3), No. 21 (Oct. 10), and finally, No. 22 this week. Prior to this season, the Warriors had gone unranked since October 2011.
Military Appreciation Day
Service personnel who present a military ID at the entrance gates will be admitted free of charge as part of Military Appreciation Day. Four current Concordia football players are active in military service. They include junior Sebastian Garces (Boerne, Texas), sophomore Kalen Garrett (Doniphan, Neb.), senior Le'Dontrae Gooden (Sacramento, Calif.) and freshman Dylan Olmsted (York, Neb.). All four will be acknowledged for their service during the game.
Collins passes legend
Two-time first team all-conference running back Bryce Collins continues to push himself up the list of all-time leading rushers in program history. Last week he ran for 97 yards on 18 carries, allowing him to surpass legendary Gary Seevers (3,257) for second place on the Concordia rushing chart (see below). An inaugural inductee into the Concordia Athletic Hall of Fame, Seevers piled up his rushing yardage during the 1953 through 1956 seasons. Collins, who now has 3,260 career rushing yards, also reached a career milestone when he found the end zone in the third quarter of the loss at Dakota Wesleyan. It marked Collins' 30th career rushing touchdown.
Concordia all-time rushing leaders
1. Cleve Wester (1982-85) – 3,867
2. Bryce Collins (2013-16) – 3,260
3. Gary Seevers (1953-56) – 3,257
4. Alex Alvarez (1999-03) – 2,959
5. JaMaine Lewis (2004-07) – 2,731
Next up: 2,000
The most reliable weapon for the Concordia offense, Jared Garcia keeps raising the bar after moving himself to the top of the program's list of career touchdown receptions leaders. After catching six balls for 101 yards and three touchdowns last week, Garcia enters this week 52 yards shy of 2,000 career receiving yards. Should he reach 2,000, Garcia would become just the second player in the program's history to do so, joining former All-American tight end Ross Wurdeman. A recent Concordia Athletic Hall of Fame inductee, Wurdeman saw his career receiving touchdowns record broken by Garcia, who now has 28 touchdown catches. Garcia, who hails from Pearland, Texas, also appears poised to eclipse his own single-season touchdown receptions record of 11, set in 2014.
Concordia all-time receiving yards leaders
1. Ross Wurdeman (1998-01) – 2,458
2. Eric Pralle (1987-90) – 1,974
3. Jared Garcia (2014-- ) – 1,952
4. Travis Soukup (1991-94) – 1,880
5. Jim Young (1964-67) – 1,692
Hedlund chases century mark
In 2015 Michael Hedlund became the first Concordia player since both Erik DeHaven (110) and Sean Stewart (102) to record 100 or more tackles in a single season. Now Hedlund is knocking on the door of his second-straight 100-tackle season. Hedlund's 85 stops lead the conference by 17 tackles. Should Hedlund surpass 110 tackles, he would break DeHaven's GPAC-era program record for stops in a single season. Just Bulldog players have reached the century mark since 2000. Not only that, Hedlund needs eight tackles to eclipse Ben Klein for the most among Bulldogs who have played during Winter's head coaching tenure.
100 tackle seasons, GPAC era
1. Erik DeHaven (2001) – 110
2. Josh Conrad (2000) – 105
2. Michael Hedlund (2015) – 105
4. Sean Stewart (2001) – 102
5. Troy Schlueter (2000) – 100
200+ career tackles, coached by Winter
Ben Klein (2008-11) – 246
Michael Hedlund (2013-16) – 239
Jerrod Fleming (2008-11) – 237
Tait Sibbel (2012-15) – 234
Langston Jones (2010-13) – 209
Out of character
A week after shutting out Briar Cliff, the Concordia defense struggled against Dylan Turner and Dakota Wesleyan's high octane offense. Turner and company piled up 537 total yards – a season high for Bulldog opponents. The Tigers had racked up nearly 400 yards in the first half alone. The numbers were stunning for a Concordia defense that had entered the game with national rankings of seventh in total defense (285.3) and 16th in scoring defense (19.8). Coordinator Patrick Daberkow's unit features four players who were either first or second team all-conference in 2015: Trey Barnes (first), Tarence Roby (first), Michael Hedlund (second) and Le'Dontrae Gooden (second).
HSH
Home has been sweet to Concordia so far. If they can defeat both Midland and Hastings to wind down the season, the Bulldogs would complete a perfect 5-0 home mark in 2016. The last time Concordia went undefeated at home occurred in 2000 when it won all six games played inside Bulldog Stadium. The 2001 co-GPAC championship team followed it up by going 5-1 at home. This year's team has captured home victories over University of Saint Mary (Kan.), Northwestern and Briar Cliff. Dating back to last season, Concordia owns a four-game home win streak. The 2000-01 squads combined for the program's longest home win streak during the GPAC era. It won nine home contests in a row.
Nebraska Nice
With Nebraska Wesleyan having left the GPAC, Concordia will play a total of just three in-state foes this season. The Bulldogs are 0-for-1 so far with the one being a 27-7 loss at No. 5 Doane on Sept. 24. Concordia has struggled against Doane, losing the last 11 meetings. However, the Bulldogs took care of Hastings (28-3), Midland (41-38, OT) and Nebraska Wesleyan (47-14) during the 2015 season. Concordia has won four straight over Midland, two of the last three versus Hastings and two of the last three against Nebraska Wesleyan before it jumped ship. Concordia has never swept the state during the GPAC era. The last season that the Bulldogs went undefeated against Nebraska opponents was 1970 when they won the Nebraska Intercollegiate Athletic Conference. Along the way, Concordia topped Doane (35-0), Hastings (23-0), Dana (9-6), Midland (43-14) and Nebraska Wesleyan (41-14).
Series vs. Midland
Concordia has tightened the all-time series by winning each of the last four meetings with Midland. The Warriors still own a series record of 35-28-1 since the two sides first met in 1944. The two rivals have gone head-to-head every year since 1964. During the GPAC era (2000-present), the Bulldogs have won nine of the 16 matchups. The latest meeting was decided in overtime after Concordia rallied back from a 35-14 deficit last year in Fremont. Quarterback Garrett Folchert spearheaded the furious comeback with second half touchdown passes of 17 and six yards to Jared Garcia and 10 yards on a fourth down play to Brandon Luetchens. In overtime, Bryce Collins followed a Midland field goal with a 16-yard touchdown run to clinch the victory.
Scouting Midland
After four-straight losing seasons, including last year's miserable 1-10 run, Midland is no longer a pushover. The Warriors have followed the lead of Deon Ransom, the nation's sixth-leading rusher, to a 6-2 start. Midland ran out to a 5-0 start before losses in two of the last three weeks to the league's top-two rated teams: Morningside and Doane. First-year head coach Jeff Jamrog has orchestrated the turnaround in Fremont. A former University of Nebraska assistant coach, Jamrog got his first head coaching job at Minnesota State University-Mankato, where he served for four seasons. Midland's three GPAC wins have come against Briar Cliff (38-3), Dordt (41-33) and Hastings (36-22). The Warriors have featured an aggressive defense that has created 28 takeaways (16 fumble recoveries, 12 interceptions) through the season's first eight games. A seventh victory would give Midland its highest win total since its 8-3 season in 2010.