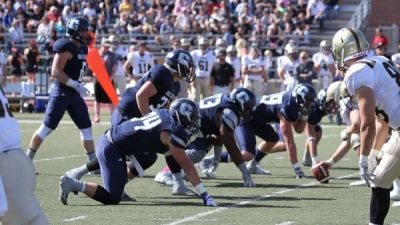 GAME NOTES: Bulldogs welcome Midland for Fan Appreciation Day
SEWARD, Neb. – After beginning the 2014 season with two-straight contests on the road, the Concordia University football team hosts its home opener on Saturday at 1 p.m. In-state rival Midland University (2-0, 1-0 GPAC) will serve as the opponent on a day that has been tabbed Fan Appreciation Day, in partnership with Verizon Wireless, on the Concordia campus.
"They have a lot of returning players," Bulldog head coach Vance Winter said of the Warriors. "They are a really tough matchup for us offensively. Both of the teams they have played are option teams so we go into this game blind. We expect another really good game."
Concordia encourages those who plan to attend Fan Appreciation Day to join our Facebook group.
GAME INFO
Midland (2-0, 1-0 GPAC at Concordia (1-1, 0-1 GPAC)
Saturday, Sept. 20, 1 p.m.
Site: Seward, Neb.
Stadium: Bulldog Stadium
Webcast: Concordia Sports Network
Play-by-play: Frank Greene
STATISTICAL BREAKDOWN
2014 Team Statistics
Concordia
Offensive PPG: 32.0 (T-29th)
Defensive PPG: 31.5 (55th)
Total Offense: 384.0 (41st)
Pass Offense: 223.0 (37th)
Rush Offense: 161.0 (37th)
Total Defense: 429.5 (63rd)
Pass Defense: 244.0 (T-65th)
Rush Defense: 185.5 (55th)
Turnover +/-: +2 (T-25th)
Midland
Offensive PPG: 31.5 (T-31st)
Defensive PPG: 7.0 (T-1st)
Total Offense: 389.5 (37th)
Pass Offense: 242.5 (27th)
Rush Offense: 147.0 (41st)
Total Defense: 213.5 (2nd)
Pass Defense: 89.5 (5th)
Rush Defense: 124.0 (22nd)
Turnover +/-: +2 (T-25th)
Individual Leaders
Concordia
Head Coach: Vance Winter (24-32, 6th year)
Passing: Von Thomas – 30/63 (.476), 4 TD, 0 INT, 446 yards, 128.0 Effic.
Rushing: Von Thomas – 27 att, 165 yards, 6.1 avg, 5 TD
Receiving: Jared Garcia – 14 rec, 246 yards, 17.6 avg, 1 TD
Defense: Kyle Rakow – 14 tackles, 3.5 TFL, 1 sack, 1 FF, 1 blk
Midland
Head Coach: Josh Gehring (10-12, 3rd year)
Passing: Andrew Cameron – 32/52 (.615), 2 TD, 2 INT, 446 yards, 138.6 Effic.
Rushing: Alex Cornist – 48 att, 149 yards, 3.1 avg, 2 TD
Receiving: Kail Walker – 11 rec, 175 yards, 15.9 avg, 0 TD
Defense: Josh Seiler – 20 tackles, 1.5 TFL, 1 FR
Thomas runs wild
Among all NAIA quarterbacks, only Kentucky Christian's Graham Johnston (99.3) and Grand View's (Iowa) Derek Fulton (90.0) average more rushing yards per game than Concordia's Von Thomas (82.5). Thomas is coming off a career high 122 rushing yards at Hastings. It was his second career 100-yard rushing game. He also topped the century mark on Oct. 27, 2012, with 107 in a 23-14 Bulldog win over Midland in Seward.
In his career, Thomas has 1,269 yards and 14 touchdowns on 311 rushing attempts. He's also thrown for 4,422 yards and 32 touchdowns. Thomas' 46 total touchdowns trail only Jarrod Pimentel (52) for the most in school history.
Garcia brings big play receiving threat
No receiver in Concordia football history has ever surpassed 1,000 receiving yards in a single season, but freshman Jared Garcia may be on his way. The native of Humble, Texas, ranks fourth in the NAIA with 123.0 receiving yards per game. He's already caught 14 passes for 246 yards and a touchdown over the first two games. His 184 receiving yards in the loss at Hastings rank as the most by any NAIA pass catcher in a single game this season. Garcia gives Thomas the sort of big-play target it has lacked in recent seasons. Last year Concordia's leading receiver caught 36 passes for 392 yards.
Running game returns to full strength
For the first time this season, offensive coordinator Curran White will have both Bryce Collins and Trey Barnes at his disposal in the backfield. While the Bulldogs ran for a healthy rushing total of 205 yards last week, they lacked consistency with 151 of those yards coming on two plays (77-yard run by Barnes, 74-yard touchdown run by Thomas). Last season Collins and Barnes combined to rush for 1,265 yards and 18 touchdowns on 317 carries. Concordia figures to lean heavily upon the rushing attack the rest of the way with the trio of Barnes, Collins and Thomas again leading the way.
Defense on the mend
The makeup of the 2014 Concordia defense looks very little like the 2013 one. With a glut of injuries, coordinator Patrick Daberkow has turned to the likes of first-year players like cornerbacks Tarence Roby (Northern Illinois University transfer) and D'Mauria Martin and defensive lineman Sam Noonan. Sophomore Michael Hedlund even made the transition from quarterback to safety to provide depth to a position that has seen injuries of varying degrees to starters Drew Baxter and Tait Sibbel.
A pleasant surprise at the linebacker position has been the play of junior Clay Mauro, who has been elevated to the No. 1 line on the depth chart. The native of Ely, Nev., led the team with nine tackles in the upset at No. 15 Sterling College. He added another 11 stops in last week's loss at Hastings.
40+ points = victory?
Until last week's 48-43 loss at Hastings, Concordia had won 14-straight games when scoring 40 or more points. That streak dates back to Sept. 20, 1997, when the Bulldogs fell by an identical 48-43 score in a game played at Concordia University-Wisconsin. The Bulldogs had been 5-0 under Vance Winter when reaching the 40-point plateau.
Midland off to 2-0 start
The Warriors ended the 2013 season by losing six of their last eight games, but they have rebounded to begin the 2014 season with wins over No. 24 Peru State College (28-14) and Dordt College (35-0). On the strength of those wins, head coach Josh Gehring's squad received votes in this week's NAIA top 25 poll. Midland has gotten off to a quick start by allowing very little defensively – a combined 14 points and 427 total yards over two games. Last season the Warriors ranked 78th nationally in total defense, allowing an average of 472.5 yards per game.
Series history
Since the GPAC formed in 2000, Concordia and Midland have split their 14 meetings, 7-7. The Bulldogs have won the last two matchups, including last year's 35-14 decision in Fremont. After trailing 7-0 at the end of the first quarter, Concordia dominated the rest of the way. Bryce Collins (121 yards, two touchdowns) and Trey Barnes (101 yards, three touchdowns) both went over 100 yards rushing and the Bulldogs outgained Midland, 493-214.