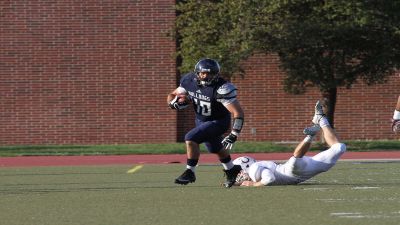 GAME NOTES: Bulldogs welcome Hastings for home opener
SEWARD, Neb. – Following a road victory in its opening game for the third-straight season, the Concordia University football team begins its 2015 home slate by taking on rival Hastings on Saturday. Kickoff from Bulldog Stadium is scheduled for 6 p.m. CT.
The home team has won each of the last four meetings between the Bulldogs and Broncos. In last season's shootout, Hastings prevailed, 48-43, in a game that featured 1,033 combined yards of offense. The Broncos are coming off a 33-29 win over Bethel College. The game-winning score came on quarterback Jason Gaines' 67-yard touchdown pass to Nick Ferguson with just 19 seconds left on the clock. Hastings is coming off a 6-4 season in 2014.
Saturday's game will again be aired on 104.9 Max Country. Jayson Jorgensen will call the play-by-play while Matt Harab will provide color commentary.
GAME INFO
Hastings (1-0) at Concordia (1-0)
Saturday, Sept. 12 | 6 p.m.
Site: Seward, Neb.
Stadium: Bulldog Stadium
Radio: 104.9 Max Country
Webcast: Concordia Sports Network
Live Stats: Stat Crew Cloud
STATISTICAL BREAKDOWN
2015 Team Statistics
Concordia
Offensive PPG: 31.0 (32nd)
Defensive PPG: 10.0 (T-8th)
Total Offense: 311.0 (59th)
Pass Offense: 142.0 (60th)
Rush Offense: 169.0 (35th)
Total Defense: 78.0 (1st)
Pass Defense: 33.0 (4th)
Rush Defense: 45.0 (3rd)
Turnover +/-: 0 (T-36th)
Hastings
Offensive PPG: 33.0 (T-27th)
Defensive PPG: 29.0 (46th)
Total Offense: 485.0 (18th)
Pass Offense: 355.0 (8th)
Rush Offense: 130.0 (47th)
Total Defense: 519.0 (72nd)
Pass Defense: 174.0 (31st)
Rush Defense: 345.0 (78th)
Turnover +/-: -1 (T-51st)
Individual Leaders
Concordia
Head Coach: Vance Winter (29-37, 7th year)
Passing: Garrett Folchert – 6/11 (.545), 2 TD, 0 INT, 74 yds, 171.1 effic.
Rushing: Bryce Collins – 13 att, 60 yds, 4.6 avg, 0 TD (receiving: 4 rec, 23 yds, 0 TD)
Receiving: Carey Harrison – 2 rec, 37 yds, 18.5 avg, 1 TD
Defense: Michael Hedlund – 8 tackles, 1 tfl, 1 pbu, 1 blk punt
Southwestern
Head Coach: Tony Harper (at Hastings: 21-20, 5th year; Overall: 30-43, 8th year)
Passing: Jason Gaines – 22/40 (.550), 2 TD, 1 INT, 330 yds, 135.8 effic. (rushing: 8 att, 20 yds)
Rushing: Tahj Willingham – 1 att, 35 yds, 1 TD
Receiving: Nick Ferguson – 3 rec, 93 yds, 31.0 avg, 1 TD
Defense: Jacob Tarr – 6 tackles, 1 INT
Dominant Dawg D
Among all 84 NAIA football programs, no team allowed fewer yards than the Concordia defense did in last week's action. The Bulldogs limited a struggling Southwestern College offense to only 78 total yards of offense and an average of just 1.5 yards per play. Moundbuilder punter Mario Esparza was forced to punt 11 times. Concordia junior linebacker Michael Hedlund enjoyed a solid day with a team high eight total tackles, a pass break up and a blocked punt. Senior defensive end Clint Gardels, a converted tight end, recovered a pair of fumbles.
Quarterback tandem
Winter used two quarterbacks extensively in the season-opening victory. Starter TJ Austin began at signal caller in 10 of the team's 16 possessions. Backup Garrett Folchert took the first snap in Concordia's remaining six possessions. At times they even rotated during the same series. Folchert topped Concordia with 74 passing yards and the first two touchdown tosses of his career. Austin, who provides more a dual threat option, ran for 42 yards on 12 carries.
"We knew both were going to get reps," Winter said following the game. "Both deserved reps. They've done a nice job throughout fall camp. They have such different skillsets. What's great is that they have supported each other."
Collins nears 2,500
Returning first team all-conference running back Bryce Collins is closing in on 2,500 career all-purpose yards. Collins totaled 142 all-purpose yards (60 rushing, 59 punt returning, 23 receiving) last week to push his total to 2,488 in 21 games as a Bulldog. Collins, who has averaged 84.8 rushing yards per game during his career, needs 220 rushing yards to reach 2,000. In the Southwestern game, Collins returned punts for the first time in his career, totaling 59 yards on six attempts. Last season Collins ranked sixth among all NAIA players with an average of 173.2 all-purpose yards per contest.
Four Bulldogs find end zone
Each of Concordia's four touchdowns in the season opener were scored by a different individual. Of the four, Trae Owens was the lone Bulldog to cross the goal line for the first time in his career. The transfer from De Anza College hauled in a 29-yard touchdown pass from Austin with 11:24 left in the fourth quarter. Tight End Seth Fitzke and receiver Carey Harrison also reeled in touchdown tosses. Then late in the fourth quarter, running back Demarques Saulberry salted the game away with a five-yard touchdown run.
Fourth-quarter turnaround
During the offseason Vance Winter placed a heavy emphasis upon finishing games better. In 2014 the Bulldogs lost five games by seven points or less and were outscored in the four quarter by a combined total of 110-45. The tide turned in last week's season opener. The Bulldogs defeated Southwestern 31-10 in a game that was knotted, 10-10, at the end of three quarters. Afterwards, Winter credited new director of strength and conditioning Todd Berner for improving the conditioning level of his team. In the final quarter the Bulldogs took advantage of short fields and went on touchdown drives of 40, 41 and 64 yards.
Fisher pins back Moundbuilders
With its offense struggling for most of the opening three quarters, Concordia got important contributions from senior punter Sandy Fisher. The native of Lakewood, Colo., punted eight times for an average of 39.8 yards and downed two tries inside the opposition's 20. Fisher's 58-yard punt in the third quarter pinned Southwestern back at its own one-yard line. Last season Fisher earned honorable mention all-conference recognition.
Scouting Hastings
The Broncos are coming off a dramatic win over Bethel last week as part of the GPAC-KCAC Challenge. Hastings junior quarterback Jason Gaines completed 22 of 40 passes for 330 yards and two touchdowns, including the game-winning score in the final minute of the win at Bethel. Gaines' heroics allowed the Broncos to overcome 345 rushing yards put forth by the Threshers. A year ago Hastings ranked 16th nationally in total offense (420.0) and 78th in total defense (468.8). Under Tony Harper, the Broncos have produced 6-4 records in three of the past four seasons. Hastings returned 19 starters (including specialists) from its 2014 squad. In GPAC preseason polls, the Broncos were picked to finish fourth by the media and fifth by the coaches.