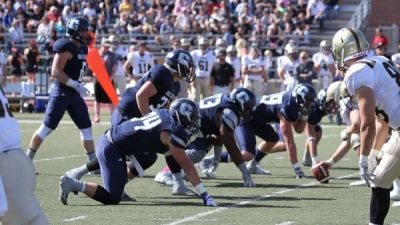 GAME NOTES: Bulldogs set to challenge top-ranked Morningside on the road
SEWARD, Neb. – No one has succeeded yet in slowing down top-ranked Morningside. Coming off yet another nail-biting loss, the Concordia University football team will try to contain the prolific Mustang offensive attack when the two teams go head-to-head in Sioux City, Iowa, on Saturday. Kickoff from Elwood Olsen Stadium is slated for 1 p.m. Morningside has won the last 10 meetings with Concordia.
"There are no holes on their football team," head coach Vance Winter said of Morningside. "It's the most impressive team I've seen since 2008 Sioux Falls (national champion). Their running back (Brandon Wegher) is the best player I've seen on film that we've played against.
"Our guys will rally and respond (from the Doane loss). We just continue to fight and improve. Doane was a very good team and as athletic a team as we've faced."
In last week's action, the Mustangs cruised to a 63-0 win over crosstown rival Briar Cliff. Morningside outgained the Chargers 696-86 in another dominant performance for head coach Steve Ryan's squad. Meanwhile, the Bulldogs let a 20-0 lead slip away in a 23-20 loss at Doane. Concordia has dropped three-straight games.
GAME INFO
Concordia (3-5, 2-4) at No. 1 Morningside (7-0, 6-0)
Saturday, Nov. 1, 1 p.m.
Site: Sioux City, Iowa
Stadium: Elwood Olsen Stadium
Webcast: Livestream
STATISTICAL BREAKDOWN
2014 Team Statistics
Concordia
Offensive PPG: 29.1 (T-32nd)
Defensive PPG: 26.8 (40th)
Total Offense: 409.3 (28th)
Pass Offense: 205.0 (51st)
Rush Offense: 204.3 (21st)
Total Defense: 390.8 (47th)
Pass Defense: 225.5 (55th)
Rush Defense: 165.3 (46th)
Turnover +/-: -6 (T-72nd)
Morningside
Offensive PPG: 66.9 (1st)
Defensive PPG: 12.0 (1st)
Total Offense: 722.3 (1st)
Pass Offense: 336.4 (3rd)
Rush Offense: 385.9 (1st)
Total Defense: 227.7 (3rd)
Pass Defense: 167.1 (14th)
Rush Defense: 60.6 (1st)
Turnover +/-: +4 (T-16th)
Individual Leaders
Concordia
Head Coach: Vance Winter (26-36, 6th year)
Passing: Von Thomas – 118/228 (.518), 18 TD, 10 INT, 1,590 yds, 127.6 effic. (rushing: 492 yds, 7 TD)
Rushing: Bryce Collins – 133 att, 754 yds, 5.7 avg, 5 TD
Receiving: Jared Garcia – 40 rec, 566 yds, 14.2 avg, 9 TD
Defense: Kyle Rakow – 64 tackles, 12.5 tfl's, 4.5 sacks
Morningside
Head Coach: Steve Ryan (116-33, 13th year)
Passing: Ryan Kasdorf – 120/162 (.741), 20 TD, 6 INT, 2,057 yds, 214.1 effic. (rushing: 127 yds, 4 TD)
Rushing: Brandon Wegher – 138 att, 1,235 yds, 8.9 avg, 21 TD
Receiving: Devin Thomas – 44 rec, 879 yds, 20.0 avg, 8 TD
Defense: Zac Schleuger – 61 tackles, 18.5 tfl's, 2.0 sacks
Collins chases 1,000-yard season
Despite missing the conference opener, sophomore Bryce Collins has a shot to become the first Bulldog ball carrier to eclipse 1,000 yards rushing since JaMaine Lewis' school record total of 1,265 in 2007. Four rushers in program history have reached the 1,000-yard figure. Collins, a native of Boerne, Texas, has racked up 754 yards on 133 carries over seven games. He ranks 10th among all NAIA players with an average of 107.7 rushing yards per game. He needs 90 more yards to crack Concordia's single-season top 10 list for rushing yards. In last week's loss at Doane, Collins surpassed 100 yards rushing for the sixth time in his career.
Concordia 1,000-yard rushers
1,265 – JaMaine Lewis, 2007
1,114 – Cleve Wester, 1984
1,085 – Randy Pospisil, 1972
1,002 – Jeff Towns, 1979
Garcia nears single-season record
No player has scored more touchdowns for the Bulldogs this season than freshman receiver Jared Garcia. The 6-foot-3 receiver from Humble, Texas, caught a two-yard touchdown pass from quarterback Von Thomas last week, bringing his team-leading season total to nine. That number surpassed Erwin Hayes (eight in 1997) for the second-most touchdown receptions in a single season in program history. Garcia is closing in on the school record of 10 by Brian Naber in 1970. Garcia needs two more catches and 37 receiving yards to put his name into the top 10 of Concordia single-season charts in those respective categories.
Thomas tracker
With two more touchdown passes last week, senior quarterback Von Thomas broke Rod Giesselman's school record of 17 touchdown tosses in 1970. Thomas now holds Bulldog single-season records for touchdown passes (18), total offense (2,508), completions (197), passing attempts (334) and completion percentage (59.0). He owns program career records for total offense (7,162), total touchdowns (62) and completions (503). Thomas needs three more pass attempts to break the school record in that category.
Up next for Thomas?
Passing yards (career)
Pimentel – 6,435
Thomas – 5,566
Passing touchdowns (career)
Pimentel – 49
Thomas – 46
Pass attempts (career)
Pimentel – 943
Thomas – 941
Passing yards (season)
Pimentel – 2,150 (2001)
Thomas – 1,590 (2014)
Rushing touchdowns (season)
Cleve Wester – 13 (1984)
Thomas – 7 (2014)
Down to the wire
Seven of Concordia's first eight games have been decided by a margin of seven points or less. The Bulldogs are 2-5 in those games. In sixth-year head coach Vance Winter's first five seasons, Concordia played in only 10 games that came down to a touchdown or less. In 2013, the Bulldogs went 1-1 in such close contests.
Games decided by 7 points or less under Winter
2014
9/6 – W, 21-15 at (15) Sterling
9/13 – L, 43-48 at Hastings
9/20 – W, 35-28 vs. Midland
9/27 – L, 21-22 vs. Dakota State
10/11 – L, 34-37 (OT) at Nebraska Wesleyan
10/18 – L, 21-27 vs. (12) Northwestern
10/25 – L, 20-23 at Doane
2013
9/14 – W, 26-21 vs. Hastings
10/19 – L, 28-30 at Northwestern
2012
9/8 – L, 23-26 vs. Dakota Wesleyan
10/13 – W, 17-16 vs. (11) Northwestern
2011
10/22 – L, 7-10 vs. Nebraska Wesleyan
2010
8/28 – W, 13-7 at (22) Peru State
9/4 – W, 3-0 vs. Nebraska Wesleyan
9/18 – L, 3-7 vs. Midland
10/16 – W, 30-26 vs. Briar Cliff
2009
9/5 – L, 10-12 at Midland
Bulldogs vs. ranked opponents
No. 1 Morningside will be the third ranked opponent Concordia has faced this season once the game kicks off on Saturday. The Bulldogs defeated then No. 15 Sterling 21-15 in the season opener and fell, 27-21, to then No. 12 Northwestern on Oct. 18. Concordia has defeated one ranked opponent in each of the last three seasons, having also recorded a 19-3 win over No. 22 Nebraska Wesleyan in 2013 and a 17-16 victory over No. 11 Northwestern in 2012. The Bulldogs' last road win over a top 25 team came on Aug. 28, 2010, when they topped No. 22 Peru State, 13-7.
Rakow ranks high in TFLs
For the seventh time in eight games this season, senior defensive lineman Kyle Rakow made a tackle in the backfield as part of the loss at Doane. The native of Pleasant Dale, Neb., ranks fifth among GPAC players and 19th among all NAIA players with 12.5 tackles for loss on the season. He leads the Bulldogs in tackles for loss, tackles (64) and sacks (4.5) – all easily career highs.
Scouting Morningside
Just how dominant have the Mustangs been? They are a unanimous No. 1 in the NAIA football coaches' poll and lead the nation in each of the following categories:
Scoring offense (66.9)
Total offense (722.3)
Scoring defense (12.0)
Rushing offense (385.9)
Rushing defense (60.6)
Pass efficiency (216.8)
First downs per game (32.4)
Fewest first downs allowed (85)
Third down conversion percentage (56.8)
In addition, Morningside boasts the GPAC's leading passer in Ryan Kasdorf (312.0 yards per game) and rusher in Brandon Wegher (176.4). Wegher is also the NAIA's leading rusher and was named the national player of the week after piling up 327 yards on the ground in a win over Dakota Wesleyan on Oct. 18. Unlike Concordia, the Mustangs have yet to play in a tight game, winning all seven contests by a margin of 40 points or more. The Bulldog offense likely needs to play at its highest level all season for it to keep up with the high-powered Morningside attack.