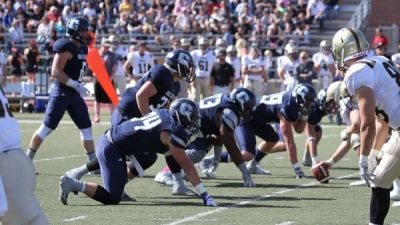 GAME NOTES: Bulldogs renew rivalry with Nebraska Wesleyan on Saturday
SEWARD, Neb. – Coming off a blowout victory over Dordt, the Concordia University football team will aim for its second-straight win over Nebraska Wesleyan when the two GPAC rivals go head-to-head on Saturday. Kickoff is scheduled for 1 p.m. from Abel Stadium in Lincoln, Neb.
"Wesleyan has a lot of really good players," head coach Vance Winter said at Tuesday's booster club gathering. "They have a receiver that's as good as we'll face.
"It will be a different type of game. It's their homecoming so I'm sure they will rally the troops and give us their best shot. We expect them to play well so we're going to have to play really well to come out with a win."
GAME INFO
Concordia (3-2, 2-1) at Nebraska Wesleyan (1-4, 1-3)
Saturday, Oct. 11, 1 p.m.
Site: Lincoln, Neb.
Stadium: Abel Stadium
Webcast: Stretch Internet
STATISTICAL BREAKDOWN
2014 Team Statistics
Concordia
Offensive PPG: 31.6 (T-26th)
Defensive PPG: 25.4 (35th)
Total Offense: 422.2 (21st)
Pass Offense: 199.6 (50th)
Rush Offense: 222.6 (16th)
Total Defense: 379.0 (41st)
Pass Defense: 214.8 (48th)
Rush Defense: 164.2 (T-41st)
Turnover +/-: +2 (T-26th)
Nebraska Wesleyan
Offensive PPG: 17.2 (77th)
Defensive PPG: 42.0 (79th)
Total Offense: 282.8 (74th)
Pass Offense: 278.4 (13th)
Rush Offense: 4.4 (88th)
Total Defense: 458.2 (76th)
Pass Defense: 248.0 (72nd)
Rush Defense: 210.2 (65th)
Turnover +/-: -6 (T-77th)
Individual Leaders
Concordia
Head Coach: Vance Winter (26-33, 6th year)
Passing: Von Thomas – 74/140 (.529), 11 TD, 3 INT, 993 yards, 134.1 Effic.
Rushing: Bryce Collins – 73 att, 414 yards, 5.7 avg, 4 TD
Receiving: Jared Garcia – 25 rec, 346 yards, 13.8 avg, 5 TD
Defense: Kyle Rakow – 37 tackles, 8.0 tfl's, 3.5 sacks
Nebraska Wesleyan
Head Coach: Brian Keller (101-85, 19th year)
Passing: Tyler Francis – 109/206 (.529), 8 TD, 10 INT, 1,376 yards, 112.1 Effic.
Rushing: Joel Wiedel – 40 att, 96 yards, 2.4 avg, 1 TD
Receiving: Connor Zumpfe – 34 rec, 602 yards, 17.7 avg, 6 TD
Defense: Kalen Vandenberg – 52 tackles, 1.0 tfl, 1 INT
Ground and pound
With last week's 318 yard output on the ground, Concordia's rushing attack has vaulted up to 16th nationally with an average of 222.6 yards per game. The production has been even better over the past four games. Over that stretch the Bulldogs have averaged 249.0 rushing yards per game with 10 rushing touchdowns. The duo of quarterback Von Thomas and running back Bryce Collins has combined for 771 yards and 10 touchdowns on the ground to lead the attack. Collins ranks 15th nationally with 103.5 rushing yards per game.
Thomas continues rewrite of Concordia record books
Another big day for Von Thomas last week allowed him to break a pair of program career records formerly held by star quarterback Jarrod Pimentel (1998-2001). Thomas has eclipsed Pimentel's previous records for career yards of total offense (6,178) and career total touchdowns (52). Thomas now stands at 6,430 total yards (4,969 passing, 1,461 rushing) and 54 touchdowns (39 passing, 15 rushing) over 36 career games. The native of Miami, Fla., is also chasing Pimentel's career records for passing yards (6,435 yards) and touchdown passes (49). In 2013 Thomas broke single season records for total offense (2,508), completions (197), passing attempts (334) and completion percentage (59.0).
Up next for Thomas?
Passing yards (career)
Pimentel – 6,435
Thomas – 4,969
Passing touchdowns (career)
Pimentel – 49
Thomas – 39
Pass completions (career)
Pimentel – 470
Thomas – 459
Pass attempts (career)
Pimentel – 943
Thomas – 853
Passing yards (season)
Pimentel – 2,150 (2001)
Thomas – 993 (2014)
Passing touchdowns (season)
Rod Giesselman – 17 (1970)
Thomas – 11 (2014)
Rushing touchdowns (season)
Cleve Wester – 13 (1984)
Thomas – 6 (2014)
Defense dominates
Ranked 73rd nationally in total defense entering last week, the Bulldogs rebounded by limiting Dordt to 122 total yards. The Defenders got 60 of those yards on a late touchdown pass. Take that play out and Concordia allowed Dordt just 1.8 yards per play. The 122 yards were the fewest by a Concordia opponent since Midland's 118 in a 23-14 Bulldog win on Oct. 27, 2012. The dominate effort pushed defensive coordinator Patrick Daberkow's unit up to 41st in the NAIA in total defense (379.0) and 35th in scoring defense (25.4).
The team's unofficial defensive MVP so far has been senior defensive lineman Kyle Rakow, who made two more tackles in the backfield versus Dordt. Rakow has career highs this season with 37 tackles, eight tackles for loss and 3.5 sacks.
Saturday features matchup of top receivers
Nebraska Wesleyan and Concordia both boast one of the most productive receivers in the GPAC. The Prairie Wolves' Connor Zumpfe was named GPAC offensive player of the week on Monday after catching nine passes for 209 yards and four touchdowns in a loss at Doane. Zumpfe leads the GPAC in receptions (34), receiving yards (602) and receiving touchdowns (six). Last season Concordia held Zumpfe to four catches for 29 yards in the Oct. 12 meeting. Meanwhile, Bulldog freshman Jared Garcia caught his fifth touchdown pass of the year in the win over Dordt. The native of Humble, Texas, tops Concordia with 25 catches for 346 yards.
Scouting Nebraska Wesleyan
Nebraska Wesleyan has struggled against a difficult early-season schedule that has included No. 3 Morningside, No. 8 Tabor College (Kan.) and No. 16 Northwestern. The Prairie Wolves' four losses have come to teams with a combined record of 14-4. Head coach Brian Keller's squad has not gotten any traction in the running game – an area Wesleyan ranks last among all NAIA teams with 4.4 rushing yards per game. The Prairie Wolves are currently 74th in total offense and 76th in total defense. They are led by quarterback Tyler Francis (GPAC leader with 275.2 passing yards/game) and senior defensive lineman Phil Latimer, a 2013 NAIA All-American. Wesleyan's lone win came by a score of 38-28 at Briar Cliff on Sept. 20. Nebraska Wesleyan is celebrating its homecoming this week.
Series History
Nebraska Wesleyan leads the all-time series with Concordia, 33-19, since the first meeting in 1958. The Bulldogs won last year's contest, 19-3, in what was the NAIA game of the week pairing No. 15 Concordia and No. 22 Nebraska Wesleyan. The Bulldogs are looking to snap a streak of four-straight losses when playing at Wesleyan. Concordia last beat the Prairie Wolves on their home field, 27-20, on Nov. 2, 2002.